by Susan Duclos, All News Pipeline: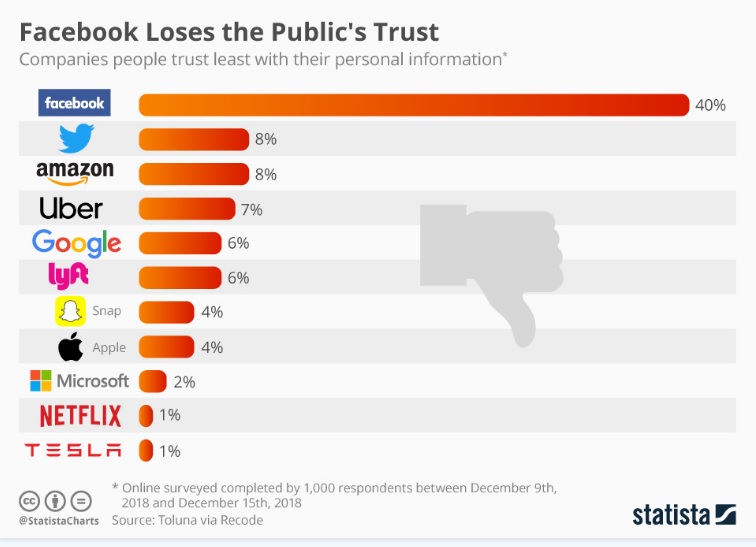 As Facebook goes into damage control mode after a New York Times investigation revealed that on top of all the data breaches and scandals that have plagued the company over the last year, they also allowed companies such as Netflix and Spotify access to users' private messages, we note reports that Mark Zuckerberg, CEO of Facebook lost $19 billion from their 2018 stock slide, as users rate Facebook as the company least trusted with their personal data.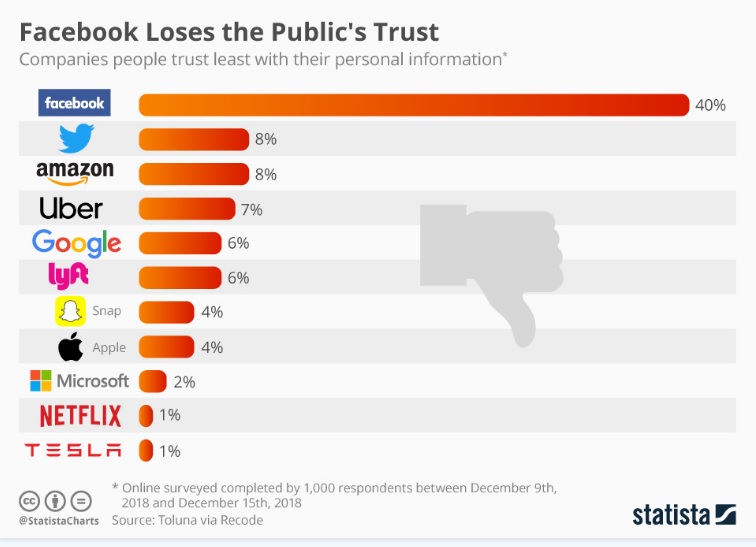 In September Pew reported that Facebook had suffered a marked decline in active users since March, with 42 percent limiting their daily activity and engagement as scandal continued to roil the company and stocks throughout 2018.
The more recent Pew survey also found that 26 percent said that they deleted the Facebook app from their phones. All this suggests that a substantial minority or even a majority of Facebook users have to some degree disengaged from the platform in the past year.

It's not entirely clear from the survey discussion whether there's any overlap between those "taking a break" and those who deleted the app. In addition, a majority (54 percent) also reported adjusting their privacy settings.
In December another pattern emerged with journalists deciding to make public announcements about deleting Facebook entirely, with Capitol Hill Correspondent, Kasie Hunt, highlighting her reasons in an announcement posted to her Facebook account before deleting her account, explaining how she doesn't trust Facebook anymore and that she would not be staying on the platform in 2019.
At the end of her announcement she stated "And here's hoping Facebook doesn't bury this post because it links to this negative story," showing that while the "trust" issues is first and foremost, even the establishment media knows, even as many deny it, that Facebook does practice censorship on a regular basis. Hunt took a screen shot of her Facebook post to her followers, then shared it on Twitterwith two words tagged to @Facebook's Twitter account, saying "I'm out."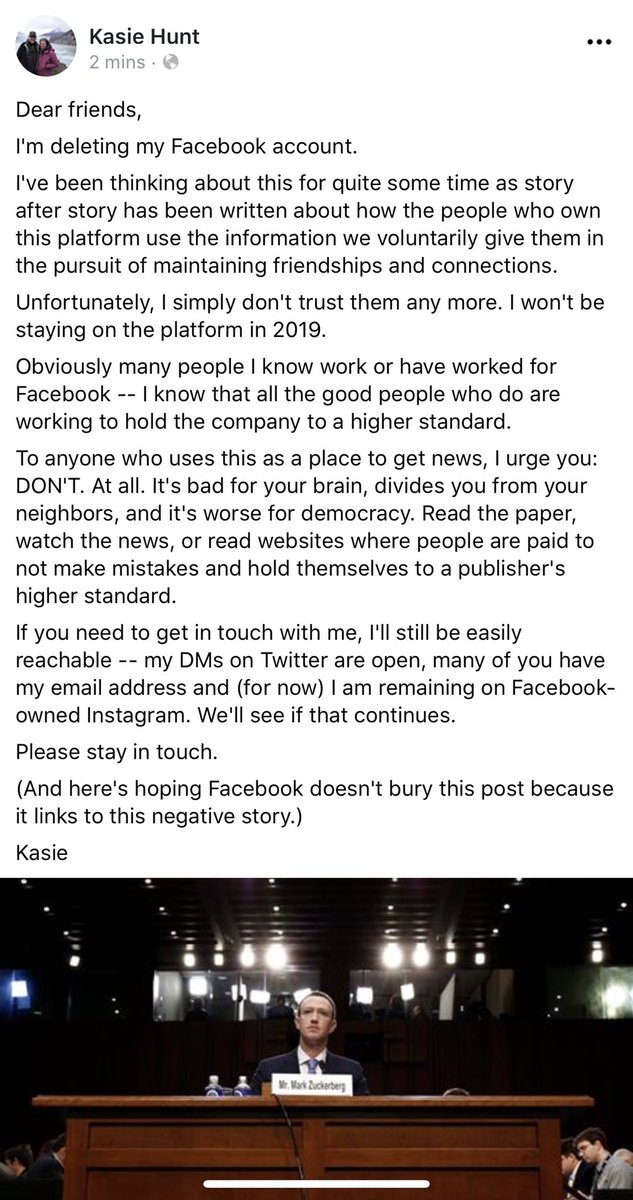 Hunt was not the only journalist announcing they were quitting Facebook either, as Jessica Valenti from Medium announced "Just deleted my FB account and it felt GREAT." Food and Travel writer Jacob Dean joined the exodus, stating "Deleted my @facebook account today. Feels good. A little scary too, which goes to show you how much emotional power the company has. Definitely the right decision though. #Facebook #DeleteFacebook."
Wall Street Journal columnist Walt Mossberg took it a step further and announced he was not only quitting Facebook, but was also leaving Facebook-owned Instagram and Messenger, saying "my own values and the policies and actions of Facebook have diverged to the point where I'm no longer comfortable there."
FACEBOOK IS NOT ALONE IN FACING THE UPCOMING TECH RECKONING
Facebook is not the only Silicon Valley company facing a reckoning, as we see a new report at NewsBusters, where Google's YouTube "removed 58 million videos, 1.67 million channels, and 224 million comments," between July and September, for "violations including inappropriate content or spreading 'hate speech'."
The problem with that is that YouTube partners with Southern Poverty Law Center, allowing them to determine what is and is not hate speech, while SPLC has a long history of labeling conservative and religious pro-life groups as "hate groups."
Via NewsBusters:
The Hill quoted an unnamed YouTube spokesman who confessed they removed "conspiracy theories targeted towards particular groups or people because those videos violate hate speech and harassment policies." However, YouTube did not say who was responsible for flagging those videos or list the "conspiracy theories" that were removed. Many right-wing causes are treated by the left as conspiracy theories — from disputing climate change to illegal immigration. 

Reuters reported that algorithms are being used to determine which videos should be taken down. It also noted that while Google (which owns YouTube) may have expanded to use more than 10,000 moderators "pre-screening every video [is] unfeasible." MIT recently published a study about how algorithms are clearly biased based upon their creators' worldviews, yet companies "show no interest in fixing the problem."

Human moderators turn out to be just as problematic, as proven on November 13th when a YouTube moderator mistook a famous World War 2 Era video mocking Nazis for pro-Nazi propaganda and took it down. Adam Green, The Public Domain Review's editor in chief, found the situation farcical, shocked at how any moderator could have mistaken a clear satire for being pro-Nazi.
As for Twitter, on December 20th, many Wikileaks staff and the main Wikileaks account, with over 5.4 million followers, were all locked and frozen, which was announced by Kristinn Hrafnsson, WikiLeaks editor-in-chief, who wasn't caught up in the lockouts, so she was able to inform followers.
Twitter is also accused of shadow banning the Wikileaks accounts, via Caitlin Johnstone over at Medium:
It is worth noting here that Dorsey has an established record of lying to Twitter users about the social media outlet's censorship practices. In the lead-up to the 2016 election, Twitter CEO Jack Dorsey was asked point-blank if Twitter was obstructing the #DNCLeaks from trending, a hashtag people were using to build awareness of the DNC emails which had just been published by WikiLeaks, and Dorsey flatly denied it. More than a year later, we learned from a prepared testimony before the Senate Subcommittee on Crime and Terrorism by Twitter's acting general counsel Sean J. Edgett that this was completely false and Twitter had indeed been doing exactly that to protect the interests of US political structures by sheltering the public from information allegedly gathered by Russian hackers.

And indeed, @wikileaks, @assangedefence, @wltaskforce, and @assangelegal are as of this writing so aggressively shadow banned that an advanced search for tweets by those accounts turns up not one single post by any of them.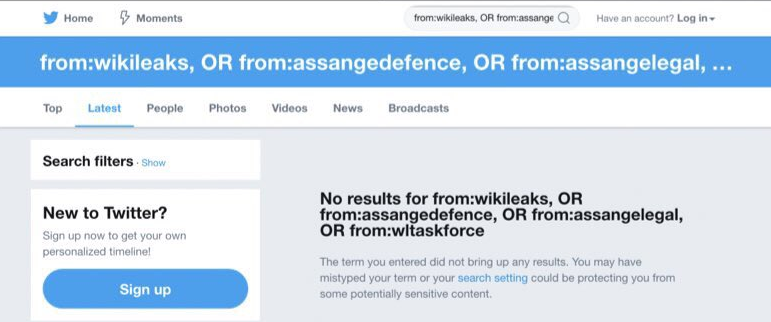 Twitter did eventually unfreeze the Wikileaks accounts, claiming "denial of service attack had been run against several WikiLeaks and Assange legal accounts to trigger looping security lockouts," but as highlighted before that update by Johnstone "Even if Twitter does end up restoring access to all or some of these accounts, the fact that the site would shut them down at all is deeply disturbing…."
Agreed.
REGULATE OR STRIP BIG TECH OF PROTECTIONS?
We have seen two different arguments over how to rein in big techs data invasions and consership practices, abusing their platforms' powers, one side pushing for the regulation of companies by treating them as utilities and a modern day public square.
There are persuasive arguments on both sides of the regulation proposals, both for and against. One of the arguments against regulation is that in a free market society, users should be the ones to "punish" big tech for their abuse of powers, their selling of private personal data they were trusted with, some argue. Government interference generally makes matters worse, not better. One of the arguments on the side of regulating big tech, comes from a Harvard report in September, which maintains that big tech companies seem to unable, and unwilling, to regulate themselves, to protect users data or to prevent their liberal bias from dictating what is censored and what is not.
Read More @ AllNewsPipeline.com