by Chris Menahan, Information Liberation: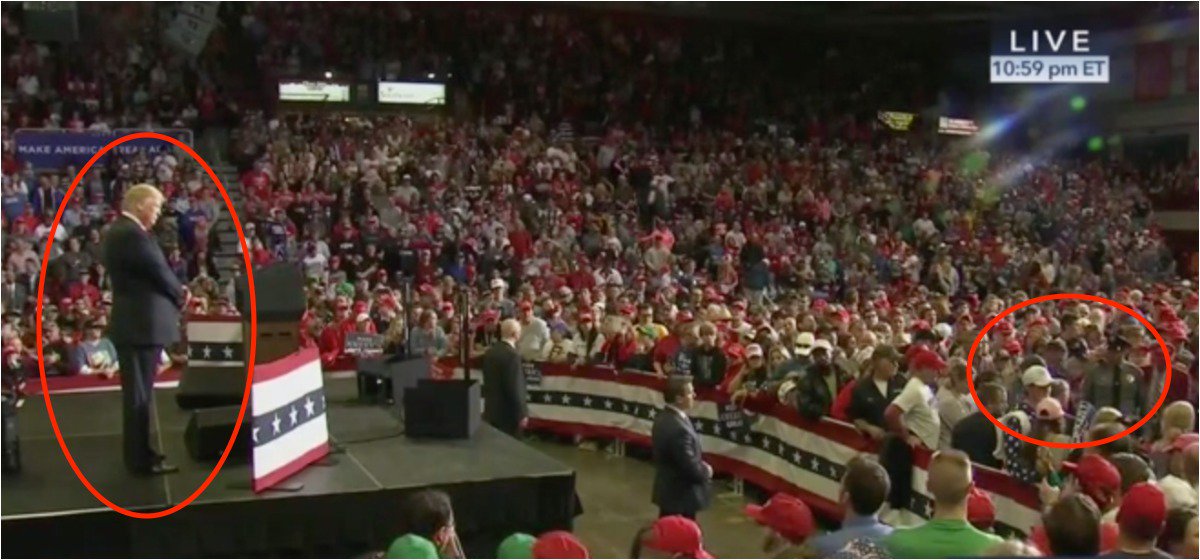 A powerful moment happened on Monday night at President Donald Trump's final midterm rally in Cape Girardeau, Missouri.
From Fox News:
The crowd at President Donald Trump's rally in Missouri on Monday evening began singing "Amazing Grace" after a woman collapsed and needed medical attention.

Trump paused his rally for roughly five minutes after asking the audience to say a prayer as emergency responders made their way to the woman.
Wow. Trump supporters sing Amazing Grace as a supporter is tended to after collapsing at his Missouri rally pic.twitter.com/o2Z2X0KqkX

— Charlie Spiering (@charliespiering) 6 November 2018
Beautiful moment. Rendition of 'Amazing Grace' breaks out at tonight's #MAGARally in Missouri when there was a medical emergency in the crowd… pic.twitter.com/JzagKYMcSt

— Dan Scavino Jr. (@DanScavino) 6 November 2018
The @realDonaldTrump rally just broke out into a spontaneous "Amazing Grace" hymn as a rally goer fainted and was wheeled off!

A lot of love in this room!!

— Kayleigh McEnany (@kayleighmcenany) 6 November 2018
"Is there a doctor in the house, please? Doctor? Please. Thank you," the president said while pointing to the woman in the crowd, according to The Hill.

As the woman received medical treatment, the crowd of thousands broke out into song.

"That was beautiful," Trump said after resuming his spot behind the podium. "Hopefully she'll be OK."
These are the evil Trump supporters the media warned you about!
The whole rally was absolutely epic.
Rush Limbaugh gave a powerful speech before introducing Trump and singer Lee Greenwood performed "God Bless the USA" as Trump came out on stage.
The huge crowd cheered Trump like wild after he came up to the podium for almost three minute straight. Trump brought up to the stage Sean Hannity, Judge Jeanine, Sarah Sanders, Ivanka Trump, Kellyanne Conway and Ronna McDaniel in an epic lovefest and they each gave a short speech.
Watch the rally below and GET OUT AND VOTE GOP!
Read More @ InformationLiberation.com