by Dave Hodges, The Common Sense Show: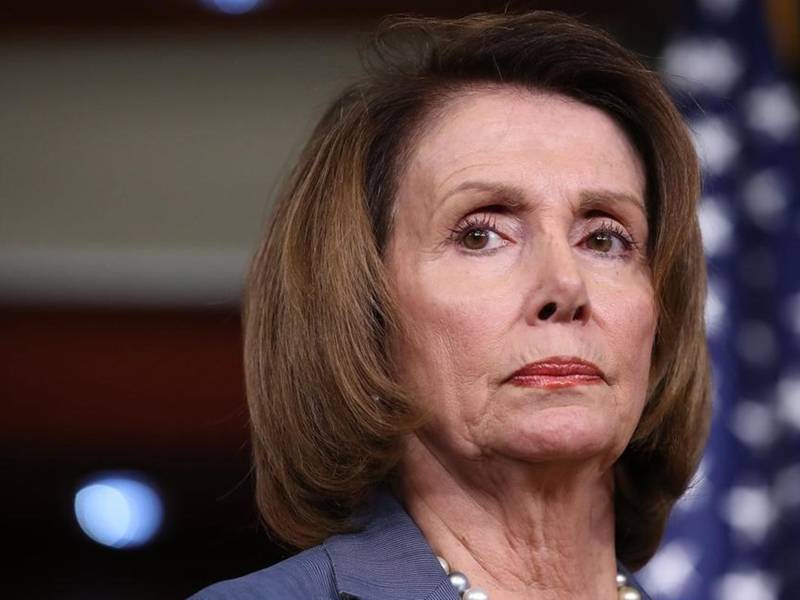 The Democrats are absolutely freaking out over the appointment of Matt Whitaker as the new acting Attorney General of the United States. There are a chorus of Democratic politicians and their mouthpiece media that are demanding that Whitaker immediately recuse himself from any oversight of Mueller.
There are three major reasons why criminally complicit Democrats and the Deep State, as a whole, are in a state of absolute panic over the appointment of Matt Whitaker. Pelosi called Whitaker's appointment "a violent act against the Constitution". That is not the reason why this appointment is causing so much anxiety.
The three reasons why this move is creating panic:
Whitaker is predisposed to fire Mueller over the phony Russian investigation based on previously expressed opinions
Whitaker believes that Hillary should have been prosecuted over the national security violations connected to the emails.
Deputy AG Rosenstein and his Deep-State wife, Lisa Barsoomian, have presumably been compromised and can open Pandora's box with regard to nefarious Deep State activities.
The following documentation supports these three positions.
Whitaker Believed That Clinton Should Have Been Charged with 33,000 National Security Violations
Whitaker was very straightforward in his belief, through a series of published opinions, that  Comey's decision to not charge Hillary Clinton for her gross violations of  the handling of the classified materials (emails) during Clinton's tenure as secretary of State.
Generally, the improper handling of the classified emails could have contained a 5 year sentence per occurrence.
Perhaps the most important fallout of Whitaker's appointment and his predisposed beliefs about Clinton's guilt, would be the danger that it poses to the continued freedom of Robert Mueller. I am not just talking about disbanding this fake investigation of Trump and the Russians, I am talking directly to the guilt of Mueller as he was the first to deliver highly enriched uranium to the Russians and this is documented from both sides of the Atlantic. The exposure of this event which would clearly ensnare not only Clinton, but Mueller as well, and this would create a gigantic sink hole for many who have performed similar duties on behalf of the treasonous Deep State.  Jeff Sessions did not have the intestinal fortitude to follow through on what should have been done to both Clinton and Mueller. However, Whitaker appears to have what it takes to carry out the mandates of his office.
So what would Whitaker have access to that Sessions probably did and refused to act upon it? On July 30, 2017, The Common Sense Show published a pair of documents, one Russian and one American, which clearly proved that Robert Mueller delivered highly enriched uranium, on behalf of Hillary Clinton, to the Russians. If the new interim AG, Matt Whitaker, does not have these documents, I would be happy to provide them to his office. The referenced information is now going on 18 months old and no Democrat has successfully challenged the veracity of the evidence. Even the NY Times was instrumental in exposing a portion of this crime (see previous citation).  The smoking gun documentation comes from a State Department memo which helps, in part, which Hillary moved classified material to her private server in order to hide her treason over Uranium one. If Dave Hodges has access to this damning evidence, then so would Whitaker and so would have the compromised accomplice after the fact Jeff Sessions.
State Department Memo
Both Julian Assange and The New York Times identified some of the documentation, but the real proof, the undeniable smoking gun is contained in the following
2009 AMBASSADOR BEYRLE E-MAIL D. 08 MOSCOW 521 Classified By: EUR/PRA: KATHLEEN MORENSKI PER E.O. 12958: REASONS 1.4 (A) AND (G). 1.
SBU) This is an action request: Embassy Moscow please see para 6 and 7; and Embassy Tbilisi please see para 8. 2. (S/NF) Background: Over two years ago Russia requested a ten-gram sample of highly enriched uranium (HEU) seized in early 2006 in Georgia during a nuclear smuggling sting operation involving one Russian national and several Georgian accomplices. The seized HEU was transferred to U.S. custody and is being held at a secure DOE facility.

In response to the Russian request, the Georgian Government authorized the United States to share a sample of the material with the Russians for forensic analysis. Director Mueller previously planned to deliver the sample in April (Ref A), but due to a scheduling conflict the trip was canceled. Embassy Moscow LegAtt informed the FSB prior to Mueller's intended April delivery and received confirmation that the FSB would take custody of the sample after the Director's plane landed. EST Moscow also informed Rosatom of the planned transfer and that the U.S. placed a high priority on completing this transfer (Ref B). Once the LegAtt told FSB counterparts the April trip had been canceled, Ambassador Beyrle informed Igor Neverov (Ref C), who said that he understood but was disappointed the trip was postponed. The September 21 visit provides again an opportunity to deliver the requested ten-gram sample from the seized HEU in order to obtain cooperation from the GOR on this nuclear smuggling case and to eventually establish a more productive mechanism of U.S.-Russian cooperation on nuclear forensics. 3. (S/NF) While there was a reasonable exchange of information with Russian security services at the time of the 2006 seizure, we have had poor cooperation investigating the diversion of HEU, which the United States believes was stolen from a Russian facility. Russia did not respond to papers that then Acting U/S Rood provided Deputy Foreign Minister Ryabkov in December 2008 reiterating the USG position that Russia should pick up this sample in the United States. Further, when asked for an update on their response to our proposal, Ryabkov told us in early 2009 in Washington that there was an interagency dispute over who would come and pick up the material. 4. (S/NF) Given Russia's reluctance to act so far, FBI Mueller's delivery of this sample will underscore to Russia our commitment to follow through on this case. While some details related to the sharing of information on smuggling networks may be too sensitive to discuss, delivery of the sample could enable us to discuss whether Russian authorities investigated the diversion and prosecuted anyone. Moreover, we hope it will spark discussions on mechanisms to exchange information and material on future incidents of this nature, particularly in light of the commitments made in the July summit U.S.-Russia Joint Statement on Nuclear Cooperation regarding strengthening our cooperation to stop acts of nuclear terrorism. Posts should note that DOE/NNSA's April 2009 determination authorizing distribution of the sample to the Russian Federation only for attribution of the sample in support of a criminal investigation is applicable to the proposed September 21 delivery of the sample to Russia. 5. (S/Rel Russia) Background con't: On April 16, the FSB verbally confirmed to Legatt that we will have no problem with the Russian Ministry of Aviation concerning Mueller's flight (although we probably won't see paperwork until shortly before the trip). The FBI is requiring that the sample be turned over to a Russian law enforcement authority (i.e., FSB) as opposed to an intelligence service (i.e., SVR) or technical authority (i.e., Rosatom). A representative from the responsible Russian Law Enforcement authority, who will accept custody of the sample, must be identified and verified ahead of time. That individual will be required to have signatory authority to accept the sample. Appropriate arrangements need to be made to ensure the transfer of material is conducted at the airport, plane-side, upon arrival of the Director's aircraft. Post should also remind the GOR that this is the material about which the GOR gave the USG nonproliferation assurances in 2008 in a diplomatic note from February 2008 (Ref D). 6. (S/Rel Russia) Action request: Embassy Moscow is requested to alert at the highest appropriate level the Russian Federation that FBI Director Mueller plans to deliver the HEU sample once he arrives to Moscow on September 21. Post is requested to convey information in paragraph 5 with regard to chain of custody, and to request details on Russian Federation's plan for picking up the material. Embassy is also requested to reconfirm the April 16 understanding from the FSB verbally that we will have no problem with the Russian Ministry of Aviation concerning Mueller's September 21 flight clearance. 7. (S/Rel Russia) Post is requested to deliver the following talking points: –We wish to inform you that FBI Director Mueller plans to arrive in Moscow on the evening of September 21 with a ten-gram sample of seized HEU, which you requested for nuclear forensics analysis. –We regret that the April visit by Director Mueller could not take place due to a scheduling conflict. We would be grateful once again for the Russian Federation's willingness to receive the sample and facilitate the logistics for its pick up. –As before, we require confirmation that a representative from a responsible Russian law enforcement authority will be available to accept custody of the sample and have signatory authority to accept the sample. –We require that the transfer of this material be conducted at the airport, on the tarmac near by the plane, upon arrival of the Director's aircraft. –We place a high priority on completion of this sample transfer to facilitate your forensic analysis of the material. –Further, with the delivery of this sample, we hope to collaborate more closely on promoting a more effective relationship between our law enforcement organizations to counter illicit trafficking of nuclear materials. –In particular, such efforts were underscored in the July Summit joint presidential statement on nuclear cooperation regarding our commitments to strengthen cooperation to stop acts of nuclear terrorism. Securing vulnerable nuclear materials and improving nuclear security within our two countries is our highest priority. — It is our hope to eventually establish a more systematic mechanism to facilitate U.S.-Russian cooperation on investigations into nuclear smuggling cases. We continue to believe that Russia should be concerned by the prospect that HEU was diverted from one of its facilities, and should actively investigate the incident. 8. (S/Rel Georgia) For Embassy Tbilisi: No action is required at this point. As before, State will send instructions at the appropriate time on alerting the Georgian Government when the transfer of the seized HEU is immanent and in Russian custody. 9. (U) Department thanks Post for its assistance. Washington point of contacts are Mike Curry, ISN/WMDT, 202-736-7692 (CurryMR@state.sgov.gov) and Nate Young, EUR/PRA, 202-647-7278 (YoungNH@state.sgov.gov). Please slug all responses for EUR, ISN/WMDT, and T. CLINTON
There is more incriminating evidence that can be accessed at the previous hypertext link offered.
Yes, there is indeed more documentation at the previously identified citation in the preceding paragraphs, but even Ray Charles could see the criminal and treasonous implications for both Clinton and Mueller. Hello Matt Whitaker, it is time to roll up your sleeves and get to work. But wait, as they say in the infomercials, there's more!
 Rosenstein's Fateful Ride On Air Force One
From all appearances, Rosenstein has been flipped presumably so has his Deep State "cleaner" wife, Lisa Barsoomian. Rosenstein was presumably going to be fired, but after taking a ride on Air Force One, Trump and Rosenstein are still working together. Working together on what? The only way that Rosenstein kept his job and presumably kept his wife out of prison, who is a known shot blocker for the FBI FOIA defense team as well one who has represented several Deep State personnel in court (eg the Clintons a total of 62 times), was for her husband to cut a deal with Trump on that Air Force One excursion. By the way, Barsoomian is so covert and is so adept at avoiding FOIA's on Deep State activities, that she maintains a fake email address at the NIH in order to throw investigators off the trail. Between the two of them, any Democrat with Deep State ties to corruption and criminal activities is now at risk.
Conclusion
A compromised Rosenstein and Barsoomian is a major blow to the Deep State and in particular to Hillary Clinton. This is why I believe a feeble and unhealthy Hillary Clinton 3.0, is once again running for President. This gives her a layer of protection. If the DOJ pursues Hillary, she will claim political retaliation and surely there would be massive George Soros inspired riots in the streets. I predict Trump will go after more low-hanging fruit such as Podesta, Abedin, Weiner and Wasserman Schultz. This would effectively encircle and further compromise the Clinton Foundation and Hillary may be forced to just go away
Read More @ TheCommonSenseShow.com