by Jim Hoft, The Gateway Pundit: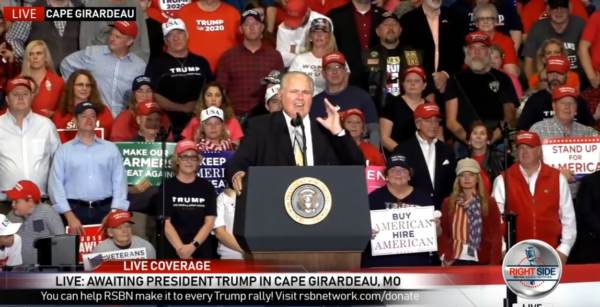 Rush Limbaugh opened up for President Trump in Cape Girardeau, Missouri on Monday.
The ENERGY WAS OFF THE CHARTS!
Rush reminded the Trump crowd that Hillary Clinton and Democrats were the ONLY ONES who colluded with Russia in 2016.
This is a well known fact at this point. The liberal mainstream media lied to the American public for two years about this fake scandal.
NEVER TRUMP THE MAINSTREAM MEDIA!
After Rush Limbaugh mentioned Hillary Clinton the crowd started chanting, "Lock her Up! Lock her Up!"
President Trump gave Rush Limbaugh a bear hug when he came out on stage on Monday
70,000 watch online.
AMAZING! 15,000 to 20,000 see @RealDonaldTrump in Missouri and OVER 70,000 view the rally with @RushLimbaugh online!! With @JudgeJeanine on stage @RSBNetwork pic.twitter.com/j0IwUsbVmS

— Jim Hoft (@gatewaypundit) 6 November 2018
Read More @ TheGatewayPundit.com