from Silver Doctors: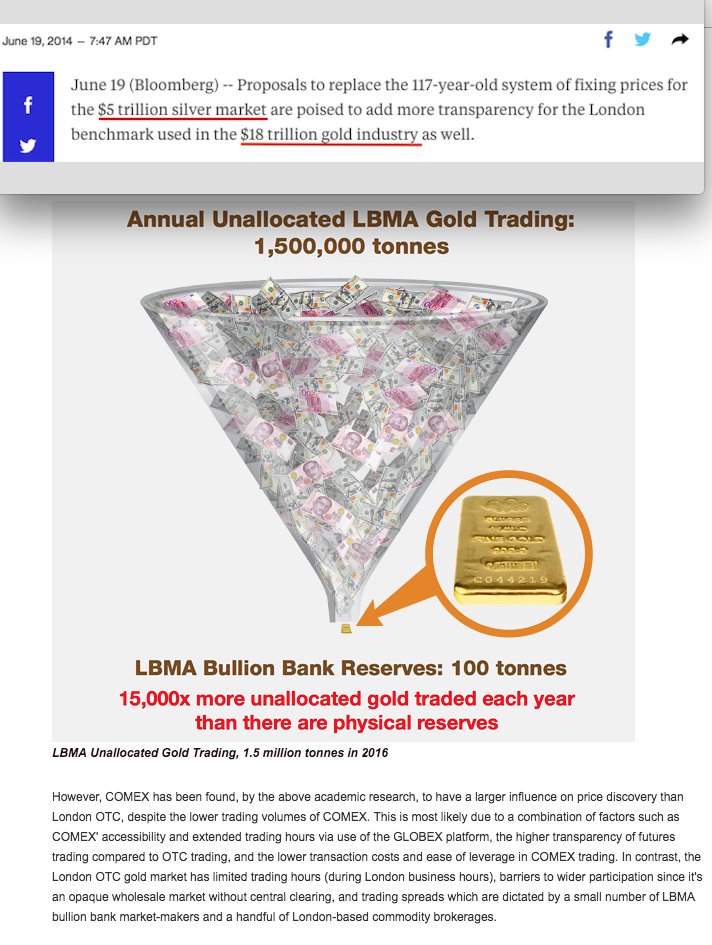 The LBMA has an initiative to make the gold market more "transparent". Thanks, but this is too little, too late. We know how the gold silver markets work.
Here's what the LBMA says they will do to accomplish this transparency… 

From Reuters we learn we are about to get the "most accurate picture yet" on London's gold market (bold added for emphasis):
The London Bullion Market Association (LBMA) will begin publishing data on November 20 that will provide the most accurate picture yet of the size of London's gold trade, its chief executive said on Monday.

London is the world's largest gold market but because most transactions are done bilaterally between banks, brokers and traders reluctant to reveal their activity, its true size remains a mystery.

The closest approximation is clearing data which suggest gold worth around $25 billion changes hands each day, but this data contains only transactions which reach settlement in London.
Let's explore that a little further.
According to David Jensen's research, in the 2011 liquidity survey, only 64% of traders even reported:
In 2011 Liquidity Survey, LBMA est'd for 1st time it's daily volume of 'gold' trading @ ~ 10x daily net-settled amount.

Shocked the mkt. – but only 64% of its traders reported.

After 31 yrs, LBMA now to disclose its primarily unbacked #gold trade vol.https://t.co/RP0YWVIlW2

— David Jensen (@RealDavidJensen) 29 October 2018
Although even when they came clean they understated the level of London gold trading which is > $50T per year using the volume @ 10x daily net-settled estimate provided by the LBMA.#gold #LBMA

— David Jensen (@RealDavidJensen) 30 October 2018
More from the recent Reuters article regarding the coming November 20, 2018 LBMA transparency initiative.
The initiative is part of a push to make the gold market more transparent after accusations of price manipulation by banks and traders and pressure from regulators.
There are so many ways we can take this article with that sentence, but let's just take it old-school with the late Adrian Douglas as he described the LBMA in 2010 at a CFTC hearing on precious metal price discovery.
Adrian Douglas' posthumous March 2010,
on #LBMA at a #CFTC hearing on precious
metal price discovery

Then CFTC chairman #GaryGensler
and others snickered

Both #Gold #Silver prices
rocketed shortly thereafter
into 2011

LBMA leverage on Nov 20, 2018 ? https://t.co/sKytimhldg pic.twitter.com/6URUxXBuCR

— James Henry Anderson (@jameshenryand) 30 October 2018