by Geoffrey Grinder, Now The End Begins: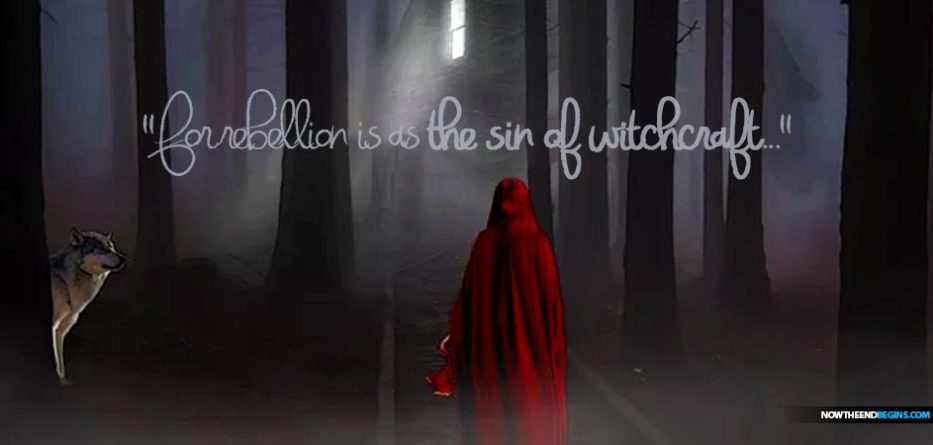 Despite biblical warnings against the practice of witchcraft, the Rev. Valerie Love, who describes herself as a practicing Christian witch and an ordained minister of spiritual consciousness, is insisting that there is nothing wrong with Christians being witches and has recently launched a school to help Christians tap into magic.
Make no mistake about it, the Bible is crystal-clear in both Testaments regarding the evil associated with the sin of witchcraft. Witchcraft is real, it has power, and God warns us in all dispensations to have nothing to do with it.
"Now the works of the flesh are manifest, which are these; Adultery, fornication, uncleanness, lasciviousness, Idolatry, witchcraft, hatred, variance, emulations, wrath, strife, seditions, heresies, Envyings, murders, drunkenness, revellings, and such like: of the which I tell you before, as I have also told you in time past, that they which do such things shall not inherit the kingdom of God." Galatians 5:19-21 (KJV)
Witchcraft is bundled in with a whole package of things Christians are dabbling in these days, like yoga, self-love, self-realization, spell casting, Destiny Cards, and all the rest of that ungodly garbage. Witchcraft is slithering into the Church, and should avoid it at all costs. And while we're on the subject, Paul tells us women are not to be pastors, either.
"And he caused his children to pass through the fire in the valley of the son of Hinnom: also he observed times, and used enchantments, and used witchcraft, and dealt with a familiar spirit, and with wizards: he wrought much evil in the sight of the LORD, to provoke him to anger." 2 Chronicles 33:6 (KJV)
King Saul in the Old Testament thought he could safely consult a witch to get some 'inside information', and he got it alright. But it wasn't cheap. Saul will be burning in Hell for eternity trying to pay off that debt.
FROM THE CHRISTIAN POST: "Stop thinking you can tell people how to worship. Stop thinking you can tell people how to connect with the divine. I could tell you how many people have told me, 'You can't be a Christian witch' but here I am. See, you can't tell me how to worship. You cannot tell me how to connect with the divine. That's between me and God. You cannot tell me how to pray," a defiant Love declared in a recent rant on Facebook.
She explained that she was "born a witch" but was forced to stifle her identity as a Jehovah's Witness from age 4 to 30 when she finally left the "cult."
"Where do we get off believing that we can actually dictate to other people how they worship. … It's not our lane," Love said. "I was born a witch and I love it. I'm so thankful. People are afraid of the word 'witch' because of fear and ignorance and I am here as a minister of the living God to dispel fear and ignorance."
How I became a Christian Witch | Valerie Love
At her Christian Witches website, Love also shares her story and offers a number of resources to help Christian witches including her recently launched Covenant of Christian Witches Mystery School which recently launched in Salem, Massachusetts. The school, according Love's website, was launched to "inspire, teach, share wisdom, and support magickal beings in owning and embracing magick, practicing magick and utilizing magick as a path to SELF-REALIZATION."
Is witchcraft already in YOUR church?
Watch False Teacher Heidi Baker Imparting Demons And Casting Spells At Bethel Church
"My job as a minister of the living God, as an ordained minister of spiritual consciousness is freedom, to set us free. … People are in religious bondage because religion told you what to think, what to do. I'm not here to tell you what to think. I'm here to support you in how to think," she said in her recent video.
Read More @ NowTheEndBegins.com