from True Pundit: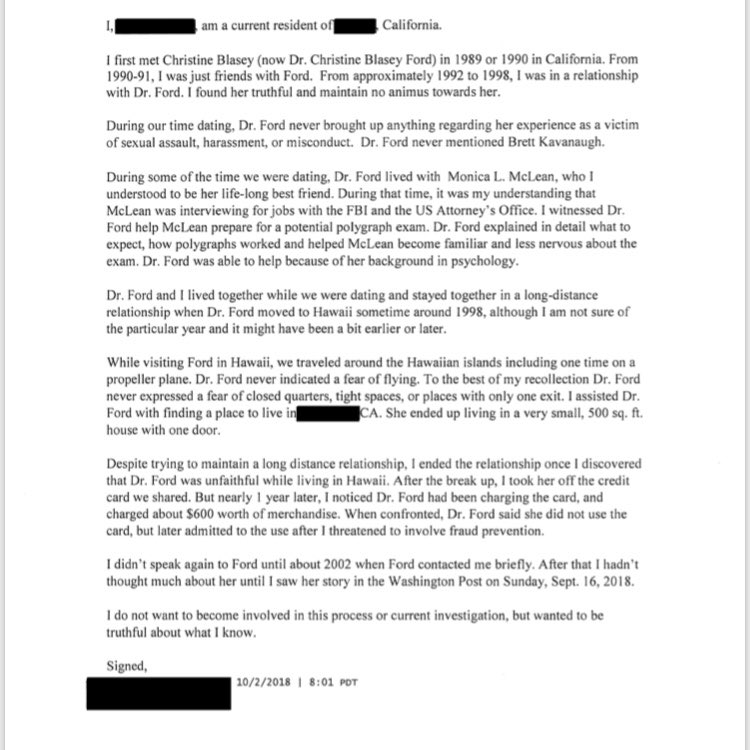 "Fox's @johnrobertsFox obtains letter from Ford ex-boyfriend alleging: dated for 6 yrs, never told of sex assault, Ford coached friend on taking polygraph, flew frequently w/o expressing any fear of flying/tight spaces/limited exits. Doesn't want to b/c "involved" — BREAM
The letter was first obtained by Fox News' John Roberts and it began by saying that he "found her truthful and maintain no animus" during their relationship from 1992-1998.
It said, "During that time, it was my understanding that [Ford's roommate, Monica] McLean was interviewing for jobs with the FBI and US Attorney's Office. I witnessed Dr. Ford help McLean prepare for a potential polygraph exam,"
"Dr. Ford explained in detail what to expect, how polygraphs worked and helped McLean become familiar and less nervous about the exam. Dr. Ford was able to help because of her background in psychology," the letter continued.
BREAKING: Fox's @johnrobertsFox obtains letter from Ford ex-boyfriend alleging: dated for 6 yrs, never told of sex assault, Ford coached friend on taking polygraph, flew frequently w/o expressing any fear of flying/tight spaces/limited exits. Doesn't want to b/c "involved". pic.twitter.com/jVeW0qaJD0

— Shannon Bream (@ShannonBream) 3 October 2018