by Geoffrey Grinder, Now The End Begins: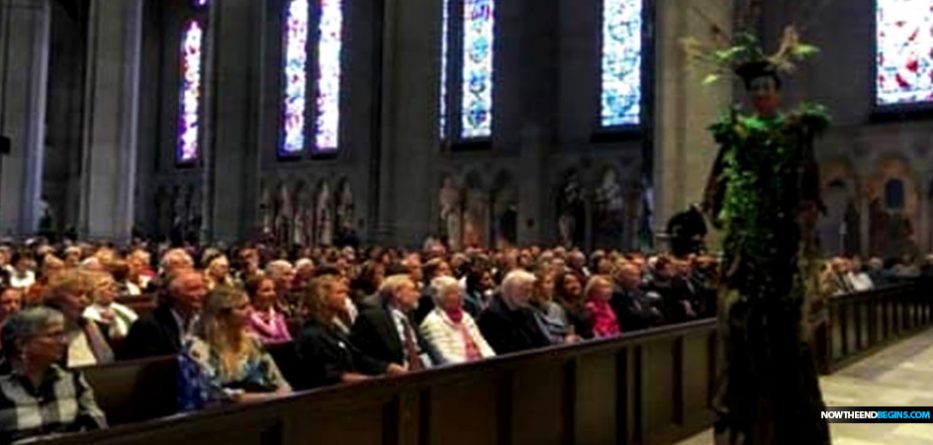 Grace Episcopal Cathedral in California that recently garnered headlines for holding a Beyoncé-centered service held a worship service featuring individuals portraying giant tree people.
We reported to you back in April on something called a 'Beyoncé Mass' that was held out in California at the Grace Episcopal Cathedral. Simply put, the 'Beyoncé Mass' was about 90 minutes of the music of Beyonce, sprinkled with a random sampling of bible verses, and 'preaching' about the various social justice issues of the day. How do you top that? Easy, have a service featuring people in giant tree costumes and 'preaching' about Climate Change. No, not kidding.
"Now the Spirit speaketh expressly, that in the latter times some shall depart from the faith, giving heed to seducing spirits, and doctrines of devils;" 1 Timothy 4:1 (KJV)
The Episcopal Church, commonly referred to as 'Catholic Lite', was never what you might call a real Christian church, certainly not from a Bible believer's perspective anyway. But even for them, this is a stunning departure from doctrine that could even be remotely considered as Biblical. When your church service becomes a combination of a Saturday Night Live sketch and a Chick tract, you know that time is just about up.
"He which testifieth these things saith, Surely I come quickly. Amen. Even so, come, Lord Jesus." Revelation 22:20 (KJV)
FROM THE CHRISTIAN POST: Grace Episcopal Cathedral of San Francisco held an interfaith worship service last week that was part of the multi-day Global Climate Action Summit. In addition to different religious groups participating in the service, a group of people portraying tall Ent-like creatures were part of the ceremony, including the closing processional.
THE SEAT OF THE BISHOP FOR THE EPISCOPAL DIOCESE OF CALIFORNIA, GRACE EPISCOPAL CATHEDRAL LISTS THE ISSUE OF "CLIMATE CHANGE" AS ONE OF ITS SOCIAL JUSTICE OUTREACH EFFORTS.
"Climate change is one of the most pressing issues of our time. It already adversely affects many lives, especially among the world's poorest people and nations," the church says online. "It is a spiritual and religious issue as much as a political and social one; the earth is loved by God, created by God, in-dwelt by God and we are called to care for it."
What an opening ceremony to #GCAS2018 hosted by @interfaithpower at @gracecathedral! Even the tree people came! pic.twitter.com/hXJtnz9VE5

— Andreas Karelas (@AndreasKarelas) 24 September 2018
Read More @ NowTheEndBegins.com