by Chris Menahan, Information Liberation: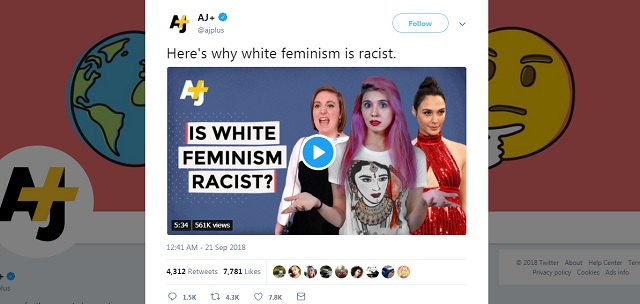 AJ+, which is short for Al Jazeera Plus, is a state-run media outlet operated by the hereditary supreme rulers of Qatar which pushes radical social justice politics in the West — despite women effectively being owned as slaves and forced to live under Sharia law in their own nation of Qatar.
The contrast is striking.
AJ+ has over 11,000,000 likes currently on Facebook and nearly 1 million followers on Twitter. AJ+ churns out social justice propaganda like this 24/7:
Here's why white feminism is racist. pic.twitter.com/Ix6amL7o21

— AJ+ (@ajplus) 21 September 2018
Colin Kaepernick refuses to stand for the anthem because of what it represents – but what about what it says? pic.twitter.com/Jy6KptYSxM

— AJ+ (@ajplus) 31 August 2016

While AJ+ sells itself as advancing the downtrodden, they also actively churn out pro-regime change propaganda to try and push the US government into war with Syria:
Chemical attack imminent? Syrians are turning charcoal and cotton into homemade masks. pic.twitter.com/xY88okS8c5

— AJ+ (@ajplus) 7 September 2018

Women in Qatar live under Sharia law and essentially have no rights.
A woman from the Netherlands who said she was drugged and raped in Qatar was punished and deported by a Qatari court in 2016.
Read More @ InformationLiberation.com