by Dave Kranzler, Investment Research Dynamics: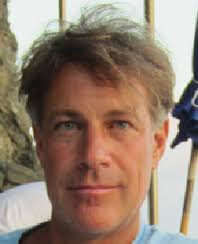 The New York Times released a bombshell report on Friday running damage control for Rod Rosenstein and the FBI after President Trump on Monday ordered the declassification of all texts related to the Russia probe from former FBI Director James Comey, former FBI Deputy Director Andrew McCabe, Bruce Ohr, Peter Strzok and Lisa Page.
Reading through the lines in this propaganda report, it becomes clear that messages are going to come out from Andrew McCabe showing the man who launched the entire Russia witch hunt, Rod Rosenstein, plotted along with other top FBI officials in the spring of 2017 to secretly record Trump in the White House as a pretext to invoke the 25th Amendment and get Trump ousted from the presidency.
Rosenstein, at the very least, looked into conducting a "straw poll" asking DOJ head Jeff Sessions and White House Chief of Staff John Kelly if they'd go along with invoking the 25th Amendment.
Rosenstein "raised the idea of wearing a recording device or 'wire,' as he put it, to secretly tape the president when he visited the White House," The New York Times's Adam Goldman and Michael S. Schmidt report. "One participant asked whether Mr. Rosenstein was serious, and he replied animatedly that he was."
"If not him, then Mr. McCabe or other F.B.I. officials interviewing with Mr. Trump for the job could perhaps wear a wire or otherwise record the president, Mr. Rosenstein offered. White House officials never checked his phone when he arrived for meetings there, Mr. Rosenstein added, implying it would be easy to secretly record Mr. Trump," The New York Times reports.
Rosenstein also sought to appoint his Democrat close friend James M. Cole to be the special counsel, who the New York Times reports "served four years as the No. 2 in the Justice Department during the Obama administration and worked as a private lawyer representing one of Mrs. Clinton's longtime confidants, Sidney Blumenthal."
The New York Times has likely had this story for over a year and sat on it, only reporting on it now that Trump's declassification order will force this all to come out.
The facts of this report suggest Rosenstein and the FBI committed treason and plotted to overthrow the President of the United States. They also suggests the New York Times is taking part in a criminal conspiracy working in tandem with the FBI to cover this all up.
This damage control piece should be entered as evidence in upcoming criminal trials.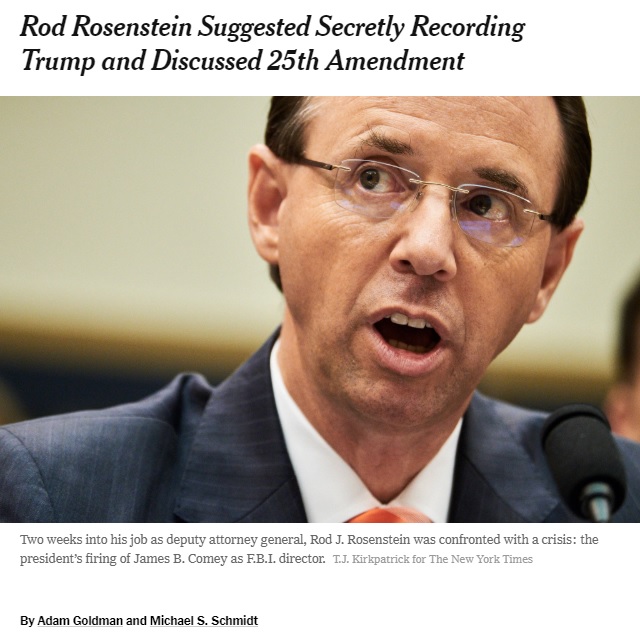 From New York Times's Adam Goldman and Michael S. Schmidt, "Rosenstein Suggested He Secretly Record Trump and Discussed 25th Amendment":
WASHINGTON — The deputy attorney general, Rod J. Rosenstein, suggested last year that he secretly record President Trump in the White House to expose the chaos consuming the administration, and he discussed recruiting cabinet members to invoke the 25th Amendment to remove Mr. Trump from office for being unfit.

Mr. Rosenstein made these suggestions in the spring of 2017 when Mr. Trump's firing of James B. Comey as F.B.I. director plunged the White House into turmoil. Over the ensuing days, the president divulged classified intelligence to Russians in the Oval Office, and revelations emerged that Mr. Trump had asked Mr. Comey to pledge loyalty and end an investigation into a senior aide.
Note the lies to soften the blow and distract from the actual issue. The info Trump divulged to Russia was about an ISIS terrorist plot. The "loyalty pledge" claim comes from conspirator James Comey.
Mr. Rosenstein was just two weeks into his job. He had begun overseeing the Russia investigation and played a key role in the president's dismissal of Mr. Comey by writing a memo critical of his handling of the Hillary Clinton email investigation. But Mr. Rosenstein was caught off guard when Mr. Trump cited the memo in the firing, and he began telling people that he feared he had been used.
Rosenstein launched the Russia witch hunt probe after Jeff Sessions recused himself.
Mr. Rosenstein made the remarks about secretly recording Mr. Trump and about the 25th Amendment in meetings and conversations with other Justice Department and F.B.I. officials. Several people described the episodes, insisting on anonymity to discuss internal deliberations. The people were briefed either on the events themselves or on memos written by F.B.I. officials, including Andrew G. McCabe, then the acting bureau director, that documented Mr. Rosenstein's actions and comments.

None of Mr. Rosenstein's proposals apparently came to fruition. It is not clear how determined he was about seeing them through, though he did tell Mr. McCabe that he might be able to persuade Attorney General Jeff Sessions and John F. Kelly, then the secretary of homeland security and now the White House chief of staff, to mount an effort to invoke the 25th Amendment.
Note, they say "apparently." The possibility he did go through with secretly recording Trump is unquestionably still here.
The extreme suggestions show Mr. Rosenstein's state of mind in the disorienting days that followed Mr. Comey's dismissal. Sitting in on Mr. Trump's interviews with prospective F.B.I. directors and facing attacks for his own role in Mr. Comey's firing, Mr. Rosenstein had an up-close view of the tumult. Mr. Rosenstein appeared conflicted, regretful and emotional, according to people who spoke with him at the time.
Read More @ InvestmentResearchDynamics.com