by Pam Martens and Russ Martens, Wall St On Parade: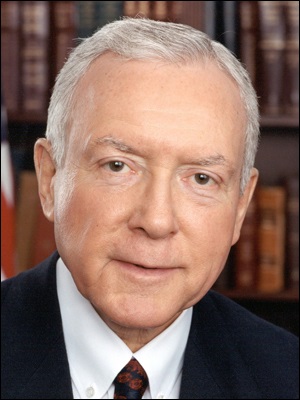 Senator Orrin Hatch of Utah, who effectively conducted himself as Clarence Thomas's attorney instead of as an impartial member of the Senate Judiciary Committee during Anita Hill's testimony on October 11, 1991, is still using the strategy of "nut-shaming" women who accuse men of sexual misconduct. Yesterday, Hatch, still a member of the Senate Judiciary Committee that holds confirmation hearings for Supreme Court nominees, told reporters that Christine Blasey Ford, who has credibly accused Supreme Court nominee Brett Kavanaugh of sexual assault, is "mixed up."
Adding to the outrage over Hatch's statement is the fact that he made his "mixed up" remark about Ford before he heard her testimony, which is scheduled to take place before the Senate Judiciary Committee on Monday, with Kavanaugh also invited to testify.
In a letter that has been published by CNN, Ford, a research psychologist in California, asserts that Kavanaugh "physically and sexually assaulted me during high school in the early 1980's." Ford alleges further that Kavanaugh's pal and classmate, Mark Judge, was an eyewitness in the room and an accomplice. Kavanaugh and Judge were attending Georgetown Preparatory School when the incident was said to have happened in a private home. Ford was 15 at the time while Kavanaugh and Judge were believed to be approximately 17.
At the suggestion of her attorney, Ford has taken a lie detector test about the incident. The New York Times reported on Sunday that Ford "underwent a polygraph examination in early August; the retired F.B.I. agent who conducted the examination, Jerry Hanafin, said in an interview on Sunday that the results showed 'no deception indicated' — in effect, 'she was being truthful.' "
Hatch told reporters yesterday afternoon that he had spoken with Kavanaugh and he is denying even being present at the party. Mark Judge, the alleged accomplice, told the Weekly Standard in an email that he has "no recollection" of the alleged attack.
Mark Judge, a writer and book author, is a weak link in Kavanaugh's defense arsenal. He's the author of the book Wasted: Tales of a Gen X Drunk which details his teen years of binge drinking and time at prep school which he says was "swimming in alcohol," according to reporting at CNN. The CNN article also notes that a Mark Judge page in the yearbook at the prep school carried this passage: "Certain women should be struck regularly, like gongs," citing Sir Noel Coward.
Mary Papenfuss, writing for the Huffington Post, has tracked down a 2011 essay that Mark Judge wrote for the Daily Caller about Georgetown Prep. In it Judge writes: "If I compare the slavery that has resulted from our 'liberation' to what we learned from some people at Prep, I would only add that I'm guilty as well, at least of the bouts of dehumanizing lust that is part of the fallen world and being human."
Ford states in her letter that the attack occurred in a suburban Maryland home where she and "four others" were present. That means that two additional people, besides Ford, Kavanaugh and Judge, may have relevant evidence to share.
As of last evening, there was some doubt as to whether the FBI has launched a formal investigation into the matter. According to former prosecutors, the FBI may not wish to act without a formal request from the White House, for whom it did its initial background check on Kavanaugh. Democratic members of the Senate Judiciary Committee yesterday wrote to Senator Chuck Grassley, the Chair of the Committee, asking him to make sure that there was a full investigation by the FBI.
Read More @ WallStOnParade.com