by Susan Duclos, All News Pipeline: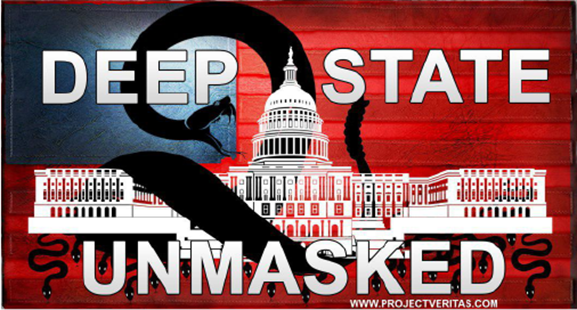 On September 14, 2018, ANP reported on the imminent release of the first in a series of undercover videos by Project Veritas after founder, James O'Keefe, announced the organization's "Unmasking the Deep State" project.
Project Veritas' undercover journalists have spent nearly a year investigating and establishing rapport with government employees and in the first bombshell release, they introduce us to a Department of State employee, Stuart Karaffa."
Karaffa is an active member of the Democratic Socialists of America (DSA) and tells the undercover reporters, on hidden camera, how he uses his time at work for the U.S. government to work on DSA projects, which is a direct violation of the Hatch Act, as explained by a lawyer in the video below.
Karaffa states "I'm careful about it. I don't leave a paper trail, like I leave emails, and like any press s**t that comes up I leave that until after 5:30. But as soon as 5:31 hits, got my like draft messages ready to send out."
The Hatch Act was created and passed into law specifically to prevent government employees from "engaging in partisan activity while on duty."
Karaffa informs the undercover journalist that he discloses his political affiliations on the forms provided to employees, but his supervisors don't even bother to read them, they just "rubber stamp," the forms and move them forward. He also doesn't worry about being fired for his political activism while on the job, saying "I have nothing to lose. It's impossible to fire federal employees."
Perhaps the most disturbing are his feelings about the job that American taxpayers are paying him to perform, which is to advance the agenda of the administration, to which he obviously disagrees with and instead thinks it is his job to "resist everything. Every level. F*ck sh*t up."
Watch below:
After O'Keefe announced that he would be dropping the videos obtained over the last year of these government employees explaining how they are subverting the will of the people that elected Donald Trump as President, the DSA sent panicked internal memos to their members, telling them to lock down their social media accounts, as shown in the screen shots below, via the video.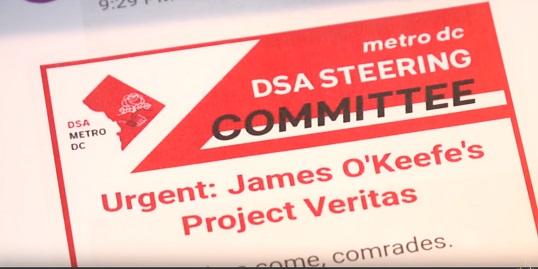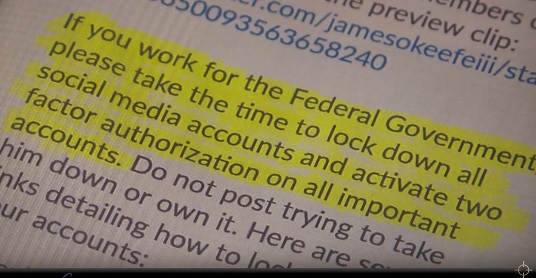 Sure enough, a look at Karaffa's Twitter account shows that his account is already locked down and "Only confirmed followers have access to @stuartkaraffa's Tweets and complete profile."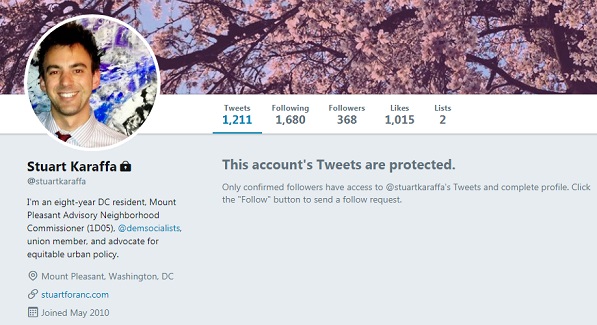 According to the website listed on his Twitter profile, Karaffa is running to be an Advisory Neighborhood Commissioner (ANC) for Single Member District 1D05 in Mount Pleasant, Washington, D.C., and hopefully the voters there see what type of man Karaffa is and deny him the opportunity to hold an elected position.
BOTTOM LINE – THE DEEP STATE 'RESISTANCE'
As we have seen by the unnamed, anonymous source that wrote an op-ed for the New York Times, detailing how there are members of the "resistance" within the administration, actively working against the President of the United States and his agenda, these people are not high profile, yet they hold positions at places  like the Department of State that allows them to "f*ck sh*t up" in the name of "resisting."
Read More @ AllNewsPipeline.com