by Stefan Gleason, Money Metals: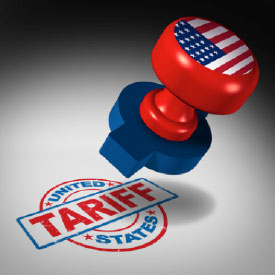 President Donald Trump's "America First" trade policies are upending decades of global arrangements and entanglements. Globalists are aghast that the leader of the free world is openly confrontational toward NAFTA, NATO, the European Union, United Nations, and World Trade Organization.
In rebuffing the global community by pursuing unilateral tariffs and vowing to win trade wars against both rivals and putative allies alike, Trump is playing a high stakes game. Trump's trade wars could test the U.S. dollar's status as world reserve currency.
According to economist Brad Schiller, "Nations are willing to accept U.S. dollars in exchange for their goods because they trust that the dollar will retain its value… The long history of U.S. dollar stability gives the U.S. this unique trade advantage — a key reason we can import more goods than we export year after year."
Schiller, like many conventionally trained economists, seems to believe that our ever-growing trade deficit benefits us. In the near term, we do get to consume more things. But countries that are sending us stuff in exchange for our dollars are effectively accumulating claims on our future.
China holds title to an enormous hoard of U.S. dollar IOUs. U.S. taxpayers now owe China more than $1.2 trillion. China ran a $366 billion trade surplus in 2017 alone.
President Trump has moved to impose tens of billions of dollars in tariffs on China and other trading partners including Canada, Mexico, and the European Union. They have responded with retaliatory tariffs affecting everything from wheat crops to Harley-Davidsons.
Winning trade wars may not be as easy as Trump had thought.
Dying U.S. Senator John McCain, a longtime Trump detractor and globalist, is among those who are actively rooting against the U.S. administration and consoling foreign countries.
"To our allies: bipartisan majorities of Americans remain pro-free trade, pro-globalization & supportive of alliances based on 70 years of shared values. Americans stand with you, even if our president doesn't," McCain ranted on Twitter.
It's not clear the failed former presidential candidate speaks for "bipartisan majorities of Americans" as he boasts. Nor is it clear that these foreign alliances reflect our "shared values."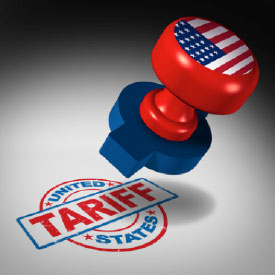 Many of the international commitments signed by previous administrations are to European-style socialists, third world despots, and NGOs that flood our cities with welfare-seeking refugees from the world's worst backwaters. Trump questions whether these entangling alliances actually benefit America.
But undoing trade agreements and raising tariffs has downside risks, to be sure.
Whether Trump's trade wars produce more wins than losses for America's economy remains to be seen.
Regardless, Trump's tariffs will not close the trade deficit. They will not reduce the projected trillion-dollar budget deficits the U.S. will be running when Trump is up for re-election.
In fact, if Trump's tariffs – which are tantamount to tax hikes that get passed on to consumers – reduce U.S. economic growth and profitability, then these federal budget deficits could come in even higher than expected.
One bold move Trump could make to shrink the deficits would be to reverse President Richard Nixon's severing of gold from international trade. In 1971, Nixon ended the Bretton Woods system, which had allowed foreign governments to convert their accumulated dollars into gold.
While not a true sound money system, it did link international trade to the discipline and stability of gold. It prevented countries from running up large trade surpluses against the U.S. Under Bretton Woods, the U.S. current account balance was positive. In the years since, it has turned sharply negative.