by Geoffrey Grinder, Now The End Begins: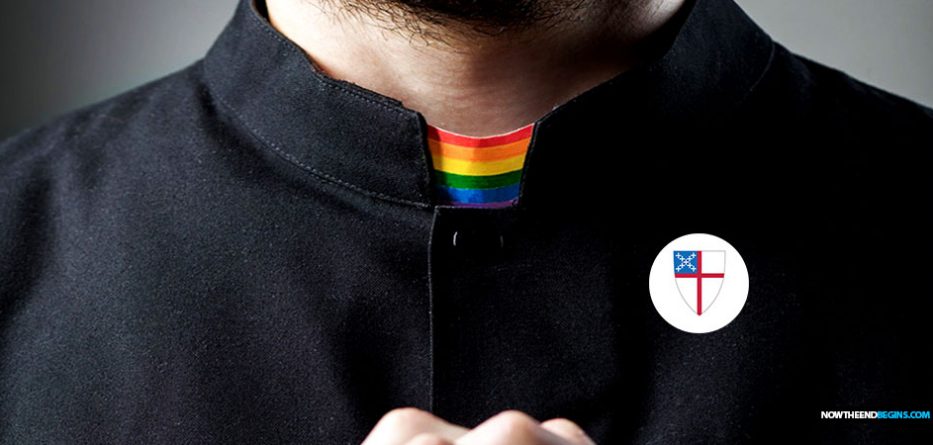 It is the standard cry of Laodiceans everywhere that 'you can't put God in a box!', and 'you can't define God'. But I have news for you, yes you can.
The Episcopal Church, or 'Catholic Lite' as I call them, are an interesting group of people. They are hyper-focused on things like Climate Change, performing same-sex marriages and creating ceremonies to celebrate when a transgender adopts a new name. But Bible doctrine? They wouldn't know it if they fell over it. Now they have a new mission – to remove all references to God as a male, and all instances of any masculine pronouns in their Book of Common Prayer.
"For the time will come when they will not endure sound doctrine; but after their own lusts shall they heap to themselves teachers, having itching ears; And they shall turn away their ears from the truth, and shall be turned unto fables." 2 Timothy 4:3,4 (KJV)
FROM CBN NEWS: Now the Episcopal Church is debating about overhauling its Book of Common Prayer, which is used in Episcopal congregations worldwide. The debate centers on making sure that prayers in the book are clear that God is not male, but doesn't have a gender, The Washington Post reports.  "As long as 'men' and 'God' are in the same category, our work toward equity will not just be incomplete. I honestly think it won't matter in some ways," the Rev. Wil Gafney, a professor of the Hebrew Bible at Brite Divinity School in Texas told the newspaper. Besides adding gender-neutral language concerning God, some advocates also want other revisions including, a Christian's duty to the Earth's conservation, adding same-sex marriage ceremonies to the liturgy, (since the church has been performing homosexual weddings for years) and even adding a ceremony to celebrate a transgender person's adoption of a new name. READ MORE
THE TRIUNE GOD IS ABSOLUTELY REVEALED AS DEFINITELY MASCULINE IN THE BIBLE:
GOD IS MALE: "And he said unto them, When ye pray, say, Our Father which art in heaven, Hallowed be thy name. Thy kingdom come. Thy will be done, as in heaven, so in earth." Luke 11:2 (KJV)
JESUS IS MALE: "My Father, which gave them me, is greater than all; and no man is able to pluck them out of my Father's hand. I and my Father are one." John 10:29,30 (KJV)
THE HOLY SPIRIT IS MALE: "Nevertheless I tell you the truth; It is expedient for you that I go away: for if I go not away, the Comforter will not come unto you; but if I depart, I will send him unto you. And when he is come, he will reprove the world of sin, and of righteousness, and of judgment:" John 16:7,8 (KJV)
When God created Adam, the first male, the Bible says that Adam was in the very image of God Himself. What image is that? A man. When God created Eve, He created her from the male Adam, indeed the very word 'woman' means 'taken out of man'.
"And the LORD God caused a deep sleep to fall upon Adam, and he slept: and he took one of his ribs, and closed up the flesh instead thereof; And the rib, which the LORD God had taken from man, made he a woman, and brought her unto the man. And Adam said, This is now bone of my bones, and flesh of my flesh: she shall be called Woman, because she was taken out of Man." Genesis 2:21-23 (KJV)
Hmm, I guess the Bible should add a TRIGGER WARNING to that passage, eh? Kind of hard to remain a feminist when you realize your entire gender is a subcategory of the male gender. But I digress, back to the Episcopal Church.
At what point does a professing Christian church, even if it's name only, cross the line from being merely Laodicean over into such red-hot apostasy that you have become utterly meaningless? Well, I think the Episcopal Church has done exactly that.
The changes they have already made, compounded with these proposed changes they wish to make, will make their core theology 100% at odds with everything the Bible teaches. For example, the Episcopal Church is performing same-sex marriage, the Bible says same-sex anything is an abomination. The Episcopal Church wants to make God gender neutral, while the Bible reveals every aspect of God to be male at every turn.
It is the standard cry of Laodiceans everywhere that 'you can't put God in a box!', and 'you can't define God'. But I have news for you, yes you can. Put God in a box? Absolutely, and that box is the King James Bible. There you will find everything you will ever know or that can be known about God in this life. Can't define God? The Bible defines Him to a wonderfully granular level of understanding. But you only come to know 'nuggets' like these if you actually read the Bible, and then believe what you read, in the context in which it appears.
We refer to this peculiar trait as being a Bible believer. Something the Episcopal Church knows nothing about. God not a male? Let's let the Bible answer.
"I am he that liveth, and was dead; and, behold, I am alive for evermore, Amen; and have the keys of hell and of death." Revelation 1:18 (KJV)
I am He, case closed.
***************************
NOW THE END BEGINS IS YOUR FRONT LINE DEFENSE AGAINST THE RISING TIDE OF DARKNESS IN THE LAST DAYS BEFORE THE RAPTURE OF THE CHURCH
HOW TO DONATE: Click here to view our GoFundMe page
When you contribute to this fundraising effort, you are helping us to do what the Lord called us to do. The money you send in goes primarily to the building of the recording studio, but it also goes to the overall daily operations of this site. When people ask for Bibles, we send them out at no charge. When people write in and say how much they would like gospel tracts but cannot afford them, we send them a box at no cost to them for either the tracts or the shipping, no matter where they are in the world. Even all the way to South Africa. We even restarted our weekly radio Bible study on Sunday nights again, thanks to your generous donations.
Read More @ NowTheEndBegins.com