by Pam Martens and Russ Martens, Wall St On Parade: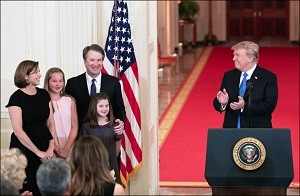 There is something revoltingly un-American about a man who stands with his wife and two young daughters to accept the nomination for the highest court in America, talks about feeding the homeless and coaching girls' basketball – all the while knowing that a lot of very dirty corporate money lurks in the shadows of his nomination.
We're talking about the fact that Trump made his Supreme Court nominee selection of Brett Kavanaugh from a list that was pre-approved by the Federalist Society – a receptacle for the dark money that flows from the billionaire Charles Koch's network of corporate polluters and democracy-killing front groups that got the Supreme Court to rubber stamp unlimited corporate money in political campaigns via the Citizens United decision in 2010.
According to the Desmog, using data compiled by the Conservative Transparency project, Donors Trust and Donors Capital Fund are two of the largest dark money groups contributing to the Federalist Society. Donors Trust has given $13,494,100 in total while Donors Capital Fund has given another $11,366,368. The two nonprofits share the same address: 1800 Diagonal Road, Suite 280, Alexandria, Virginia. The actual contributors behind those large sums remain anonymous as a result of the structure of the groups.
The Federalist Society has received another $4 million in total from the Charles G. Koch Charitable Foundation and another Koch-related group, the Claude R. Lambe Charitable Foundation.
In an exclusive report in 2010 we found that Charles Koch's fingerprints were all over Donors Trust and Donors Capital Fund. We reported the following:
"There are shades of Charles Koch all over Donors Capital and Donors Trust. Two grantees receiving repeat and sizeable grants from Donors Capital are favorites of the Koch foundations: George Mason University Foundation and Institute for Humane Studies. Another tie is Claire Kittle. A project of Donor's Trust is Talent Market.org, a headhunter for staffing nonprofits with the 'right' people. Ms. Kittle serves as Talent Market's Executive Director and was the former Program Officer for Leadership and Talent Development at the Charles G. Koch Charitable Foundation. Then there is Whitney Ball, President of both Donors Capital Fund and Donors Trust. Ms. Ball was one of the elite guests at the invitation-only secret Aspen bash thrown by Charles Koch in June of this year, as reported by ThinkProgress.org. Also on the guest list for the Koch bash was Stephen Moore, a member of the Editorial Board at the Wall Street Journal. Mr. Moore is a Director at Donors Capital Fund. Rounding out the ties that bind is Lauren Vander Heyden, who serves as Client Services Coordinator at Donors Trust. Ms. Vander Heyden previously worked as grants coordinator and policy analyst at the Charles G. Koch Charitable Foundation.
"Legal counsel for the Kochs has declined to respond to two emails with a week's lead time seeking clarification of the relationship the Kochs have to Donors Capital and Donors Trust."
Our investigation was initiated to root out who had funded the circulation of an anti-Muslim film called "Obsession: Radical Islam's War Against the West." Just seven weeks before the 2008 Presidential election between John McCain and Barack Obama, and as a whisper campaign emerged linking Obama to Muslims, 100 newspapers and magazines across the U.S. distributed DVDs of the race-baiting "documentary." Between the newspapers and a separate direct mail campaign, 28 million DVDs flooded households in swing voter states. Donors Capital Fund paid $17,778,600 to the Clarion Fund to carry out the effort. The funds from Donors Capital Fund represented 96 percent of all funds the Clarion Fund received in 2008.
Desmog further points out that the Federalist Society functions as an outpost of George Mason University (GMU) with more than two dozen interlinking individuals. GMU and its Mercatus Center have been heavily funded by Koch money for decades. On May 1 of this year, the Associated Press reported that GMU had "granted the conservative Charles Koch Foundation a say in the hiring and firing of professors in exchange for millions of dollars in donations, according to newly released documents."
The underlying agenda of the Koch money at GMU is to produce a stable of corporate-friendly economics professors who will write corporate-friendly OpEds or appear on TV to bolster some corporate attack on citizen rights.
Charles Koch has directly met with a sitting Supreme Court Justice in advance of a major case. As we previously reported, in 2008, the same year that the Supreme Court would accept the Citizens United case,  Supreme Court Justice Clarence Thomas dined with Charles Koch and his wife, Elizabeth, at their private club in Indian Wells, California. That dinner was part of an all-expenses-paid, four day luxury trip for Thomas paid for by – wait for it – the Federalist Society.
While the Citizens United case was pending before the Supreme Court, Virginia Thomas (wife to the Justice) created a tax exempt organization called Liberty Central, Inc. with a former lawyer for the Charles G. Koch Foundation, Sarah Field, acting as her General Counsel and a former Koch lobbyist, Matt Schlapp, serving on her board at inception. More dark money flowed into that group, which was operated out of a post office box.
Read More @ WallStOnParade.com