by Sean, SGTreport.com:
The person who made first made me aware that my You Tube channel had been terminated on Monday, July 23rd was You Tube's Erin T. Scott. Erin made a call-to-action video on my behalf decrying You Tube's overt fascist action against free speech. Tonight, upon returning from the hospital from visiting a loved one, I found out via Erin that "WOOOOOOOO HOOOOOOOO!! YOU ARE BACK UP!!"
To date, I have yet to get an explanation for why my channel was terminated on Monday, or why it was un-terminated tonight. However, one thing is certain: I have never seen a bigger outcry against You Tube's tyranny than the one I witnessed firsthand over the past two days. Every true friend I have reached out with support via email or by making a video decrying You Tube's dirty tactics against SGT Report and against the free speech of us all.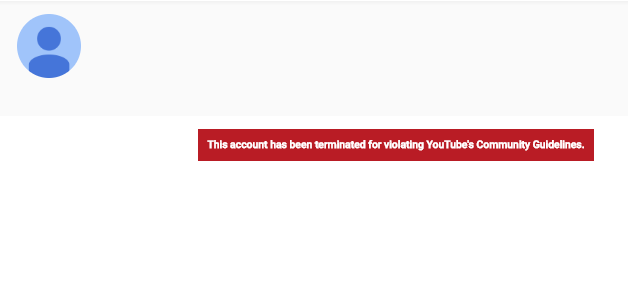 Just a few of those many people who made videos on my behalf include Erin T. Scott, Bix Weir, Chris Duane, Joe from Realist News, Gonz Shimura, Kerry Lutz, Bill Smith, The Haggman Report, Marty Leeds, Alaska Prepper, NorthWest Liberty News, Patriots Soapbox 24/7, Kenneth Ameduri, Lift the Veil (who I don't always agree with but appreciate for doing so), grindall61, and Victurus Libertas VLTV. My apologies to any one I may have missed.
While other true friends stood up for me in other ways, those folks include David Morgan, Harley Schlanger, Mike Adams, Chris Duane, Aaron and Melissa Dykes, Robert David Steele, Jon Robberson and the Hagmanns, 412 Anon, Jordan Sather, V the Guerilla Ecomomist, Frank from Quite Frankly, Daniel Ameduri, Bill Holter, Louis Cammarosano, Sarah Westall, Tracy Beanz, Silver Fortune, Will Lehr, The Honey Bee, Liz Crokin, Silver Doctors, Rory at The Daily Coin and of course my good friends SGTreport contributor Matt, my webmaster Erik and many excellent alt-media news sites. (My sincere apology to any one I am forgetting).
But even the wonderful deeds of those friends pale in comparison to the enormous scope of the outcry seen on Twitter with direct Tweets from thousands of people to @TeamYouTube demanding to know WHY You Tube terminated the SGT Report You Tube channel and demanding that You Tube immediately reinstate it.  It worked.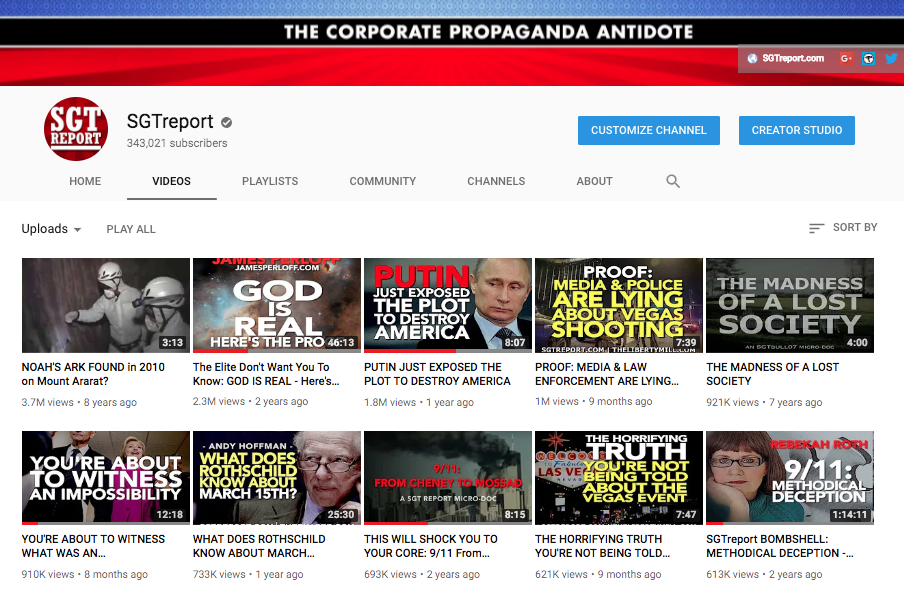 I firmly believe the public outcry on Tiwitter and other social media platforms by thousands of Patriots made a swift and direct impact in this case. And I would like to thank each and every one of you from the bottom of my heart.
When You Tube terminated Mike Adams' Health Ranger channel without cause or explanation, I spoke up loudly. When You Tube terminated the High Impact Flix channel without cause or explanation, I spoke up loudly. And when You Tube terminated my channel without cause or explanation, YOU all spoke out loudly. And thanks to YOU my channel was reinstated tonight around 8:25 pm CST or so according to Erin.
But here's the thing. Mike Adams' channel The Health Ranger and all of his 1,700 videos are still gone. Deleted from history by the swift and unjust hand of Big Brother, or more likely his helper the SPLC. And guess what? The High Impact Flix channel is still gone too, along with his 550,000 subscribers.
So our work has only begun. We all need to TWEET to @TeamYouTube and You Tube CEO Susan Wojcicki, who stated in early 2018 that "The DEMONETIZE button is on my desk at all times"…
YouTube CEO Susan Wojcicki just stated that the "Demonetize Button is on her desk at all times" Will someone from her depleted and ad starved website please inform her that I too have a Demonetize Button, but it is a much bigger & more powerful one than hers, and my Button works!

— KEEM 🍿 (@KEEMSTAR) January 4, 2018
And we must all demand that You Tube re-instate The Health Ranger and High Impact Flix immediately. Like SGT Report, those channels did nothing wrong and these injustices cannot stand.
Friends, THANK U. The HUGE public outcry to @TeamYouTube played a big role in THIS news: My main SGTReport channel on YT was reinstated tonight around 8:25pm. No idea why. But I have a new demand for @TeamYouTube PLEASE reinstate The @HealthRanger channel & High Impact Flix too.

— SGTreport (@SGTreport) July 26, 2018
By the way, it wasn't lost on dozens of my exceptionally generous supporters that by terminating my channel You Tube was placing the SGT Report real news operation in financial jeopardy by ending our ability to compete in the free market for advertising, and many of you very generously came to Patreon as new supporters. I have tried to thank each of you personally, and I still have a few left to contact. But in light of this good news tonight, I want each of you new folks to consider unwinding your contribution in coming months. You were willing to provide a lifeline for us and for that I am eternally grateful. My channel still has two strikes, so I can't live stream, but assuming the worst is over, those first two strikes should lapse during the final week of August.
You can expect more from me very soon on my MAIN channel, but just in case, please also subscribe to my back up You Tube channel which you can find HERE.
Finally, God Bless you all. I firmly believe the #GreatAwakening is real. Even those formerly entrenched on the Left are beginning to #WalkAway. The criminals who have lied to us and betrayed us for so many decades have finally woken a sleeping Lion. And now they are going to pay the price.
Oh, and one more thing. We absolutely must continue to migrate over to and support FAIR and HONEST platforms like Mike Adams' Real.Video and Bitchute. Just two of the many other excellent alternative-to-YouTube platforms where you will find SGT Report videos.