by Geoffrey Grinder, Now The End Begins: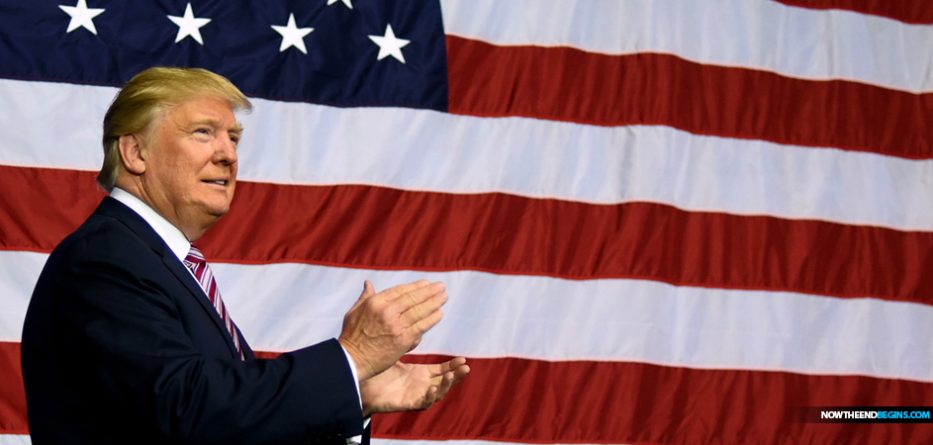 After 18 months in office, President Trump has kept so many of his promises that even his enemies in the Liberal fake news media acknowledge it as something special
On his second Fourth of July, then-president Barack Obama had a 45% approval rating, with the full and complete 24-hour per day support and endorsement of the Liberal fake news media. Today is President Trump's second Fourth of July, and despite 90% negative coverage 24-hours per day from the Liberal media, he is clocking in at an amazing 48% approval rating among likely voters, and an astonishing 90% approval among Republicans.
To sum it up in 2 little words, he's winning, and winning yuuuugely. What could be the reason for all this success in the face of such relentless opposition? The main reason, of course, is that Donald Trump is God's man in the White House for 'such a time as this'. President Trump is the only president since the end of WWII to both recognize the Jerusalem to be the capital of Israel, and to move the United States Embassy to Jerusalem. 2 feats that no other president, GOP or DNC, have done. So first and foremost, President Trump has God's blessing and protection.
Secondly, President Trump made many promises on the 2016 campaign trail that resonated with 63 million American voters. After 18 months in office, he has kept so many of those promises that even his enemies in the Liberal fake news media acknowledge it as something special. Not the least of which was the promise to 'wipe out ISIS' which in 2018 has come true to nearly 100% fulfillment.
FROM GATEWAY PUNDIT: Since President Trump's election the DOW daily closing stock market average has risen as much as 44%. (On November 9th the DOW closed at 18,332 – in January the DOW reached heights of over 26,500.). On February 28th, 2017, President Trump matched President Reagan's 1987 record for the most continuous closing high trading days when the DOW reached a new high for its 12th day in a row! Under President Trump the DOW set the record for the fastest 500 point increase between major milestones when it reached 26,000 on January 17th. It only took 6 days to increase 500 points from 25,500.  As a matter of fact, since President Trump's election the DOW has set records for the fastest 500, 1000, 2000, 3000, 4000, 5000, 6000 and 7000 point increases in the DOW's history! 2017 was the best year ever for the DOW. It increased more points than ever in its history (4,956) and it reached more all-time highs (71) than any year in history! Every US stock index has reached all-time highs during the Trump Presidency.  The Russell 2000 is currently only 7 points from the highest levels ever (1,603 on May 10, 2018 and record is 1,610 in January 2018). And President Trump's foreign policy is also seeing results. History is being made. READ MORE 
Donald Trump ran on a simple platform, restore America's greatness, make it safe again, and make it prosperous again. He has kept and is keeping those promises, and America is better off for it. God bless you, Mr. President, and may God continue to bless the United States of America.
Read More @ NowTheEndBegins.com