by Geoffrey Grinder, Now The End Begins: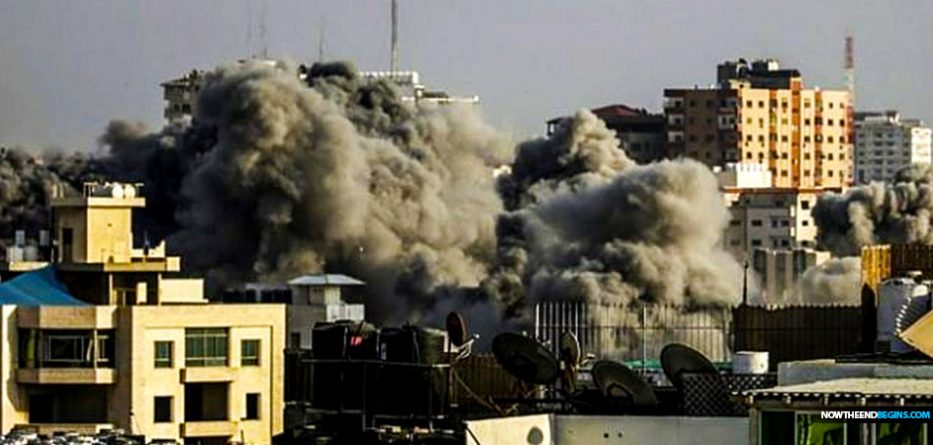 Israel launched its harshest assault against the Gaza Strip's Hamas rulers since their 2014 war, Prime Minister Benjamin Netanyahu said, in waves of airstrikes that drew barrages of Palestinian mortar and rocket fire.
UPDATE: The Hamas terrorist organization announced Saturday that it had agreed to a ceasefire with Israel following talks with Egypt and other international bodies after Palestinians fired more than 100 rockets into Israel over the weekend and Israel carried out dozens of air strikes. "The regional and international mediation has led to an end of the current escalation between the resistance and the occupation forces," Hamas said. "Facts on the ground will determine our continued response," a senior Israeli defense official said following the reports.
Two Palestinian teenagers were killed in an Israeli aerial attack, health officials said, and three Israelis were wounded by fire from Gaza that landed in a border town. Israeli and Palestinian media reported efforts by international mediators including Egypt to broker a cease-fire.
This is our reality: 90 rockets and mortar shells fired at Israel in less than 24 hours pic.twitter.com/tMZAeEgj75

— IDF (@IDFSpokesperson) 14 July 2018
Israeli military spokesman Lieutenant Jonathan Conricus said the purpose of Saturday's operation was to stop arson attacks, attempted border breaches, and assaults on soldiers that have grown increasingly violent.
"WE WILL INTENSIFY OUR ATTACKS AS NEEDED," NETANYAHU VOWED IN A VIDEO MESSAGE.
Volatility along the border has intensified since Gazans launched near-weekly protests against Israel in late March. Almost 140 Palestinians, some of them unarmed, have been killed in the confrontations. Militants have tried repeatedly to break through the security fence along the border, attacked soldiers, and destroyed thousands of acres of farmland and nature reserves in southern Israel with kites and balloons outfitted with firebombs and explosives.
UNDERGROUND TUNNELS
On Saturday, Israeli aircraft pounded dozens of Hamas targets, hitting two underground tunnels militants dug to infiltrate Israel to carry out attacks, and other compounds including a training facility and a site used to prepare kites and balloons for airborne arson attacks, the military said.
The Health Ministry in Gaza said the teenagers, ages 15 and 16, were killed by shrapnel following an Israeli attack on the training facility. Projectiles fell next to a synagogue and in the yard of a home in the Israeli town of Sderot, the Ynet news website reported. One person sustained moderate injuries and two were hurt lightly, Israel's Magen David Adom rescue service said.
Hamas spokesman Fawzi Barhoum said the militants' swift response to Israeli attacks was meant as a deterrent and "to force the enemy to stop the escalation." According to the Israeli military, at least 190 mortar shells and rockets were fired at southern Israel from the Palestinian territory on Saturday, and about 37 launches were intercepted by missiles defenses.
The hostilities followed a day of protests in Gaza that included arson attacks and the wounding of an Israeli officer.
Read More @ NowTheEndBegins.com