by Susan Duclos, All News Pipeline: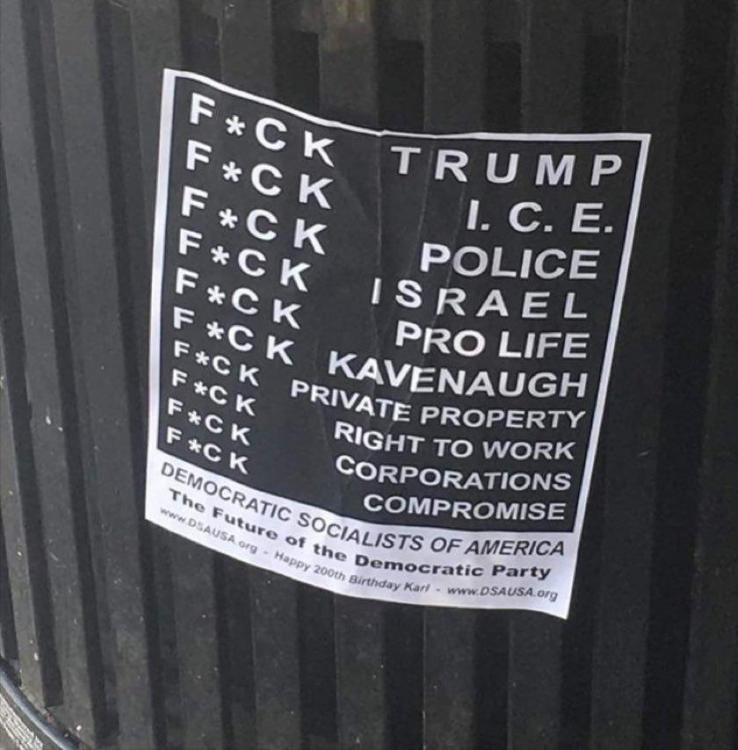 If that language in the sub-header offends you, join the club, but it is quite literally, the platform of the progressive left, represented by a woman that the Democratic National Committee (DNC) Chairman Tom Perez, has called the "future of our party."
The woman is Alexandria Ocasio-Cortez, who recently upended a primary in New York, to unseat establishment Democrat Joe Crowley. Ocasio-Cortez is also a Democratic Socialists of America member (DSA).
This is a woman that ran on a platform that included the push to "Abolish Ice," but it is recent images of Democratic Socialists of America posters popping up around New York that captures the theme of the "future" of the Democratic party.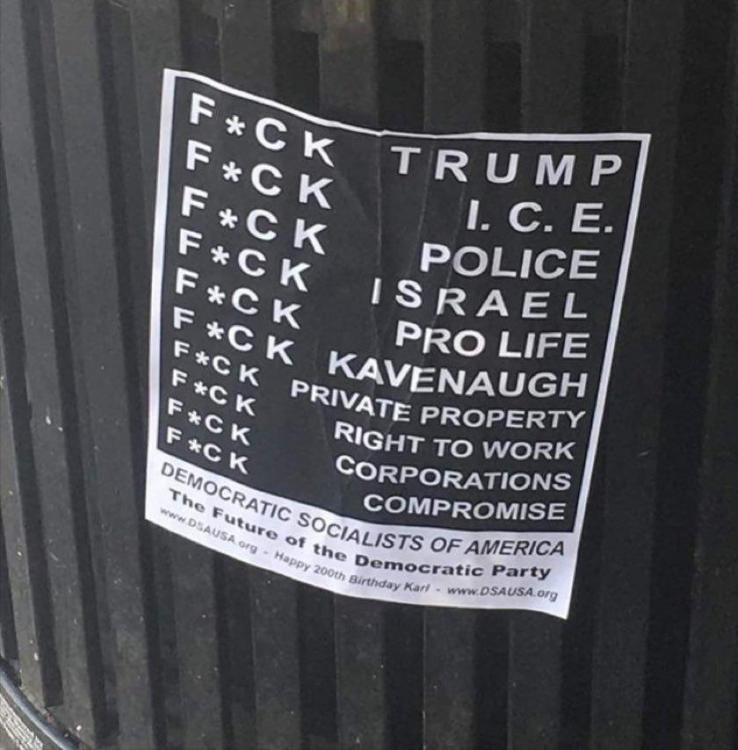 Below is Perez saying Ocasio-Cortez is the "future of our party."
Despite moderate Democrats backing away from the "Abolish Ice" theme, knowing it is losing platform, other Democrats are moving towards the Democratic Socialists of America platform ideas, as evidenced by sitting members of the House, Reps. Primala Jayapal, D-Wash., Mark Pocan, D-Wis., and Adriano Espaillat, D-N.Y., sponsoring a bill to abolish U.S. Immigration and Customs Enforcement.
ICE not only enforces immigration laws, they also combat gang violence, human trafficking, drug smuggling and other associated border crimes.
They most likely did so as a stunt, but some House Republicans are prepared to bring the vote to the floor, to force these socialist Democrats to publicly take a position one way or another, on record. Of course as soon as the bill sponsors heard they may be forced to vote on their own bill, they accused Republicans of pulling a stunt and declared they would vote against their own bill.
For anyone thinking the Democratic politicians named above are anomalies, others are on record as well in attacking ICE, such as Democratic presidential hopeful for 2020, Senator Elizabeth Warren, Senator Kirsten Gillibrand of New York, Rep. Earl Blumenauer of Oregon, Rep. Jim McGovern of Massachusetts, Rep. Nydia Velázquez of New York, and Rep. Raul Grijalva of Arizona.
All one has to do is do an image search for recent immigration protests to see why these politicians are moving even further towards an all-out socialist platform. They are appeasing their base.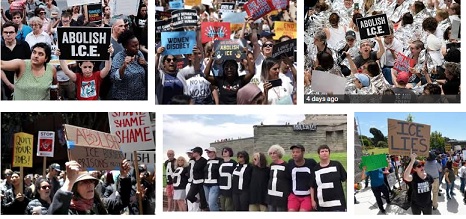 This is what the Democratic party has become.
We see today that the California Democratic Party has now refused to endorse the far left establishment Democrat for Senate, Dianne Feinstein, and has instead endorsed her progressive liberal opponent, State Sen. Kevin de Léon, who ran on a platform that included the "Abolish ICE" theme, as well as the Democratic Socialists of America's "free medicare for all" push.
DEMOCRATS WANT TO TURN AMERICA INTO VENEZUELA
While the "Abolish ICE" theme is the portion of the socialists platform that has become their rallying cry, the importance of looking to other parts of the Democratic Socialists of America's platforms, cannot be overstated.
In 2017, Vox's Jeff Stein explained what the DSA stands for:
In practice, that means DSA [members advocate] ending private ownership of a wide range of industries whose products are viewed as "necessities," which they say should not be left to those seeking to turn a profit. According to the DSA's current mission statement, the government should ensure that all citizens receive adequate food, housing, health care, child care, and education. DSA also believes that the government should "democratize" private businesses — i.e., force owners to give workers control of them — to the greatest extent possible.

But DSA members also say that overthrowing capitalism must include the eradication of "hierarchical systems" that lie beyond the market as well. As a result, DSA supports the missions of Black Lives Matter, gay and lesbian rights, and environmentalism as integral parts of this broader "anti-capitalist" program.
Americans do not have to look into the distant past to see the results of socialistic policies and what they do to a country, one only has to look at the present conditions in the socialist run country of Venezuela to see the devastating effects of socialism.
February 2018, the NYP reported "Venezuelans reported losing on average 24 lbs in body weight last year and almost 90 percent now live in poverty, according to a new university study on the impact of a devastating economic crisis and food shortages."
Wednesday's study flagged Venezuelans' deteriorating diets, which are deficient in vitamins and protein, as currency controls restrict food imports, hyperinflation eats into salaries, and people line up for hours to buy basics like flour.
In late June 2018, Bloomberg explained how the Venezuelan Army has taken over the water supply, forcing Venezuelans to pay for water.
Venezuela is suffering from food shortages, medicine shortages and healthcare system collapse, water shortages.  Venezuelan mothers are abandoning their children, even newborns, because they cannot feed them. Looting and violence have become the norm, otherwise Venezuelans say they would die of hunger.
The heartbreaking examples of how socialism always fails in the end, go on and on, which is why this recent rise in Millennials favoring socialism, and how Democratic politicians are rushing over to the edge of the socialist policy cliff just to appease them, should concern us all.
BOTTOM LINE
When the chairman of the DNC calls a member of the Democratic Socialist of America, the "future of our party," and the actual promotional materials of that group shows their platform is basically "f**k" everything while pushing for a strictly socialist society to be implemented in the U.S., America is in trouble if that party takes control again.
Read More @ AllNewsPipeline.com