by Geoffrey Grinder, Now The End Begins: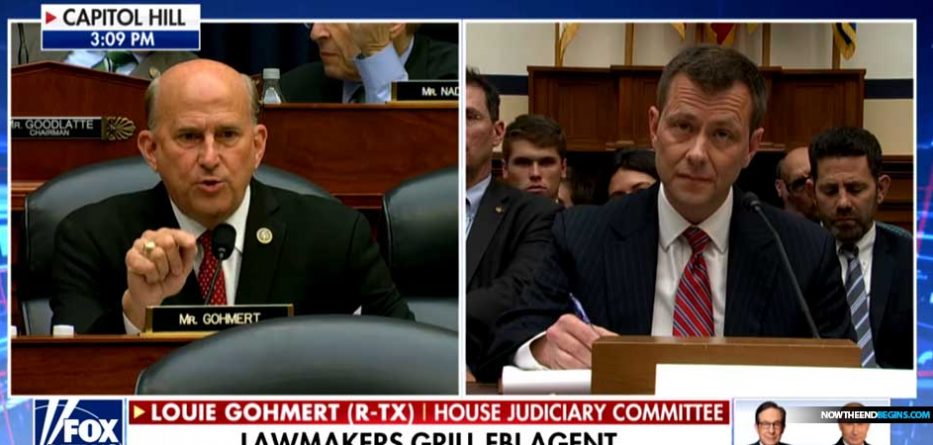 GOP Rep. Gohmert unloads on 'smirking' Strzok: 'How many times did you look so innocent into your wife's eyes and lie to her?'
It was a knock-down, drag out brawl in Congress today as Rep. Louie Gohmert looked into the eyes of FBI agent Peter Strzok, who was discovered sending anti-Trump texts while being part of the Mueller investigation on Russian collusion, and called him a liar.
Think Congressional hearings are a dry and dull affair? You won't after you watch this video, guaranteed.
FROM FOX NEWS: An already raucous hours-long Congressional hearing into FBI agent Peter Strzok's apparent anti-Trump bias boiled over on Thursday afternoon, as a top Republican asked the "smirking" Strzok whether he was lying under oath the same way he "lied" to his wife while he carried on an affair with now-former FBI lawyer Lisa Page. "The disgrace is what this man has done to our justice system," Rep. Louie Gohmert, R-Texas, shouted over objections by Democrats. "I can't help but wonder, when I see you looking there with a little smirk, how many times did you look so innocent into your wife's eyes and lie to her about Lisa Page?"  Democrats immediately erupted into more objections, with one yelling, "Mr. Chairman, this is intolerable harassment of the witness" and another calling out, "You need your medication." Strzok and Page exchanged numerous text messages on their FBI-issued phones expressing hostility toward then-candidate Trump in the run-up to the 2016 presidential election, even as Strzok was a lead investigator on the Hillary Clinton and Russian meddling probes. The two also communicated on their work phones to hide their affair from their spouses, according to a bombshell report released last month by the Justice Department's inspector general. READ MORE
How refreshing it is to see the truth being told in the halls of Washington, and cheaters and liars being called out for being just that. For those of you that are not up to speed on just who Peter Strzok is, here is the 60-second, high level overview.
Simply no evidence pic.twitter.com/Dv0E1GdRoq

— Ben McDonald (@Bmac0507) 12 July 2018
Peter Strzok is an FBI agent assigned as part of the team investigating 'Russian meddling' into the 2016 presidential elections. He began to exchange text messages with his mistress, Lisa Page who also worked on the Mueller team, in which things like 'we'll stop Trump" and "No. No, he won't. We'll stop it" when Page asked is he thought Donald Trump would ever become president.
Those are very serious words to be sent by a high-ranking FBI agent who is supposed to be investigating 'Russian collusion'. Strzok during the hearing today, when asked about why he sent those messages, said he was 'only joking' and 'using hyperbole'.
Hats off to Rep. Louie Gohmert! We need many more such men, and women, to stand up to this witch hunt and call it for what it is.
Read More @ NowTheEndBegins.com