by Wilma Woo, Bitcoinist: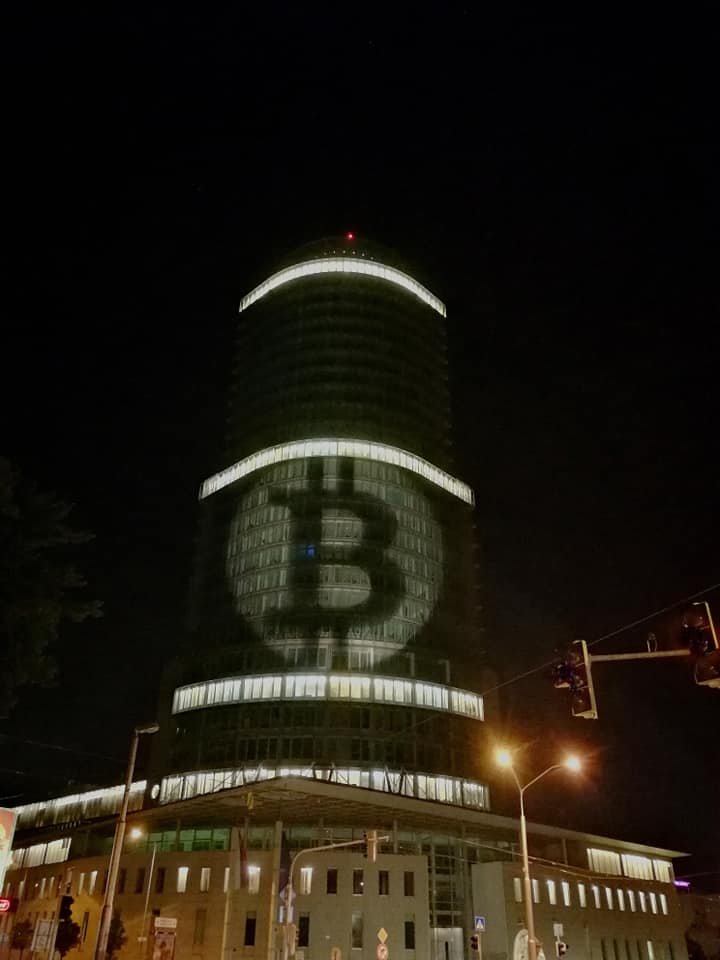 Banks in Slovakia, including the country's central bank, briefly hosted a giant Bitcoin logo on their exteriors July 11 as part of an unannounced protest by a local action group.
---
SLOVAK BANKS 'REMAIN IN DARKNESS'
Photo and video evidence from around the capital Bratislava showed various institutions with a black-and-white 'bat' logo depicting Bitcoin and Monero.
The move came courtesy of the Slovak faction of Czech cryptocurrency group Paralelni Polis, a long-standing initiative with a cafe, crypto hub and other facilities in the capital Prague. The Bratislava outlet opened earlier in 2018.
Uploading a video of the protest to Instagram Thursday, organizers appeared to take aim at local banks they say were acting in a hostile manner towards cryptocurrency entities and users.
Someone shined this spotlight on the National Bank of Slovakia last night. 😂👇🔦 #bitcoin pic.twitter.com/M6t4Vf7zXc

— A v B ⚡ (@ArminVanBitcoin) 13 July 2018
"Slovak banks, instead of embracing the unlimited possibilities of cryptocurrencies and supporting the emerging crypto companies, due to state regulators or unclear legislation remain in the darkness," they wrote.
A witch hunt for crypto companies and blocking transactions to crypto exchanges continue. The (en)light(enment) to the banks is an attempt to overcome the darkness, which, like in the 15th century, prevented revolutionary book technology to establish, now in the 21st century, is threatening the rise of a new blockchain decentralized era.