by Michael Snyder, End Of The American Dream: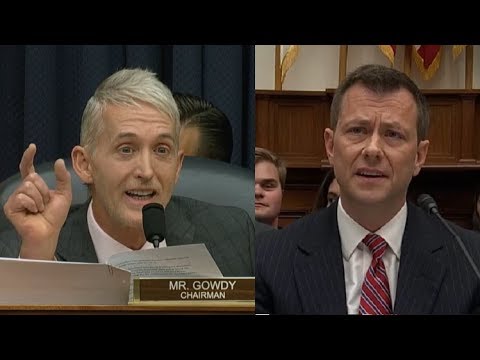 On Thursday, Peter Strzok finally received his well-deserved congressional grilling, and it was quite a chaotic affair. Over nearly ten hours, there were shouting matches between Strzok and congressional Republicans, there were shouting matches between Republicans and Democrats, and there were quite a few moments that none of us will ever forget. It was a joint hearing of the House Judiciary and Oversight Committees, and the meeting room was absolutely packed. More than 70 members of the House were in attendance, and many came ready with some very pointed questions. The following are five of the most controversial moments from Peter Strzok's ten hour testimony to Congress…
#5 Bob Goodlatte asks Strzok how he can "smell" Trump supporters at a Wal-Mart in southern Virginia…
#4
 John Ratcliffe confronts Strzok about using "official FBI phones" on "official FBI time" to talk to Lisa Page about "stopping Trump" and "impeaching Trump". The following comes from 
CNN
…
"When you said you never crossed that bright, inviolable line, what you meant to say was except for 50,000 times, except for hundreds of times a day where I went back and forth, expressing my personal opinions about 'f'ing' Trump and stopping Trump and impeaching Trump on official FBI phones, on official FBI time," said Rep. John Ratcliffe of Texas.

"Agent Strzok, are you starting to understand why some folks out there don't believe a word you say?" he added.
#3 Darrell Issa forces Strzok to read back some of the anti-Trump text messages that he sent to Lisa Page…
#2
 Trey Gowdy uses his extensive legal skills to absolutely grill Strzok about his contradictory statements…
#1
 Congressman Gohmert went where nobody else was willing to go when he asked Strzok "how many times did you look so innocent into your wife's eye and lie to her about Lisa Page?" The following comes from 
CNN
…
"I've talked to FBI agents around the country. You've embarrassed them; you've embarrassed yourself," Gohmert said. "And I can't help but wonder, when I see you looking there with a little smirk, how many times did you look so innocent into your wife's eye and lie to her about Lisa Page?"
You can see video of this exchange between Strzok and Congressman Gohmert right here…
Wow. Congressman Gohmert went there. pic.twitter.com/RWjayDOn7J

— Scott Whitlock (@ScottJW) 12 July 2018
Read More @ EndOfTheAmericanDream.com