by Elizabeth Vaughn, Freedom OutPost: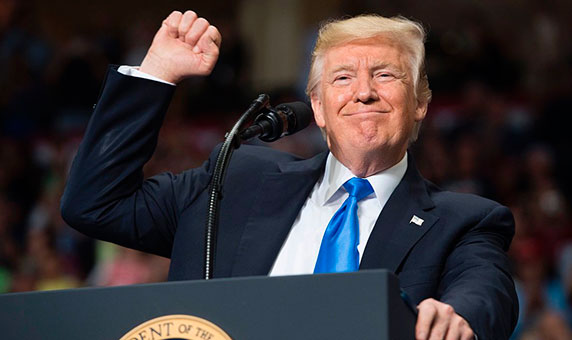 The left certainly outdid themselves last week. From activists chanting "shame, shame, shame" at DHS secretary Kirstjen Nielsen in a DC restaurant and Time Magazine's deceitful cover, to former Sex and the City actress and current New York gubernatorial candidate Cynthia Nixon calling ICE a "terrorist organization," liberals really went into overdrive. Were they trying to call attention away from what should have been a bigger story?
Nearly lost in the cacophony was the testimony of former Obama administration cyber security coordinator Michael Daniel before the Senate Intelligence Committee, confirming that he was told by Susan Rice to "stand down" in his efforts to thwart Russian meddling in our 2016 election.
The FBI had recently begun their counterintelligence investigation into Trump's possible collusion with the Russians. If administration officials were so worried about Russian influence, why would they issue such an order?
Although Hillary had a significant lead in the polls at that time, they still needed to lay the groundwork for what FBI official Peter Strzok referred to as their "insurance" policy. Considered in this context, the order starts to make sense.
Strzok sent the following text to FBI lawyer Lisa Page, his paramour, in August 2016.
I want to believe the path you threw out for consideration in Andy's office — that there's no way he gets elected — but I'm afraid we can't take that risk. It's like an insurance policy in the unlikely event you die before you're 40.
"Andy" refers to former FBI Deputy Director Andrew McCabe who denied participating in such a discussion when questioned by Inspector General Michael Horowitz (IG). Strzok claims McCabe was there.
Sen. Lindsey Graham (R-SC) wants the truth and asked the IG, as he testified before Congress last week, to "hand over" the pertinent documents, saying:
I believe it would be of grave consequence if the Deputy Director of the FBI met with the lead investigator of the Clinton Email and Russia investigations to talk about 'an insurance policy' against Donald Trump's victory in the 2016 election. That would show bias and inappropriate behavior at the highest levels of the FBI.
Rep. Trey Gowdy (R-SC) also questioned the IG about the insurance policy.
Mr. Inspector General, that is two weeks into an investigation, and he is talking about taking out an insurance policy because he can't fathom the target of his investigation possibly becoming the president.
Finally, Rep. Jim Jordan (R-OH) asked the IG about it.
I think a lot of regular folks would interpret that as more than just casting a cloud on what the FBI ultimately did. I mean, it's one thing to say 'Trump's an idiot'; it's another thing to say, 'We've got an insurance policy.'
Journalists Michael Isikoff and David Corn co-authored a book entitled "Russian Roulette: The Inside Story of Putin's War on America and the Election of Donald Trump
." The book made the claim that Susan Rice, obviously acting on Obama's behalf, issued the stand down order in August 2016, shortly after the Obama FBI had opened their investigation into possible collusion between then-candidate Donald Trump and the Russians, and at the same time Strzok was texting Page about the insurance policy. Excerpts from The Daily Caller's report follow:
Daniel was developing strategies to respond to Russian cyber attacks on U.S. companies and political campaigns. He proposed using what's known as denial of service (DoS) attacks to take down Russian propaganda news sites and to attack Russian intelligence agencies.
Another idea was to announce a bogus "cyber exercise" against a Eurasian country. The goal was to put the Kremlin on notice that its infrastructure could easily be targeted by the U.S.
Rice opposed the proposals, according to "Russian Roulette."
"Don't get ahead of us, "she told Daniel in a meeting in August 2016, according to the book.
Daniel informed his staff of the order, much to their frustration.
"I was incredulous and in disbelief," Daniel Prieto, who worked under Daniel, is quoted saying in "Russian Roulette."
Read More @ FreedomOutPost.com