by Matt Agorist, The Free Thought Project: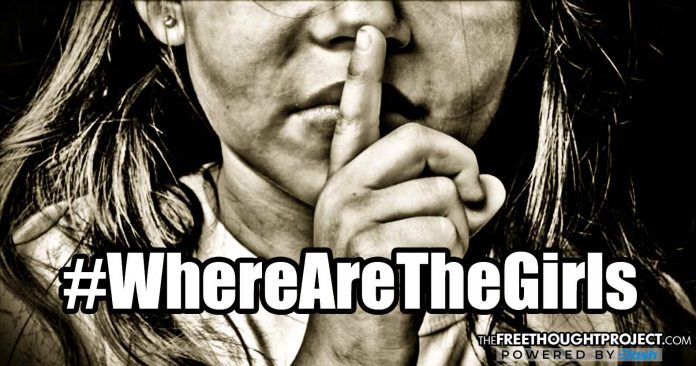 Fears of child trafficking are rising as independent media and citizens realize that the only footage of children refugees is boys. DHS was asked where the girls are, and they could not answer.
As the debate swarms over illegal immigration, Americans on both the left and the right are at each other's throats pointing fingers over who's responsible. In the meantime, what was a "conspiracy theory" a month ago is now being confirmed by the very people accused of keeping people in cages. One question, however, has just been raised which gives one a dark and sickly feeling inside when thinking about the potential answers to it: "Where are the girls?"
There is something particularly disturbing about the minuscule amount of footage recently released by HHS last week—it only shows boys, and only boys age 10 and up. Where are the girls? Where are the toddlers? Where are the babies?
Could it be that HHS is only releasing footage of these older boys to portray an image of less suffering and compliant young men in order to keep the public happy? Are the places where girls are kept so disturbing that none of this footage can be released?
According to official policy, the government does not remove toddlers and babies from their mothers. However, as TFTP reported, a mother from Honduras who came to the U.S. seeking asylum with her family said she was breastfeeding her infant at a detention center when her baby was suddenly taken from her with no warning and no explanation.
Now, the question of "where are the girls?" has become such an issue that it made its way to the White House and a reporter asked Department of Homeland Security Chief Kirstjen Nielsen.
Monday afternoon, during a White House press briefing, a reporter asked, "Why is the government only releasing images of the boys being held? Where are the girls & toddlers?"
Nielsen could not answer. When asked about the now infamous footage released by HHS that has been played all day on every major network, showing boys inside the Brownsville, Texas Walmart turned detention center, Nielsen claimed she never saw it.
When pressed on the issue, Nielsen then deflected the reporter claiming that she will "look into that."
Reporter: Why is the government only releasing images of the boys being held? Where are the girls & toddlers?

Nielsen: I'll look into that pic.twitter.com/aWZ7UoehEr

— POLITICO (@politico) 18 June 2018
Also on Monday, ProPublica released an audio recording that was taken inside a U.S. Customs and Border Protection facility. It is nothing short of heart-breaking.
The clip recorded two girls who had just been separated from their parents. They are scared to death and wailing as the border agent jokes, "We have an orchestra here."
Since the question of "where are the girls?" began to gain traction, a firestorm has erupted on social media of people fearing the worst. Many people are claiming that they are being trafficked or abused. Indeed, as TFTP reported yesterday, a police officer was arrested for abusing one of these little girls and threatening her undocumented mother with deportation if she spoke up.
Exactly what is happening to the girls that are making it over the border remains unclear. However, the video above is enough to show that something has to change. Sadly, however, the left/right divide makes effective change nearly impossible.
Read More @ TheFreeThoughtProject.com