by Rachel Blevins, The Free Thought Project: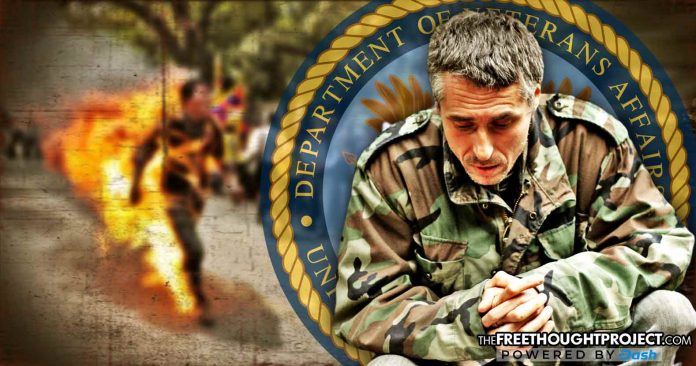 A veteran protesting the VA, burned 90 percent of his body when he strapped homemade incendiary devices to himself and covered himself in flammable liquid.
Atlanta, Georgia – In a horrific scene that was meant to raise awareness about the cruel treatment he endured from the Department of Veterans Affairs, an Air Force Veteran used a combination of fireworks and gasoline to set himself on fire.
John Michael Watts, 58, approached the Georgia Capitol in downtown Atlanta around 10:45 a.m. on Tuesday and within minutes, he was engulfed in flames that burned 90 percent of his body.
Georgia State Patrol Capt. Mark Perry told the Atlanta Journal-Constitution that  Watts appeared to have attached "homemade incendiary devices and firecrackers" to his body and covered himself in "some kind of flammable liquid" and then "attempted to set himself on fire."
"Almost simultaneously, one of the Capitol Troopers saw what was happening and came out, and actually had a fire extinguisher and was able to douse him pretty quickly," Perry said. "The subject has now been transported to Grady [Memorial Hospital] via EMS."
Video: DEVELOPING – Disgruntled veteran sets himself on fire outside Georgia Capitol, GSP says –https://t.co/UmUIZsaQCm #Atlanta pic.twitter.com/FZqAui4Oth

— John Spink (@johnjspink) 26 June 2018
A witness to the event, Kent Beasley, told Fox 5 Atlanta that the flames erupted suddenly, and it seemed as though Watts had been planning to make it to the top of the Capitol's steps before he lit himself on fire. "By the time he got up to the Capitol, try to go up the steps he couldn't make it. So I guess the cigarette fell over in the fireworks and it started exploding and I look back over there and he was on fire," he said.
In his report of the incident, Director of Georgia Public Safety, Col. Mark McDonough said, "We have somebody who claims to be a veteran that is disgruntled with treatment by the VA. He was protesting that to the extent, that he caused bodily harm to himself."
While Watts' demonstration has garnered national media coverage because of the extensive burns he suffered, and the dramatic scene it caused in Atlanta as police searched for other explosives, his message should not go unnoticed.
The details of Watts' personal experience with the VA may not be public right now, but he is just one of the hundreds of thousands of veterans who have been denied proper treatment by the VA. In 2015, a leaked document showed that more than 238,000 veterans died waiting for treatment, according to the Department of Veteran Affairs' backlog.
Read More @ TheFreeThoughtProject.com