by Stefan Gleason, Money Metals: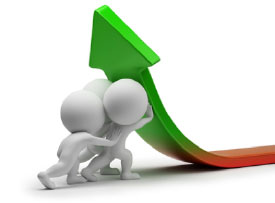 President Donald Trump recently took to Twitter to boast, "The U.S. has an increased economic value of more than 7 Trillion Dollars since the Election. May be the best economy in the history of our country. Record Jobs numbers. Nice!"
"We ran out of words to describe how good the jobs numbers are," reported Neil Irwin of the New York Times, amplified in a Trump retweet.
Increase
If you believe the headline numbers, joblessness is at a generational low with the economy booming.
Trillions in nominal value added to the stock market since Trump's election. GDP up over 3% in the second quarter. 223,000 jobs added in May. Unemployment at an 18-year low of 3.8%.
On the surface, this all paints a beautiful picture for the economy and stock market. But dig a little deeper, and the numbers aren't quite as bright they appear. All that glitters is not gold.
Headline Unemployment Number Is Fake News
Donald Trump himself put his finger on one of the main flaws with the unemployment number back when he was a private citizen.
"Unemployment rate only dropped because more people are out of labor force & have stopped looking for work. Not a real recovery, phony numbers," he posted on September 7th, 2012.
The headline unemployment number isn't any less phony in 2018. Though it has improved under Trump's presidency – in large part because of his pro-growth tax cuts and deregulation – the statistic is still derived from a dubious formula.
Back in 2012, Trump rightly pointed to the large numbers of workers who had dropped out of the labor force but weren't counted among the ranks of the unemployed.
The labor force participation rate currently comes in at just 62.7%. That means 33.7% of the population is currently not employed in the labor force. The vast majority of these jobless Americans aren't among the 3.8% officially "unemployed."
A healthier labor force participation rate of more than 66% prevailed before the Great Recession. It's lower today not just because more people are retired. It's also lower because the share of Americans aged 25 to 54 who are working still hasn't risen back up to pre-2008 levels.
Among working-age males, only about 69% are currently working – closer to a record low than a record high for this cohort.
Civilian Labor Force Participation Rate among Men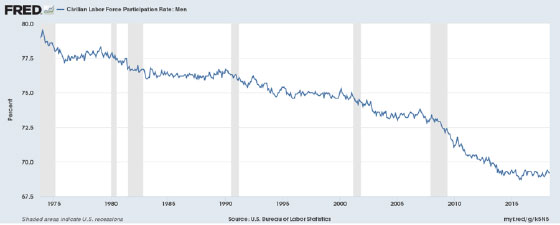 The most cited unemployment measure (U3) doesn't include people who have been unemployed for so long they have fallen off the unemployment insurance rolls.
"Discouraged workers" who are no longer looking for employment because they believe no jobs are available aren't counted as unemployed by the Bureau of Labor Statistics; nor are partially-employed or under-employed workers.
They aren't employed, but they aren't officially "unemployed," either. They are statistically invisible.
Phony government statistics on employment, inflation, GDP, national debt, and other key measures of the economy can cause investors to pursue the wrong strategy at the wrong time. Politically skewed data can cause investors to overestimate their expected returns from conventional financial assets and underestimate downside risk.
Inflation Manipulation
Any investor who buys a stock, bond, or other financial asset has a set of expectations about the future. Whether implicitly or explicitly, an investor who accepts a 3% bond yield or a 3% earnings yield, for example, is making a bet that the economy will remain stable and inflation relatively low.