by Brandon Smith, Alt Market: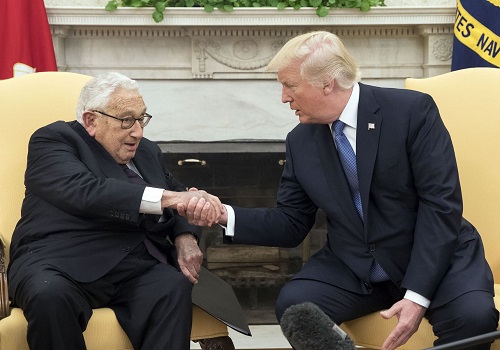 In general, it has always been dangerous to put blind faith in human icons of any kind; not to mention, entirely unnecessary. The maxim that one "should never meet their heroes" is something far more people should take to heart when applying elevated status to political leaders in particular. Hero worship of a celebrity is unhealthy, but hero worship of a president can be truly dangerous.
Why? Because political power relies mostly on "human capital" — the number of people within a society that are willing to support or even fight for a particular change. Swaths of citizenry can be wielded by politicians with ill intent like a weapon to create the illusion of consensus and dramatic reversals in cultural principles. These changes usually tend to involve more control for government and less freedom for the public and can last for generations.
The cult of celebrity has never been more prominent in politics than it has the past decade. Starting with Barack Obama, something changed in the American view of presidential leadership. With Obama, there was an element of naive adoration that leftists largely embraced. Obama was more than a president — he was an idol.
Unfortunately, I am also seeing some of the same behavior in elements of the conservative population when it comes to Donald Trump. There are many reasons for this.
First, Trump is one of the few presidents that was already a celebrity before running for office. His notoriety went far beyond that of someone like Ronald Reagan, who did rank as a kind of known cultural element, but certainly not an icon or idol before becoming president.
Second, Trump rode the wave of a backlash movement against the far left, which is now by every definition fully invested in cultural Marxism if not economic Marxism. For many people, Trump represents the moment America was "saved" from imminent destruction by an insane ideology. In fact, I would say Trump's popularity was directly proportional to the moderate public's disgust with social justice fanatics; people who believe that sabotaging a culture from the inside, breaking it down through deliberate crisis and then replacing its core principles with their own, is an acceptable strategy.
Third, the election of 2016 was not about Donald Trump versus Hillary Clinton — it was about traditional American values versus moral relativism. At least that was how many conservatives viewed it.
Some people may argue that Trump earned his election win by bravely taking on the establishment and the hard left when no other candidate would. This rebellion remains to be seen, but the notion is powerful and people take it personally. Trump cheerleaders react with disdain when any critical tone is applied to his behavior. In their mind, only evil leftists are critical of Trump, and if you are on the political right, then you better be toeing the line. If you are not with them, you are against them.
It's funny; when I was writing analysis on the disturbing nature of the Bush administration, I was called a leftist. When I went after Barack Obama, I was called a "far-right extremist" and a potential racist. Now, when investigating Trump's odd activities, I'm back to being accused of leftist antics again. I've magically come full circle. When it comes to political bias, reason takes a back seat to team-based psychology.
Trump's win, of course, had nothing to do with his validity as a candidate nor did he create his own following. His following was prepackaged. The rage against social justice and leftist absurdity was already vast. Trump was simply used as a focal point for that rage and his rhetoric tapped into the conservative psyche. He said most of the right things during his campaign; whether he actually believes in those things is another matter…
So far, his track record is not so great. One of his most vital campaign promises which appealed to the largest portion of conservatives was the idea of "draining the swamp." What is the swamp? Trump defined it himself by going after Hillary Clinton's contingent of elitist allies from think tank cronies to Goldman Sachs banking ghouls. This is a perfect example where Trump rhetoric does not match reality.
By Trump's own definition, he has actually added to "the swamp" rather than draining it. Trump's cabinet is loaded with an ensemble of elitist freaks that should have been relegated to a carnival side show.
Goldman Sachs goons like Steve Mnuchin and James Donovan lurk the halls of the White House while other Goldman alumni like Gary Cohn seem to cycle through and are replaced with other equally unsettling characters like Larry Kudlow, a former adviser to the Clintons and John Podesta as well as an economist for the Federal Reserve bank. You have Mike Pompeo, Secretary of State and a rabid supporter of mass surveillance of the American people. There's Gina Haspel, a CIA director wrapped up in numerous torture scandals. And let's not forget about John Bolton, National Security Adviser, Council on Foreign Relation member and one of the chief architects behind the aggressive U.S. war policy in the Middle East since George W. Bush's administration.
I could go on and on…