by Mike Maharrey, Tenth Amendment Center: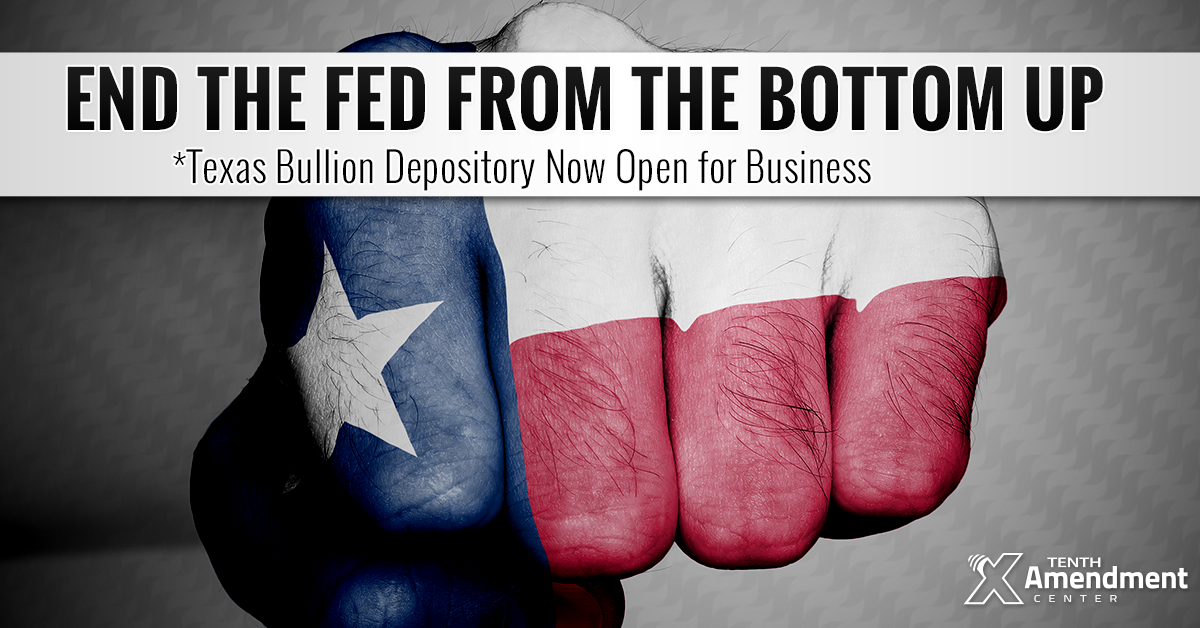 The Texas Bullion Depository officially opened for business this week. The creation of the facility represents a power-shift away from the federal government, and sets the foundation to undermine the Federal Reserve's monopoly on money.
In June 2015, Gov. Greg Abbot signed legislation creating the state gold bullion and precious metal depository. The facility will not only provide a secure place for individuals, business, cities, counties, government agencies and even other countries to store gold and other precious metals, the law also creates a mechanism to facilitate the everyday use of gold and silver in transactions. In short, a person will eventually be able to deposit gold or silver – and pay other people through electronic means or checks – in sound money.
The facility began accepting deposits of precious metals on Wednesday, June 6. Texas Comptroller Glenn Hegar became the first depositor. He praised the depository as a secure place to store gold and silver.
"Once you've made that deposit, it is going to be there tomorrow and in the future, until you make a decision to withdraw it or you want to sell it," he told the Texas Tribune.
Rep. Giovanni Capriglione sponsored the legislaiton creating the depository. He also deposited gold on Wednesday. He said he thinks the Texas facility could be the first of many across the U.S.
"I can't think of any place else in the world that could create a bullion depository this way, and I've heard from legislators across the country who want to do what we are doing, from Tennessee to Utah," he said in a statement. "We will see a lot of financial interest in this depository, with gold, silver and other commodities coming here."
Austin-based Lone Star Tangible Assets runs the depository for the state. It currently operates it out of its existing facility in Austin, but plans to open a new building for the depository in Leander sometime in 2019.
You don't have to be a Texas resident to use the depository. Any U.S. citizen can set up an account online and then ship or personally deliver metal to the facility. The Texas Bullion Depository will accept gold, silver, platinum, rhodium and palladium.
The depository does not currently have a system in place to faciliate everyday transactions with gold and silver, but that remains part of the long-term plan.
According to an article in the Star-Telegram, state officials want a facility "with an e-commerce component that also provides for secure physical storage for Bullion." While in the development phase, officials said plans for a depository will include online services that would let customers accept, transfer and withdraw bullion deposits and related fees.
Ultimately, depositors will be able to use a bullion-funded debit card that seamlessly converts gold and silver to fiat currency in the background. This will enable them to make instant purchases wherever credit and debit cards are accepted.
By making gold and silver available for regular, daily transactions by the general public, the new depository has the potential for wide-reaching effect. Professor William Greene is an expert on constitutional tender and said in a paper for the Mises Institute that when people in multiple states actually start using gold and silver instead of Federal Reserve notes, it would effectively nullify the Federal Reserve and end the federal government's monopoly on money.
"Over time, as residents of the state use both Federal Reserve notes and silver and gold coins, the fact that the coins hold their value more than Federal Reserve notes do will lead to a 'reverse Gresham's Law' effect, where good money (gold and silver coins) will drive out bad money (Federal Reserve notes).

"As this happens, a cascade of events can begin to occur, including the flow of real wealth toward the state's treasury, an influx of banking business from outside of the state – as people in other states carry out their desire to bank with sound money – and an eventual outcry against the use of Federal Reserve notes for any transactions."
Gresham's Law holds that "bad money drives out good." For example, when the U.S. government replaced silver quarters and dimes with coins made primarily of less valuable copper, the cheap coins drove the silver out of circulation. People hoarded the more valuable silver coins and spent the less valuable copper money. So, how do you reverse Gresham?
The key is in making it easier to use gold and silver in everyday transactions. The reason bad money drives out good is that governments put up barriers to using sound money in day-to-day life. That makes it more costly to spend gold and silver and incentivizes hoarding. When you remove barriers, you level the playing field and allow gold and silver to compete head-to-head with Federal Reserve notes. On an even playing field, gold and silver beat fiat money every time.
Read More @ TenthAmendmentCenter.com