by Amber Athey, The Daily Caller: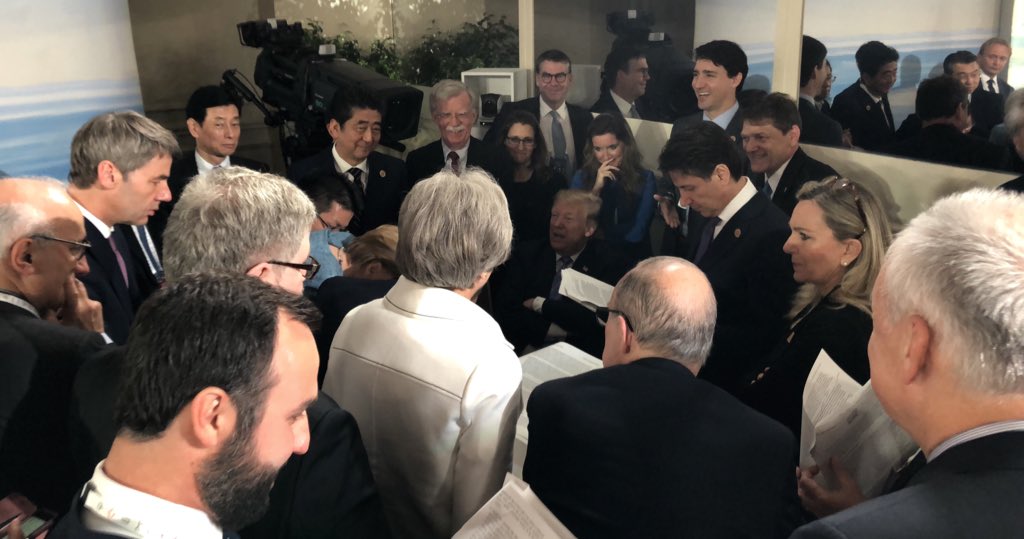 White House Press Secretary Sarah Huckabee Sanders called out a CNN producer for fake news about the G7 Summit on Saturday.
The saga started when Dan Scavino, an assistant to the president, tweeted out a behind-the-scenes photo of "negotiations" at the annual summit.
A look at negotiations, from behind the scenes at the #G7Charlevoix Summit. pic.twitter.com/2LdJAgt6fE

— Dan Scavino Jr. (@Scavino45) 9 June 2018
CNN producer Greg Hughes, apparently unhappy that the photo showed a number of world leaders gathering around President Trump, insisted that the photo was just "clever visual messaging" and claimed without evidence that the event was a "group signing."
"Pretty clever visual messaging here from the White House — taking some kind of group signing event and framing it instead to show President Trump seemingly holding court," Hughes tweeted.
Pretty clever visual messaging here from the White House — taking some kind of group signing event and framing it instead to show President Trump seemingly holding court, with the rest of the G7 leaders clustered in around him https://t.co/kKKsQGDYjL
— Greg Hughes (@newsbyhughes) June 9, 2018
Sanders hit back hard at Hughes, tweeting, "Congratulations! Once again you are wrong."
"There was no 'some kind of group signing' taking place," she wrote. "It was all negotiations. We were there. You were not."
Sanders finished by asking if the CNN producer would retract his "'clever' and completely inaccurate tweet."
Dear @newsbyhughes @CNN,
Congratulations! Once again you are wrong. There is no "some kind of group signing" taking place. It was all negotiations. We were there. You were not. @Scavino45 tweet is 100% factual. Will you retract your "clever" and completely inaccurate tweet? https://t.co/iWhFfByiLn

— Sarah Sanders (@PressSec) 9 June 2018