by Susan Duclos , All News Pipeline: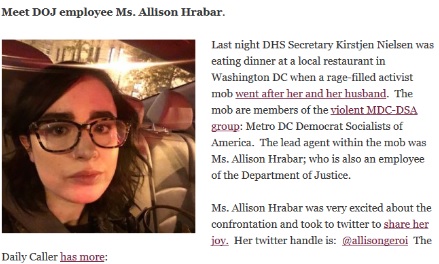 As the liberal media's mass hysteria infects more and more of their audience we are seeing example after example of a whole segment of society becoming completely unhinged, violent, and dangerous.
MOB MENTALITY GOES CRITICAL
In the last two weeks we have seen celebrities, both Peter Fonda and Tom Arnold, threaten President Trump's 11 year old son Barron Trump, with Fonda going further by verbally attacking and threatening both White House Press Secretary Sarah Sanders and her children, and Secretary of Homeland Security Kirstjen Nielsen.
Protesters also surrounded Nielsen's home carrying signs with her face and the meme "Baby Snatcher," as the media's inaccurate and fake news reporting of children in cages, one from 2014 when Obama was president, and another from a protest in Texas, went viral with claims that they were taken during the Trump presidency. Some aliens that crossed the border illegally, detained for prosecution as part of the zero-tolerance policy, were separated from their children, as the children went to shelters while the adults went to jail, until President Trump issued an EO stating they would be kept together while awaiting their court hearings.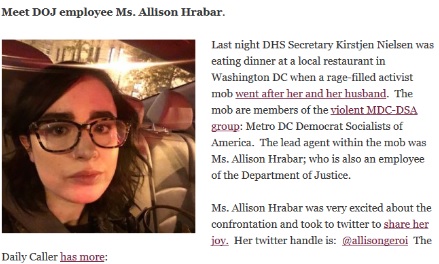 We have seen restaurant owners at the MXDC Cocina Mexicana allow a mob of patrons stalk and harass secretary Nielsen in their establishment, after a DOJ employee who is a member of the Democratic Socialists of America, Allison Hrabar, organized a group of a dozen others to verbally accost Nielsen while she was eating. Hrabar was later quoted as saying "If you see these people in public, you should remind them that they shouldn't have peace."
Another restaurant owner, Stephanie Wilkinson, of the Red Hen Lexington, VA, refused service to Sarah Sanders and asked her to leave, which she and her group did. After an employee of the Red Hen posted on social media that the owner had asked Sarah to leave, the story went viral and Sarah then tweeted out her confirmation.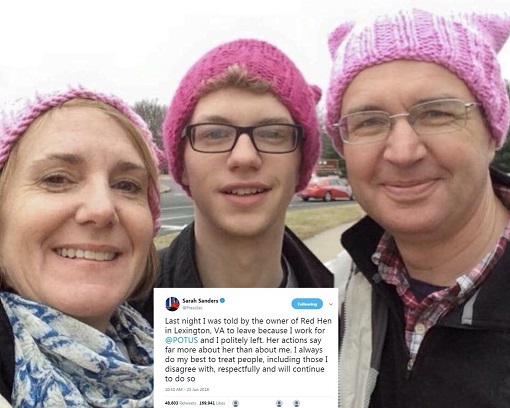 (Red Hen Lexington Owner, Stephanie Wilkinson, left)
Red Hen started trending immediately on social media with the liberals attempting to conflate this incident with the recent Supreme Court ruling regarding the baker that wouldn't bake a custom wedding cake for a same'sex couple due to his religious beliefs, but that the couple could purchase other baked goods from his establishment, including a cake and decorations, which is a notable difference between the two incidents that is completely ignore by liberals.
On the other side, the autists at 4chan, via multiple threads, started having a little fun by review-bombing Yelp and other review services for Red Hen, along with other social media campaigns to leave both good and bad reviews. Others have called for a boycott of Red Hen Lexington. ( I continue to use Lexington after the name of the establishment because other Red Hen restaurants, with no affiliation with the one in VA, have been feeling the backlash.)
Make no mistake, the restaurant owner had the right to refuse service, just as Sanders had a right to highlight what was done, and patrons have the right to decide whether or not they want to use Red Hen Lexington's services.
With that said, on Monday, Sanders' father former Governor Mike Huckabee, went on the Ingraham Angle radio show and said that the Red Hen Lexington owner did not stop with asking Sanders to leave, but then followed her in-laws to another restaurant to harass them.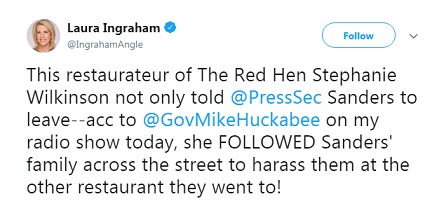 This type of discrimination is not new, it is just increasing in frequency, as going back to 2016 through 2017 and into 2018, stores, diners, and bars in multiple states have refused service to conservatives, MAGA hat wearers, and Republicans. This has gotten so prevalent that even home owners, selling their property are refusing to sell to Trump supporters.
At yet another restaurant, the Espita Mezcaleria in the DC neighborhood of Shaw, White House adviser Stephen Miller was accosted.
We have seen Florida Attorney General Pam Bondi accosted while going to a movie theater to see a documentary about children's TV host Fred Rogers, requiring a police escort when leaving.
To underscore the critical nature of the threat, incited by the media, against conservatives and employees of the Trump administration, the acting deputy secretary of homeland security, Claire M. Grady, issued a memo warning employees "there may be a heightened threat," to their lives.
Via CBS:
"This assessment is based on specific and credible threats that have been levied against certain DHS employees and a sharp increase in the overall number of general threats against DHS employees — although the veracity of each threat varies," says the message from Claire M. Grady. "In addition, over the last few days, thousands of employees have had their personally identifiable information publically [sic] released on social media."

The memo recommends numerous safety precautions, including not displaying work badges in public, being careful with public conversations and using caution on all social networks. It also recommends DHS employees "always keep doors and windows locked" and "be aware of unexpected changes in and around your home."
Read More @ AllNewsPipeline.com