from The Anti Media: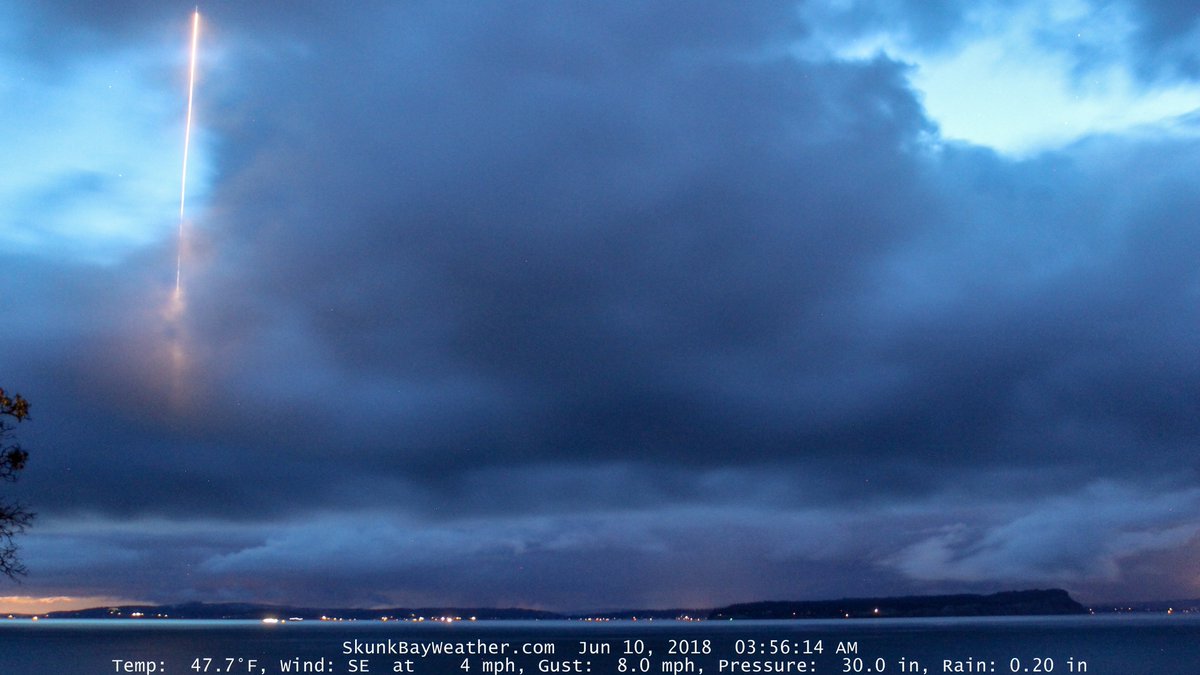 (ZHE) — It's time to get out that tinfoil hat.
Greg Johnson of Skunk Bay Weather, a local weather website that runs camera enabled weather stations on the northern Kitsap Peninsula; Kitsap County, Washington, recorded a mysterious object early Sunday morning that has social media buzzing.
One of Johnson's weather stations has a camera monitoring the Puget Sound at Whidbey Island from Skunk Bay, and at 3:56 a.m. Sunday by a high-resolution, 20-second exposure camera, snapped what looks like the impossible — a missile blasting off from what seems to be the Naval Air Station Whidbey Island.
My good night cam picked up what appears to be a large missile launch on Whidbey Island Sunday AM. I sat on it for a while. After sharing with Cliff Mass he did a blog on it. https://t.co/jBPXRtRGFP @NWSSeattle @WunderCave @WeatherNation pic.twitter.com/RnN8H3IsQ9

— Skunkbayweather (@Skunkbayweather) 11 June 2018
Johnson told KCPQ13 Washington, he was at first hesitant to release the photo into the public domain because he said it appears to be a missile launch from the Naval Air Station Whidbey Island across the bay.
"I feel strongly it was a missile launch," Johnson said.
But Tom Mills, a spokesperson for NAS Whidbey Island, told KCPQ13 that "It wasn't a missile launch from the facility. There are no missile launch capabilities on the Navy base at Whidbey Island."
"There's a lot of speculation around here," Mills said, as he conveniently suggested to KCPQ13 that the image could be a lens flare. "But it's definitely not a missile launch."
Cliff Mass, a professor of Atmospheric Sciences at the University of Washington, speculated that the object looks like a missile on his blog Monday.
"I've seen a lot of stuff," Mass wrote. "But nothing like this."
"It really looks like an ascending missile," he added.
There was reportedly Alaska Flight 94 and a helicopter in the region of the northern Kitsap Peninsula at the same time the camera snapped the mysterious object.
In responding to speculation of various aircraft overhead, Johnson said, "For the record… My cams pick up airplanes all the time… I can guarantee this is NOT an airplane. They fly buy much higher and have a whole different signature….. I'll grab a plane image and share it."
For the record… My cams pick up airplanes all the time… I can guarantee this is NOT an airplane. They fly buy much higher and have a whole different signature….. I'll grab a plane image and share it.

— Skunkbayweather (@Skunkbayweather) 11 June 2018
Furthermore, The Drive points out that there are no rocket operations of any kind in the region. However, the "closest thing to something like that would be the Ohio class nuclear ballistic missile submarines (SSBNs) based not too far away at Bangor Trident Base/Naval Submarine Base Bangor."