by Jack Montgomery, Breitbart: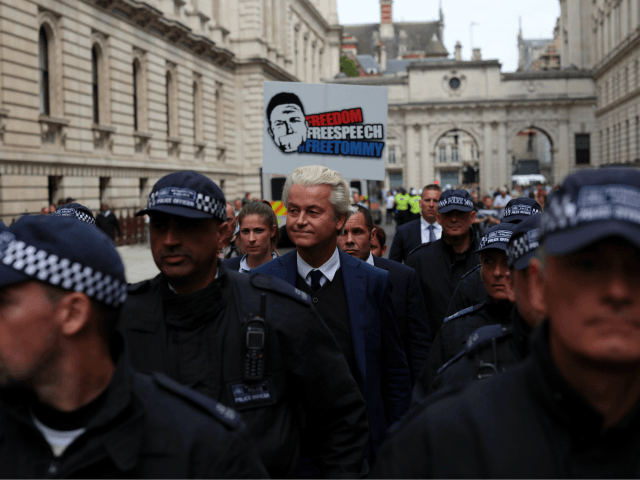 Massive crowds turned out in London on Saturday to rally for free speech and hear Dutch firebrand Geert Wilders demand the release of Tommy Robinson from prison.
"It's so good to see so many of you here today, you are all heroes for being here today," said the Freedom Party leader, an outspoken critic of radical Islam who rose to second place in the Dutch national elections last year.
Wilders told the crowd he had come to Britain to tell Robinson's supporters they "will never walk alone" and to "tell the world, and the UK government in particular: Free Tommy Robinson!"
"At this very moment, thousands of people all over the world are demonstrating in front of British embassies, from LA to Sydney, and over half a million people have already signed the petition for Tommy," he told the crowd.
"And all with the one important message: Free Tommy!
"So, Downing Street is just around the corner, so maybe once again, as loud as possible as we can, let them hear our message: Free Tommy Robinson!" he cried, prompting extended chants of 'Oh, Tommy Tommy, Tommy Tommy Tommy Tommy Robinson!' and 'We want Tommy out!'
London today. Free Tommy!#FreeTommy #FreedomOfSpeech pic.twitter.com/QIrP03avkn

— Geert Wilders (@geertwilderspvv) 9 June 2018
"Listen to us Theresa May, listen to us Sajid Javid, listen to us Sadiq Khan," he continued, each name provoking passionate boos.
"Listen to us, all you in power: we want the release of Tommy Robinson!
"Tommy Robinson is the greatest freedom fighter of Britain today. Tommy Robinson is a freedom fighter. He says what no-one dares to say. He has guts. He has courage.
"And that is more than we can say for all those people that govern us. Because our governors sold us out with mass immigration, with Islamisation, with open borders. We are almost foreigners in our own land," he declared.
"And if we complain about it, they call us racists or Islamophobes — but I say, no more. And what do you say?" Wilders asked the assembled crowds.
"No more!" they shouted back.