by Dylan Charles, Intellihub: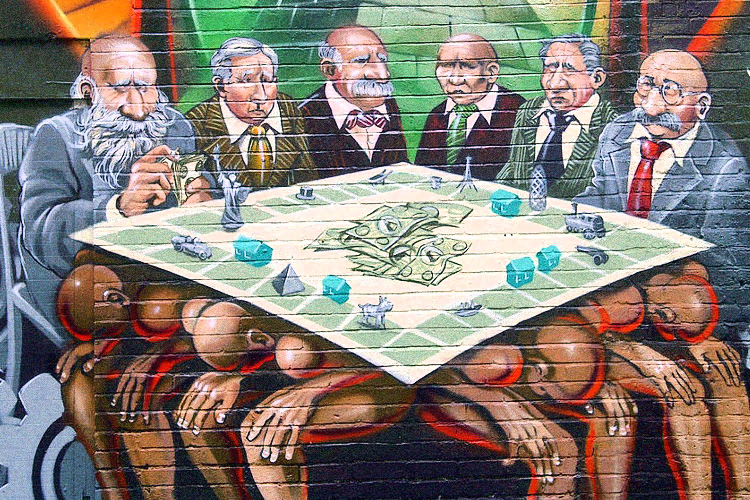 Over the years, the description of the tyrants and psychopaths that so often occupy positions of power in our world has evolved, and today it is fashionable to refer to this nebulous group by using the term 'Evil Cabal.'
Language is perhaps the most important device we have for creating reality, and just as George Orwell knew, the more linguistically vague, simplistic, ambiguous and nondescript the language, the more room there is to shape perception. This is called Newspeak, and in the case of the 'Evil Cabal,' the term fails to fully describe our complex world, but succeeds tremendously in maintaining the prison of fear that actually inhibits freedom.
In a catch-all phrase like 'Evil Cabal,' there really is little substance in the language to inspire meaningful action or reaction. In fact, the opposite is true. By generalizing the widespread depravity in the world with such a vague yet loaded term, the result can only be fear and inaction.
But, just for rhetorical purposes, let's suppose for a moment that the world's troubles can indeed be wholly attributed to a singular, top-down, all-knowing, all-controlling evil cabal that has its wicked tentacles inserted into every facet of our lives. Let's imagine that every bit of the injustice and calamity we see is intentionally orchestrated and narrated by an untouchable group of all-mighty criminals.
If this is in fact the case, one very serious question emerges: What exactly are YOU going to do about it? 
My thoughts on this are expressed below, and are derived from two decades of peering deeply into the abyss of conspiracy fact and alternative history. I've learned in time that such intense and singular focus on conspiracy and international wickedness is corrosive to the soul, inviting acrimony and triggering impotency into what should be the blessed, joyful gift of a life well lived.
How YOU Can Undermine the Evil Cabal
Firstly, understand that systems of political and economic control are actually more heavily dependent on the acquiescence, cooperation, and participation of many millions of people. They are much less dependent on brute force, even though the perception is that brute force controls everything. This notion is accurately presented by Larken Rose in his short animated presentation, The Tiny Dot. The acquiescent masses vastly outnumber any evildoers.
It is imperative to also understand that the world is heavily influenced by the management of public perception, and that holding onto a chiefly negative and fearful worldview severely limits your potential to create and experience the world in which you actually wish to see materialize.
Furthermore, you must recognize that taking it upon yourself to assemble and collate every possible fact and insight into every conspiracy and every nasty event is self-destructive. That is, by becoming a library of terrible truths, you are willfully imposing upon yourself a subtle but powerful form of mental slavery.
The tendency to want to convince and awaken every person you meet to your point-of-view is ultimately caustic to personal relationships and can quickly lead to isolation. Take notice of the fact that individual isolation is exceptionally beneficial to any controlling power in our world, and therefore, it is imperative to connect with others and allow them to express their own personal truths without sparking your judgment and condemnation.
So many of us today adhere to a destructive worldview, and to counter this, it is critical to set an example for others in your life by living in such a way as to inspire a love for freedom, independence and individuality. This is done, first and foremost, by giving freedom to others. Allow people the privilege to walk their own path and think their own thoughts.
Moreover, to undermine a cabal that primarily rules by psychological control, it is essential to recognize that all humans have a tendency to want to control things, and that as human beings we all share similar shadow traits. The desire to control others, and even to control nature, is evident at every level of society, meaning we are all inherently capable of extraordinary evil and cruelty. It is your duty and priority to recognize this and to manage this tendency within yourself and only yourself.
Also, remember that energy goes where attention flows. If you are totally consumed with the wicked deeds of the evil cabal, as so many otherwise righteous people are, you are inadvertently giving away your personal power and energy, thus contributing to their ability to control people with fear.