by Matt Agorist, The Free Thought Project: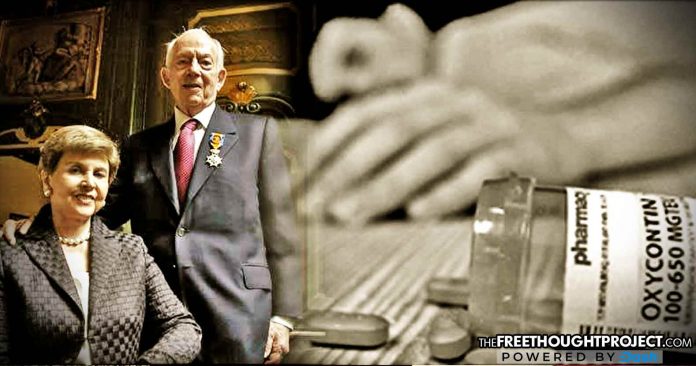 A landmark lawsuit is the first in the country to name the actual owners of Purdue Pharma who makes the deadly drug OxyContin for their role in the opioid epidemic.
Members of the Sackler family, who've made billions pushing their deadly OxyContin drug on the masses are arguably responsible for more deaths than any Mexican drug cartel. Instead of being hunted down at their plush mansions by DEA agents, they are rubbing elbows with members of Congress. Now, however, for the first time, the family is being targeted by a landmark lawsuit for the damages they knowingly caused with their products.
On Tuesday, the state of Massachusetts filed a lawsuit against the multi-billionaire Sackler family over the role their drug OxyContin has played in sparking one of the worst addiction and overdose epidemics in history. The lawsuit accuses the company, Purdue Pharma, and its heirs of spinning a "web of illegal deceit" which fueled the deadly crisis in which America currently finds itself.
What sets this lawsuit apart from the numerous other lawsuits targeting opioid manufacturers — including several against Purdue — is that it has taken the landmark step of personally naming the company's executives.
According to Maura Healy, Massachusetts state attorney general, the suit names 16 current and former executives and board members, including the chief executive, Craig Landau, and eight members across three generations of the Sackler family that wholly owns Purdue.
"Purdue Pharma and its executives built a multi-billion-dollar business based on deception and addiction. We're suing," Healey tweeted Tuesday.
Purdue Pharma and its executives built a multi-billion-dollar business based on deception and addiction. We're suing. https://t.co/FFWhquz9b8

— Maura Healey (@MassAGO) 13 June 2018
As the Guardian reports, the lawsuit alleges Purdue deceived patients and doctors about the risks of opioids, pushed prescribers to keep patients on the drugs longer and aggressively targeted vulnerable populations, such as the elderly and veterans.
"Their strategy was simple: the more drugs they sold, the more money they made, and the more people died," Healey said on Tuesday.
On Tuesday, Purdue issued a statement in response to the lawsuit in which they denied all allegations.
"We share the attorney general's concern about the opioid crisis. We are disappointed, however, that in the midst of good faith negotiations with many states, the Commonwealth has decided to pursue a costly and protracted litigation process," the company said in a statement. "We will continue to work collaboratively with the states toward bringing meaningful solutions."
According to reports, in just the last decade, in the state of Massachusetts alone, the company sold 70 million doses of prescription opioids, bringing in more than half a billion in revenue.
"It was Purdue's executives who led and directed this illegal business model, leading to addiction and deception to enrich a few while leaving a path of devastation and destruction in its wake," Healey said.
Read More @ TheFreeThoughtProject.com