by Tim Brown, Freedom OutPost: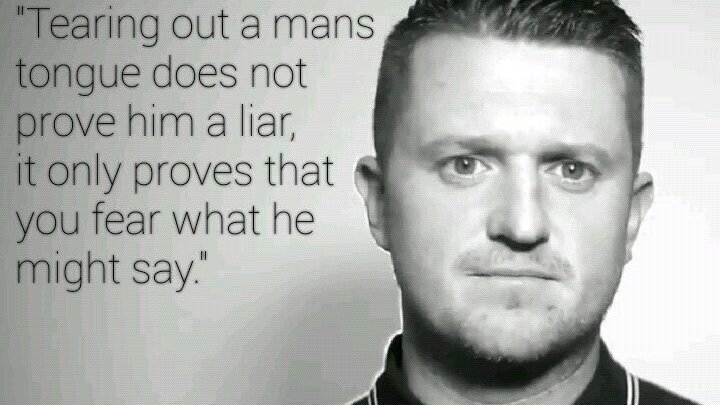 Look for reports to come out that Robinson will be beaten or possibly even murdered in prison. He's already been denied due process and the press has been gagged in reporting the truth.
As Tommy Robinson has been arrested in the UK for basic free speech, you may recall that he once predicted how the corrupt Sharia-compliant leaders in his country might attempt to take him out of this world. In an older interview with The Glasov Gang, Robinson told what would happen if they murdered him.
Robinson was asked, "Why do you think the British authorities and the police put your life in danger and arguably tried to get you killed in prison? Why do you represent such a threat? Why did they put you into such harm?"
Robinson humbly responded, "Because that would solve so many other issues because in the UK, it's been a level of containment."
What was he talking about? Muslim rape gangs, the very thing he was covering when he was arrested.
"There's no plan for solving this problem," said Robinson. There's no plan by the police or by the government to solve this problem which we face. So, I was highlighting the problem."
"I was highlighting the grooming in which many police have dirty hands over because they facilitated it and allowed it," Robinson said. "So, there's many different reasons why I think that is, but I think that the main reason why they're trying to put me back in a prison cell now is because they know I'll get attacked."
He continued, "With what they've done, they've set it up so many times for me to be open to attacks. I've managed to survive it and unfortunately, I'll have another rerun in a little while, but I'm under no illusions that it's been done on purpose. It has to have been."
"So, all the things that have happened for them to go out of their way to house me with Muslim murderers or terrorists, it has to be,' Robinson added. "Out of all the places in the UK they could have put me in prison, they put me there."
"A couple of years there, I was convinced if they murdered me, it would be the final mistake in the UK," he said. "I thought it would cause such an uprising, such a street uprising, it would be the end for Islam. The dominance it has in the UK, you know, I'd give anything for my
kids to grow up in a free society. I'd give anything up, so I convinced myself of that, and then when Lee Rigby was brutally beheaded and there was no uprising, and there wasn't really anything, people just moaned about it for a couple of days and then went back to work."
Read More @ FreedomOutPost.com