by Clint Siegner, Money Metals: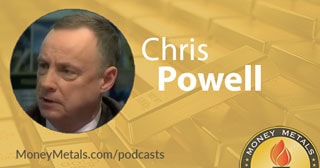 Powell: Governments Are LYING about Their Gold Activities while Mining Companies Cower
Coming up we'll hear a fascinating interview with Chris Powell of the Gold Anti-Trust Action Committee. Chris gives perhaps the most thorough explanation of why governments are so intent on manipulating the precious metals markets and reveals some very interesting recent data about what they've quietly been doing. Don't miss conversation with Chris Powell of GATA, coming up after this week's market update.
Precious metals markets rallied this week through Thursday even as the Federal Reserve hiked interest rates and vowed more rate hikes to come, but now they've given back the gains here on Friday morning. On Wednesday, the central bank lifted its benchmark Federal funds rate by 25 basis points, as was widely expected. Fed forecasters are now calling for two more rate hikes by the end of the year.
Click HERE to listen
A narrow reading of the Fed's policy decision might suggest that it is being hawkish on inflation. The underlying reality is that policymakers are cheering recent rises in inflation data. And their rhetoric on so-called "symmetric" inflation targeting is laying a path for inflation to continue rising above their 2% target.
In his prepared statement this week, Fed chairman Jerome Powell talked about how "encouraging" it is that the prices Americans pay for everything they buy is back on the rise.
Jerome Powell: After many years of running below our 2% longer run objective, inflation has recently moved close to that level. Indeed, overall consumer prices, as measured by the price index for personal consumption expenditures, increased 2% over the 12 months ending in April. The recent inflation data have been encouraging, but after many years of inflation below our objective, we do not want to declare victory.

We want to ensure that inflation remains near our symmetric 2% longer run goal on a sustained basis.
Powell seems to believe that stronger, more sustained inflation numbers need to be seen before he can "declare victory" over sub-2% inflation. It's an odd battle for a central bank to be engaged in – fighting against 1% inflation because price levels are just too darn stable.
One of the Fed's mandates is, in fact, price stability. By definition, 1% inflation is more stable than a 2% or higher rate. There would be nothing more stable than 0% inflation. But Keynesian theory prescribes higher rates of consumer price increases, which supposedly boost the economy by encouraging people to shift their spending forward in time and save less for the longer term.
The other, less acknowledged reason for the Fed's push for higher inflation is as a tool for driving down the real value of government debt obligations. The Treasury Department would be unable to pay the interest on its long-term bonds for very long if it had to do so in constant dollars. Federal finances depend on the currency supply expanding and the value of the Federal Reserve Note declining.
But monetary authorities don't want inflation expectations rising to the point where investors start demanding significantly higher yields on bonds. One of the ways inflation expectations are contained is through the manipulation of inflation statistics so that the official inflation number always comes in below alternative and arguably more realistic measures.
The Fed's preferred Personal Consumption Expenditures indicator is now running at right around 2% annually. But an alternative Consumer Price Index gauge rose in May to its highest reading in more than six years – 2.8% year-over-year. The Producer Price Index, which measures wholesale inflation for goods and services, rose sharply in May to an annual rate of 3.1%.
Growing inflation concerns may soon start translating into rising demand for precious metals. This week, gold prices are now down 1.4%, with all of that loss coming here today. The yellow metal now trades at $1,282 an ounce as of this Friday morning recording.
With Friday morning's pullback, silver spot prices are now down for the week as well and currently check in at $16.68 per ounce, off 1.0% now since last Friday's close. Despite today's weakness, silver has seemed to garner some relative strength at key recent resistance levels. The market hit a 5-month high on Thursday before selling off here on Friday. What looked like a potential breakout in silver just yesterday is apparently going to have to wait, yet again to the chagrin of silver bulls.