by Jay Syrmopoulos, The Free Thought Project: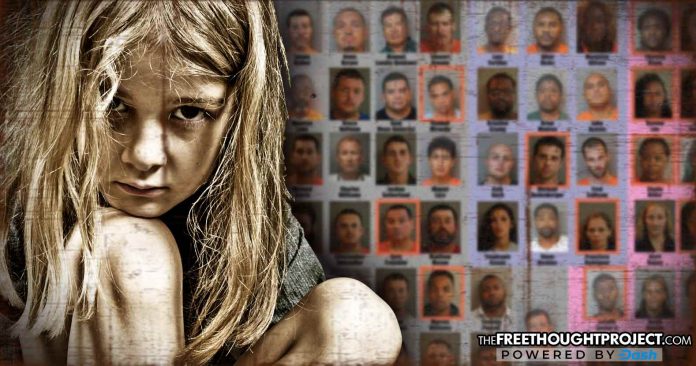 As reports show America's fastest growing crime is child sex trafficking, a nationwide sting nets thousands of predators ensnaring secret service agent and school supervisor in the process.
Washington, D.C. – This week the U.S. Department of Justice announced the arrest of more than 2,300 suspected child sex offenders, including a member of the U.S. Secret Service, and identified nearly 400 abused children during the three-month operation that ended in May. Of those arrested, 195 were suspected of producing child pornography or committing child sexual abuse.
"No child should ever have to endure sexual abuse," Attorney General Jeff Sessions noted in a Justice Department press release. "And yet, in recent years, certain forms of modern technology have facilitated the spread of child pornography and created greater incentives for its production. We at the Department of Justice are determined to strike back against these repugnant crimes. "
The operation, dubbed "Broken Heart," was conducted by Internet Crimes Against Children (ICAC) taskforces operating in all 50 states across and involved more than 4,500 federal, state, local and tribal law enforcement agencies.
Operation Broken Heart, which is funded through the U.S. Justice Department's Office of Juvenile Justice and Delinquency Prevention, has been an annual law enforcement operation since its inception in 2014. It has resulted in the arrests of thousands of suspected child sex predators.
"It is estimated that at least 100,000 children—girls and boys—are bought and sold for sex in the U.S. every year, with as many as 300,000 children in danger of being trafficked each year. Some of these children are forcefully abducted, others are runaways, and still others are sold into the system by relatives and acquaintances," according to the Rutherford Institute.
Targets of the nationwide operation include individuals suspected of sex trafficking children, engaging in online enticement of children for sexual purposes, producing or possessing child pornograph, and traveling to foreign countries or across state lines to sexually abuse children.
A previous iteration of this operation, called Broken Heart III, ran from April to May 2016, and netted over 1,000 suspected child sexual predators nationwide.
Contrary to the stereotype of a recluse pedophiles living in their mother's basements, the arrests instead involved numerous high-profile figures within society. At the time, John Reynolds, acting special agent in charge for U.S. Department of Homeland Security Investigations said that among those arrested were entertainers, community leaders, white-collar professionals and clergy members.
The latest operation, according to local media reports, saw a Secret Service employee residing in Maryland arrested as part of the pedophilia investigation.
Investigators arrested Andrew Lund, a fourth grade teacher and school supervisor at Glen Cove Elementary school in Vallejo, California.
Interestingly, as independent journalist Mike Cernovich presciently pointed out, mainstream media seems to have little interest in highlighting the scourge of pedophilia exposed by this operation.
2,300 pedophiles were arrested yesterday in a massive nationwide, multi-agency operation/

—DOJ issued an official press release.—

No coverage from:
– CNN
– NY Times
– Washington Post
– MSNBC

The implications of that omission are….intriguing. pic.twitter.com/8wbtVNPqIf

— Mike Cernovich 🇺🇸 (@Cernovich) 13 June 2018
This news comes on the heels of a report out of UNICEF which found that child trafficking has become the world's fastest growing crime.
While the mainstream media and their establishment praetorian guard, such as Snopes, often attempt to hide the ugly reality of rampant pedophilia – especially when potentially connected to the societal power-elite – here at The Free Thought Project we have consistently tried to shine a light on the insidious epidemic.
Read More @ TheFreeThoughtProject.com