from The Anti Media: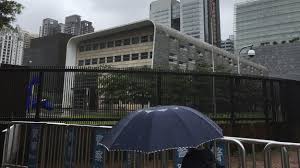 Several US citizens have been evacuated from the US consulate in Guangzhou, China, after falling ill with various neurological symptoms from mysterious "sonic attacks" similar to incidents reported in Havana Cuba which left 20 State Department employees with serious injuries.
On Wednesday night, consulate worker Mark Lenzi and his family were evacuated after hearing strange noises over the course of several months, which Lenzi described as "marbles bouncing and hitting a floor then rolling on an incline with a static sound," according to the Washington Post.
At first, he and his wife thought that their neighbor — a fellow Foreign Service officer in the U.S. Consulate in Guangzhou, China — was responsible. The neighbor denied having anything to do with it.
A few months later, the headaches started — excruciating pain that lasted for days at a time. Lenzi, his wife, and their 3-year-old son experienced the same symptoms, which soon included chronic sleeplessness as well. Lenzi says that he asked his superiors for help but that they dismissed his concerns. Consulate doctors prescribed painkillers and Ambien, which did nothing to address the underlying causes of the problem. –WaPo
Lenzi then learned that his next-door neighbor had been evacuated from the consulate and flown back to the United States to undergo a thorough medical assessment – which concluded that the person was suffering from "mild traumatic brain injury."
The State Department issued a statement on May 23, warning that an unnamed "U.S. government employee in China recently reported subtle and vague, but abnormal, sensations of sound and pressure," and urging anyone with "concerns about symptoms or medical problems that developed during or after a stay in China" to "consult a medical professional."
The statement also said that the U.S. government was unaware of any other cases — a point strongly disputed by Lenzi, who insists that he had repeatedly informed both the embassy in Beijing and State Department headquarters in Washington of his family's predicament. "Mark is a very capable guy," says political consultant Michael Getto, a longtime friend of Lenzi's. "If he says something is wrong or amiss, then it is." –WaPo
The description of the sound – which the victim said produced abnormal sensations and pressures – sound eerily familiar to a series of similar "sonic attacks" that afflicted US embassy personnel in Havana, beginning shortly after President Trump defeated Hillary Clinton in the 2016 presidential race.
On May 23, Secretary of State Mike Pompeo noted the comparisons between the China incidents and the Cuban attacks during a House hearing, stating "The medical indications are very similar, and entirely consistent with, the medical indications that were taking place to Americans working in Cuba."