by Rachel Blevins, The Free Thought Project: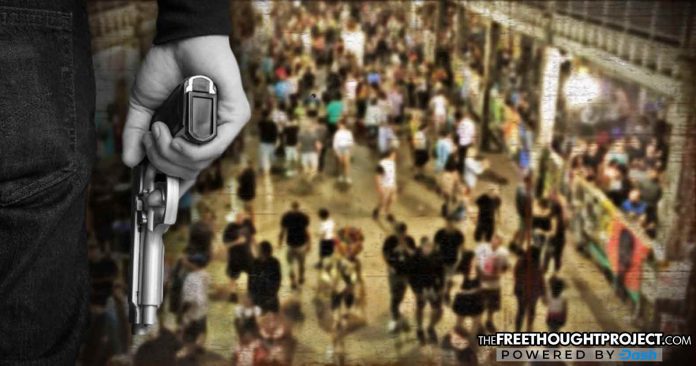 At least 22 people were injured in a mass shooting in a state that has notoriously strict gun control laws—and it has quickly disappeared from headlines.
Trenton, New Jersey – Reports of a mass shooting at an arts festival in which at least 22 people were injured may have sounded like the perfect recipe to send anti-gun politicians and mainstream media pundits to their soapboxes to call for increased gun control, but instead, it has quietly disappeared from the headlines, and there are a few notable reasons why.
Around 1,000 people were enjoying the Arts All Night festival when gunfire broke out around 2:45 a.m. on Sunday. While the horrific incident included some of the basic elements of typical mass shootings, with a gunman opening fire on an unarmed crowd, there are a few distinct differences that set it apart.
Location
The shooting happened in the state of New Jersey, which is known for having some of the strictest gun control laws in the country. In fact, Gov. Phil Murphy signed six bills into law last week that are all targeted at increasing gun control by expanding background checks, adding increased restrictions to concealed carry permits, and reducing the legal capacity of ammunition magazines.
The new legislation also included a law that establishes a "red flag" system where individuals can report people who they believe are dangerous, and those suspects will have their firearms temporarily seized by police. Yet even with the restrictions that were already in place, both the media and politicians have stayed eerily silent about the fact that the state's strict gun control laws did not stop this mass shooting.
Suspects
Every time the mainstream media devotes 24/7 coverage to a mass shooting, there is one main thing in common—the suspect. Each massacre is carried out by a "lone wolf gunman" who has a list of reasons why he is angry at the world, a handful of psychotropic drugs that have side effects which explain his erratic and violent behavior, and a longing to gain fame and notoriety like the mass shooters who came before him.
In the case of the recent mass shooting in New Jersey, there were two suspects—Tahaij Wells, 32, and Amir Armstrong, 23. They were reportedly members of opposing gangs, and while they opened fire on one another, Wells has been blamed for unleashing a hail of bullets on the crowd, and he was eventually taken down after he was shot and killed by police.
While it is not clear how Wells obtained his weapons, he did not obtain firearms legally, as he was on parole after he served time in prison on aggravated manslaughter charges stemming from the fatal shooting of a 22-year-old man in 2004.
Weapons 
As is the case with the mainstream narrative on mass shootings, the "lone wolf gunman" typically uses an AR-15, which has been branded as an "assault rifle" and demonized by lawmakers who seek to ban it. The idea is that the suspect opts for a high-powered weapon in order to kill the largest number of people.
Read More @ TheFreeThoughtProject.com