by Keith Weiner, Acting Man: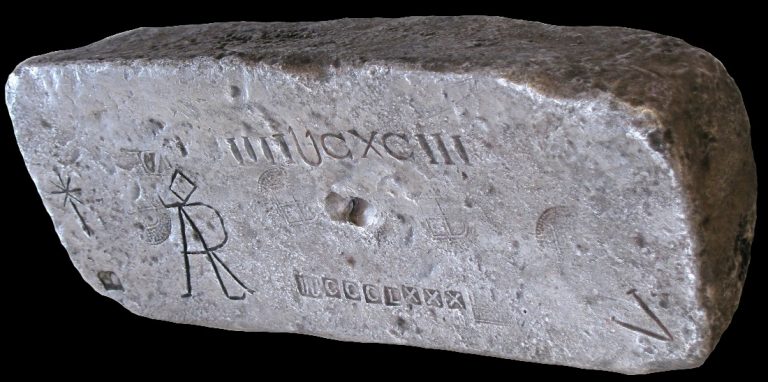 Unfulfilled Prophecies
The price of gold fell $12 last week, but that of silver dropped 63 cents. What's up with silver?! A prominent analyst wrote on April 19 of the "breakout" in silver. Of course, without the benefit of the basis and the Monetary Metals fundamental price, he could only see the price chart, plus the regular Wall Street indicators such interest rates, oil, and inflation.
A somewhat unsightly silver bar of historical interest, found in 1985 in the holds of the wreck of the Spanish galleon Nuestra Senora de Atocha, which sank near the Florida Keys in 1622. It was laden with silver the conquistadores had reportedly just stolen fair and square from Potosi in Bolivia. One presumes the perennially teetering on the verge of bankruptcy Spanish Crown was not very amused (34 of the bars belonged to the King outright, and he would have collected a 20% tax on the rest to boot). Anyway, lumps like this one don't do breakouts; they do brick-outs and will hurt your toes if you're not careful. [PT]
Based only on those indicators, and blind to the fundamentals, he top-ticked the price of silver almost perfectly. The price hit a high of $17.36 that day, and since then it's all been downhill, through Friday's close 89 cents below when he called for the price to take off.
Last week, we said:
"Has the silver fundamental had a breakout? We would want to see more evidence before pronouncing this. Heck, even the market price has not surpassed its level from January yet."
The week before, we said:
"The fundamental price is now back where it had been in the third week of March. Unlike in gold, there is no rising trend for the silver fundamental price. It's been sideways action since September last year, and arguably a downtrend of lower highs since February 2017."
The putative replacement for the petrodollar, the petro-yuan, has been sagging since the last date given by some gold bugs for the collapse of the dollar (that collapse, by the way, has been re-scheduled for this summer sometime when the "IMF will alter financial laws"), in case you're keeping a calendar of such predictions).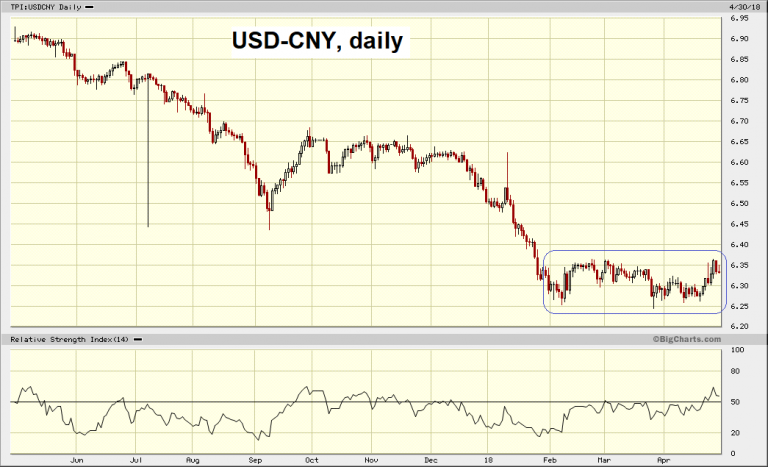 By and large USD-CNY has moved sideways since February, but since hitting a new high for the move intra-day in late March it has moved to the upper boundary of said range, i.e., it has weakened somewhat lately rather than strengthening further. [PT]