by Daisy Luther, The Organic Prepper: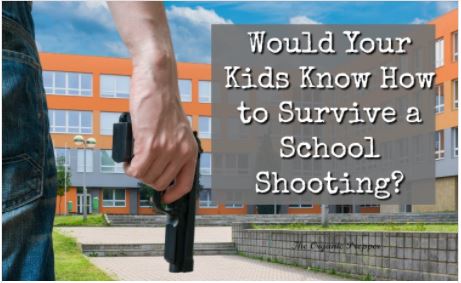 Imagine getting a phone call like this from your high school aged child.
"Mom, there's been a shooting. I'm running."
Those were the chilling words heard by a mom in Kentucky yesterday when her son was fleeing from a classmate who killed 2 students and injured 17 more. The two 15-year-olds died at the hands of another 15-year-old boy, who was later arrested.
Shocked students have described the terrifying moment the shooter opened fire before classes began, forcing nearly 100 children to run out of the school and seek safety.
'He was determined. He knew what he was doing,' a classmate said of the shooter.
'It was one right after another – bang bang bang bang bang. You could see his arm jerking as he was pulling the trigger.'
Another student said: 'No one screamed. It was almost completely silent as people just ran.
'He just ran out of ammo and couldn't do anything else. He took off running and tried to get away from the officers.'
…Mitchell Garland, who rushed outside of his business when he heard about the shooting, described seeing the students flee the school.
'They was running and crying and screaming,' he said. 'They was just kids running down the highway. They were trying to get out of there.' (source)
The scene was utter pandemonium.
It can happen anywhere.
No place is safe from the violence these days. This was the tiny town of Benton, Kentucky, population 4,531.
Would your child know what to do in the event of a school shooting?
There are a few important things to note in the story about this horrible incident. Four of the kids who were injured weren't shot – they got hurt fleeing the scene. And secondly, first responders shut down all the exits, meaning the shooter – and kids who were still inside – couldn't escape.
As horrific as it is to think through a scenario like this, doing so could save your child's life. And this information isn't just for kids in the school system. Even homeschooled kids can sometimes be in a situation where they are without a parent and a bad thing happens, like sports practice, church events, or other outings.
One thing to consider that could be pre-emptive is to teach your kids to be nice people. This shooting, like many others, is said to have been triggered by extreme bullying. I'm not blaming the victims who were shot, but we all bear the responsibility to treat others kindly.
Acceptance is the first step to surviving an attack.
In many of the descriptions of this shooting, students said they heard a "popping" noise and didn't really grasp what was happening.
It's the actions you take immediately upon the realization something awful is occurring that have the potential to save your life. And the first step to that is accepting that a terrible thing truly is happening. In an article called How to Survive Anything in Three Easy Steps, I wrote:
No matter what situation comes your way, the first step is to accept that whatever the event is, it really happened. This is tougher than it sounds, because our minds are programmed to protect us from emotional trauma. Cognitive dissonance means that when a reality is uncomfortable or doesn't jive with a person's beliefs, that person may opt to believe in something false just to assuage his desire for comfort. Psychologist Leon Festinger, who identified the principal of cognitive dissonance, suggested "that a motivational state of inner tension is triggered by logically inconsistent ways of thinking."
Read More @ TheOrganicPrepper.ca