by Wolf Richter, Wolf Street:
Chicago rents collapse, New York's swoon, Southern California's boom. And the US average hides all the drama on the ground.
The situation with rents in the most expensive US rental markets can be summarized like this: Free-fall in Chicago, where the median asking rent for two-bedroom apartments has plunged 32% from its peak, a similar collapse in rents in Honolulu, double-digit declines from the peak in New York City and Washington DC, mixed movements in the Bay Area, a blistering boom in Southern California, and everything in between.
Watered down into a tidy nationwide average, the median asking rent for one-bedroom apartments in the US rose 1.4% in April compared to a year ago, to $1,185. And for two-bedroom apartments, it rose 2.2% from a year ago to $1,422.
A peculiar phenomenon cropped up last November: The median asking rent for 1-BR apartments suddenly surged by the double-digits, even as the median asking rent for 2-BR apartments was barely edging up. This phenomenon endured for four months but has now collapsed (the phenomenon remains unexplained, though some suspects have been lined up):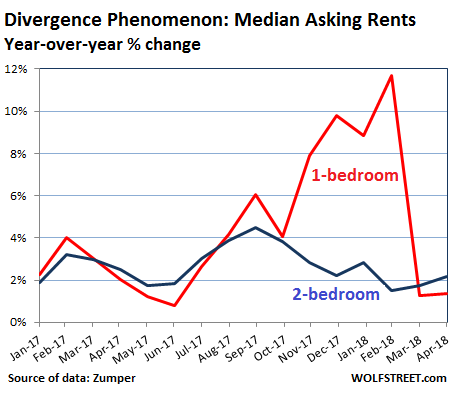 The data, provided by Zumper, is based on asking rents in multifamily apartment buildings, including new construction, as it appeared in active listings in cities across the US. Single-family houses and condos for rent are not included. Also not included are studios and units with more than two bedrooms. Zumper releases the data in its National Rent Report.
In San Francisco, the most expensive major rental market in the US, the median asking rent for 1-BR apartments rose 2.1% year-over-year to $3,440 in April, but remains down 6.3% from the peak in October 2015. For 2-BR apartments, it rose 1.1% year-over-year to $4,550 but remains down 9.0% from the peak in October 2015.
There is no shortage of apartments in San Francisco. Far from it. For example, Zillow lists 1,851 apartments for rent at the moment, up from 1,581 a month ago, and up 61% from the 1,149 listed in August 2016. This is a result of the construction boom. The City is not large, with a total of 387,000 housing units. But almost all the supply is high-end – and I mean "expensive," not necessarily "luxurious."
The cheapest studio with a bath (not counting rooms without bath) listed on Zillow today has a asking rent of $1,250. There are only 424 units listed with an asking rent of less than $3,000. In turn, 1,427 listings sport asking rents of $3,000 and over, with 1,281 listings wanting over $4,000 (including 3-BR and up that are not reflected in Zumper's data). In other words, there are plenty of units for rent, but most people cannot afford them. Our local term for this phenomenon – "Housing Crisis" – describes a crisis of rent inflation. There is no crisis of availability.
In the second most expensive major rental market, New York City, the median asking rent for 1-BR apartments edged down 0.7% year-over-year to $2,890 and is down 14.2% from the peak in March 2016. 2-BR apartment rents fell 3.5% to $3,330 and are down 16.3% from the peak in March 2016.
These are serious declines, but they do not include incentives or "concessions," such as "1 month free" or "2 months free," which reduce the effective rent for the first year by 8% or 17%. Concessions have reached record levels In New York City.
The table below shows the 16 most expensive major rental markets. The shaded area shows peak rents and the movements since then. Upon popular request, I have asked Zumper for the rental data on Orange County in Southern California, which hadn't been included. Zumper has now added Anaheim and Santa Ana to their data for the 100 most expensive rental markets. Both made the list of the top 16. Now there are eight major California cities in the 16 most expensive rental markets. Across the nation, markets diverge, with a number of double-digit decliners from their respective peaks, and a number of new records: