by Jack Montgomery, Breitbart: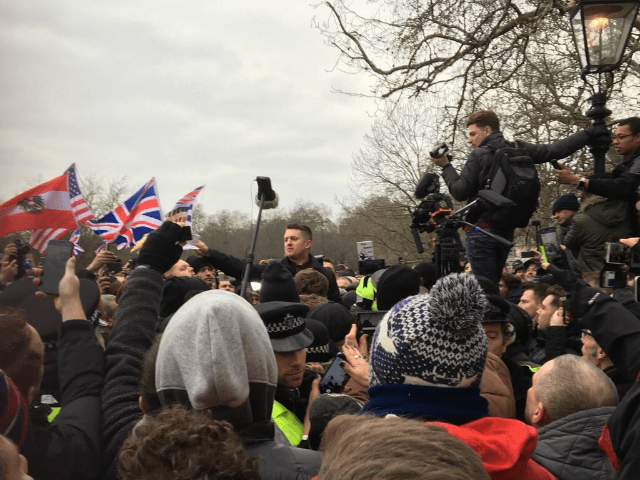 Activist Tommy Robinson has told the #DayForFreedom free speech rally in London that he's taking Twitter to court, to prove the social media giant is treating "facts" as "hate" at the behest of a censorious British government.
Robinson was introduced by Breitbart London editor-in-chief Raheem Kassam, who gave a short speech thanking the police officers on duty at the event, as well as the Antifa activists and mainstream media reporters who had shown up.
Let's have the arguments — because we can win the arguments; we are winning the arguments here today!" he told the cheering crowd.
Greeted by chants of "Oh, Tommy, Tommy! Tommy, Tommy, Tommy, Tommy Robin-son", the activist said it was "unbelievable" to see so many people out supporting freedom of speech.
"The people of this country have been silenced for twenty to thirty years with the tag of 'racist'," he said.
"They have managed to silence people so they're too scared to speak up when they see things that are wrong.
"They're too scared to tell the truth and identify problems with an ideology and a religion in our country, because they're worried about being called 'racist'.
"[The establishment] now realise that tag is dead. No-one cares anymore about being labelled as a 'racist'.
"So they've now introduced their new term: 'hate speech'. What is 'hate speech'?" Robinson demanded.
May 6th. London. #DayForFreedom
Feat. Gavin Mcinness. MILO. Stefan Molyneux. Lauren Southern. Count Dankula. Sargon Of Akkad. Tommy Robinson. Raheem Kassam. pic.twitter.com/pLpCRoxeyq

— Caolan Robertson (@CaolanRob) 27 April 2018
Robinson cited the case of a 16-year-old boy who went to Speakers' Corner, a traditional haven of free speech in the British Isles, to debate Muslim street preacher Ali Daweh.