by Susan Duclos, All News Pipeline: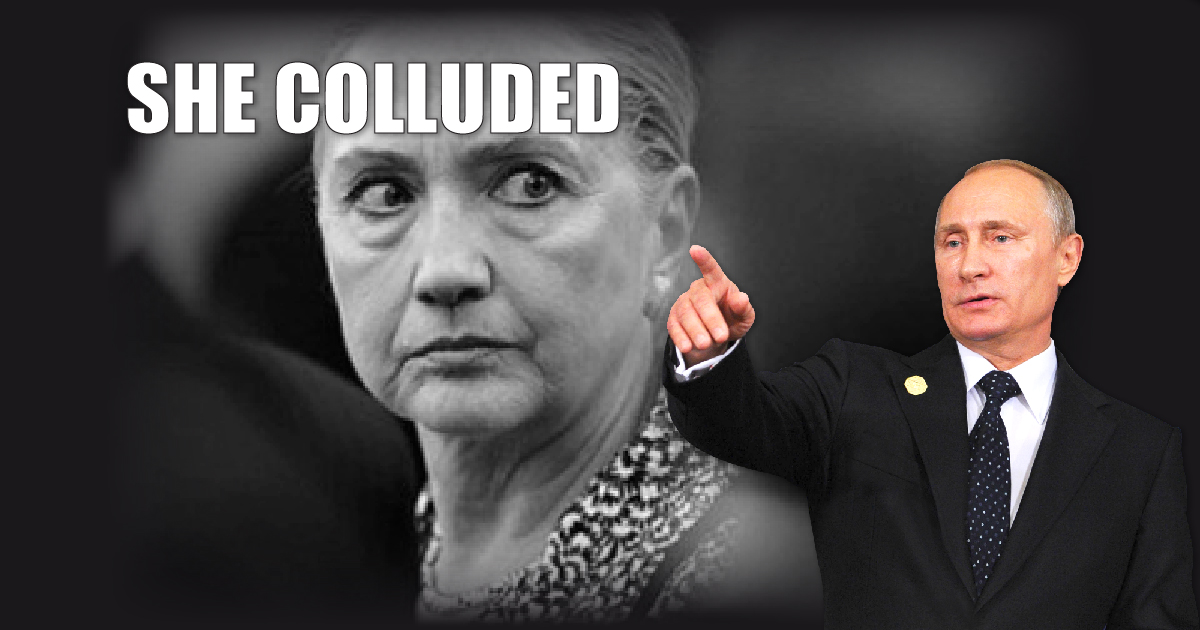 With the recent release of the Senate Judiciary Committee's witness transcripts from those that attended the June 9, 2016, Trump Tower meeting that has been the subject of so many media stories that accused Donald Trump Jr. of some type of Russian collusion with the Trump campaign, not only did that narrative crumble when the truth was revealed, but yet more Russia "connections" to Hillary Clinton have emerged.
The Senate Judiciary Committee released the transcripts of co-founder of Fusion GPS, Glenn Simpson, Donald J. Trump, Jr., Irakly "Ike" Kaveladze, Anatoli Samochornov, Robert Goldstone, Rinat Akhmetshin and the written answers from Natalia Veselnitskaya.
The long story short on the circumstances surrounding the meeting, by all accounts by those participants, was that Donald Trump Jr. thought the other attendees, especially Natalia Veselnitskaya, had some type of opposition research on Hillary Clinton, but none was provided at the meeting and the meeting ended up being focused mainly on the Magnitsky Act. There was no follow-up meeting scheduled.
WHO IS RINAT AKHMETSHIN?
According to an Axios report "Akhmetshin was apparently hired to work with Natalia Veselnitskaya, the lawyer who met with Trump on June 9, 2016, in a lobbying effort against the Magnitsky Act, a congressional measure that sanctions Russia and Russian figures."
That same report described Akhmetshin as a "former Soviet intelligence officer," and "a superlative Washington political operator who over the last two decades has repeatedly been at the center of cases involving corruption, dictators and sometimes war."
While the June 2016 meeting was the first and presumably the last time Akhmetshin met with any of the Trump family or campaign member, what was exposed in his 242 page interview transcript (PDF) however, is yet another Russian involved in the meeting which the media held up as some type of evidence of "collusion," with the Trump campaign, personally "knew" Hillary Clinton and some of her 2016 presidential campaign members.
Akhmetshin, also called Fusion GPS founder Glenn Simpson a "colleague," but also admitted to knowing Hillary Clinton and members of her 2016 presidential campaign. He described his meetings with Clinton herself as having been in a "social setting."
On page 234 of the Akhmetshin transcript he was asked "Did you ever have any meetings with the Hillary Clinton campaign or campaign officials officials?" His answer was "Not with officials, no." After some back and forth with interviewers clarifying they were talking about her presidential campaign, Akhmetshin was asked "Well, regardless of whether you were involved, did you ever have any meetings?" He answered "I knew her, I knew some people who worked on her campaign."
The questioner then followed up "So you did have meetings with her and — did you have meetings with Hillary Clinton?" His response was "I met her in a social setting, not on a professional line."
Breitbart reports that Akhmetshin's personal relationship with Hillary Clinton dates back to the 1990s.
On Page 37 of that same transcript Akhmetshin admits to having a business relationship with Glenn Simpson, co-founder of Fusion GPS, after being questioned about an email in an unrelated matter, where he referred to Simpson as a colleague in an email exchange.
Page 38 shows the following exchange:
Q. This is another email provided by your counsel . It's an email from Glenn Simpson to Natalia Veselnitskaya , you , and Murat Glashev . It was sent on February 4 , 2016 . Mr . Simpson writes, "Natalia, I understand the meeting is tonight at 9 : 00 , but Rinat suggested we get together beforehand . Are you free later this afternoon or for dinner? " What is the meeting at 9:00 he refers to ? A. I don't remember exactly. Maybe dinner? Q. Did you meet with Mr . Simpson and Ms. Veselnitskaya along with the legal team working on the Prevezon case at any time? A. I have, yes.
After questioning him at length about his association with Simpson, by page 231 he had denied that he spoke with Simpson about the Trump Tower meeting with Donald Trump Jr.
Read More @ AllNewsPipeline.com