by Chris Menahan, Information Liberation: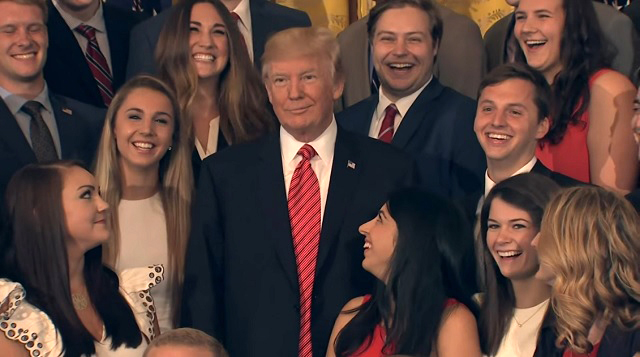 Democrats are hemorrhaging support among millennials according to a new poll from Reuters/Ipsos.
Their biggest losses are among young white men who went from favoring Democrats over Republicans 48-36 in 2016 to favoring Republicans over Democrats 46-37 in 2018.
From Reuters:
The online survey of more than 16,000 registered voters ages 18 to 34 shows their support for Democrats over Republicans for Congress slipped by about 9 percentage points over the past two years, to 46 percent overall. And they increasingly say the Republican Party is a better steward of the economy.
Although nearly two of three young voters polled said they do not like Republican President Donald Trump, their distaste for him does not necessarily extend to all Republicans or translate directly into votes for Democratic congressional candidates.
That presents a potential problem for Democrats who have come to count on millennials as a core constituency – and will need all the loyalty they can get to achieve a net gain of 23 seats to capture control of the U.S. House of Representatives in November.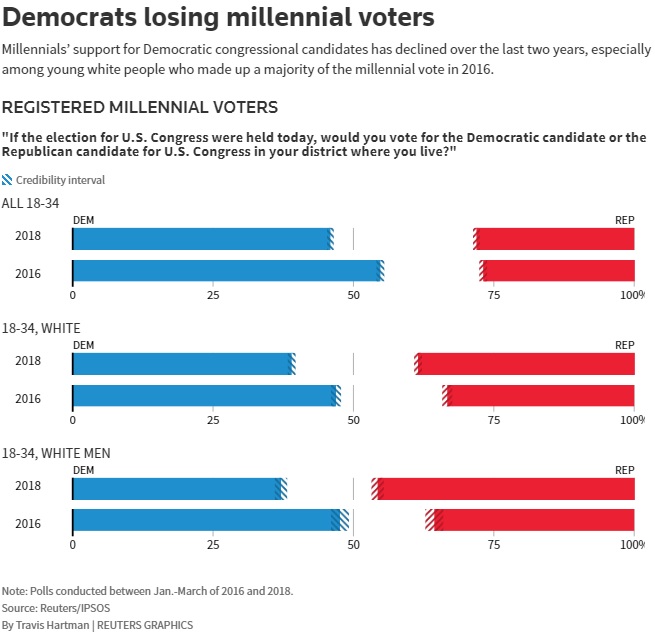 […]The shift away from Democrats was more pronounced among white millennials – who accounted for two-thirds of all votes cast in that age group in 2016.
Two years ago, young white people favored Democrats over Republicans for Congress by a margin of 47 to 33 percent; that gap vanished by this year, with 39 percent supporting each party.
The shift was especially dramatic among young white men, who two years ago favored Democrats but now say they favor Republicans over Democrats by a margin of 46 to 37 percent, the Reuters/Ipsos poll showed.
Ashley Reed, a white single mother of three in New Hampshire, said a teenage fascination with Democrat Barack Obama led her to support his presidency in 2008. But her politics evolved with her personal life.
Reed, now 28, grew more supportive of gun rights, for instance, while married to her now ex-husband, a U.S. Navy technician. She lost faith in social welfare programs she came to believe were misused. She opposed abortion after having children.
Reed plans to vote for a Republican for Congress this year.
Read More @ InformationLiberation.com