by Geoffrey Grinder, Now The End Begins: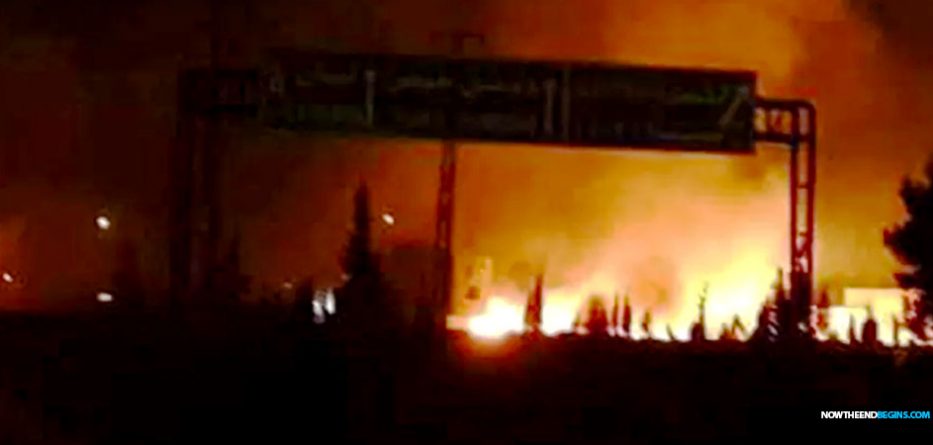 IN RESPONSE AN EARLIER IRANIAN MISSILE ATTACK, ISRAEL LAUNCHED AN EXTENSIVE RETALIATORY CAMPAIGN, STRIKING SUSPECTED IRANIAN BASES THROUGHOUT SYRIA FOR HOURS FOLLOWING THE INITIAL IRANIAN BOMBARDMENT, AN ISRAELI MILITARY SPOKESPERSON SAID, WARNING SYRIAN DICTATOR BASHAR ASSAD NOT TO GET INVOLVED.
EDITOR'S NOTE: The Israeli Air Force has just finished with an absolutely blistering counterattack on Iran in Syria, in the largest show of firepower by Israel in Syria since the 1973 Yom Kippur War. The IDF warned Assad to not even think about using anti-tank missiles against its planes, and would be hit immediately if they did. This is breaking news and we will update this story as it develops…
"The Israel Defense Forces is taking action at this moment against Iranian targets in Syria. Any Syrian involvement against this move will be met with the utmost seriousness," wrote Avichay Adraee, the Israeli military's Arabic-language spokesperson, on Twitter.
A SOURCE IN THE ISRAELI SECURITY ESTABLISHMENT SAID THIS ATTACK WAS THE LARGEST CARRIED OUT BY ISRAEL SINCE IT SIGNED ON A DISENGAGEMENT AGREEMENT WITH SYRIA IN MAY 1974.
According to Arabic media reports, the Israel Defense Forces struck numerous targets across Syria, including weapons depots and Assad regime radar and air defense systems. The Israeli military would not immediately comment on its specific targets.
Syrian rebels said these strikes targeted three airfields: the Shayrat air base, which was targeted by the United States last year for its role in an alleged chemical attack in the Syrian town of Khan Shaykhun; the Tha'lah air base, in southwest Syria, which has been tied to Hezbollah; and the Mezzeh military air field outside Damascus, which is reportedly home to Assad's elite republican guard.
A large Israeli bombing raid was reported near the northwestern Syrian town of Qusayr near the Lebanese border, a known Hezbollah stronghold.
Syria's state news agency, after initially reporting that the country's air defenses were intercepting dozens of "hostile Israeli missiles," later said Israeli jets were "aiming to destroy anti-aircraft defenses and radar." source
Read More @ NowTheEndBegins.com