from Silver Doctors: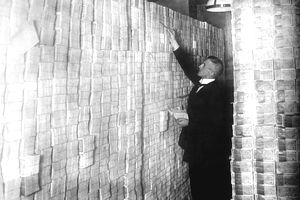 We're talking the NFL, even with the damaged reputation. The team is the Carolina Panthers, and the price is nothing short of eye-popping…
Might as well bring some music into the Hyperinflation Watch.
Especially when it's got everything to do with the latest example.
"New car, caviar, four-star daydream, think I'll buy me a football team"
The hyperinflation is all around us, it's just that the average person has no savings, so for the most part, until it hits Main Street in the form of a fiat currency crisis a la Venezuela, it goes un-noticed.
Check out our page hyperinflation watch for more examples of hyperinflation in real time.
That said, the latest example of hyperinflation, even in the face of a professional sports league with a tainted and tarnished reputation due to the National Anthem protests of last season, is none other than the purchase of the NFL franchise Carolina Panthers.
Here's the run down from Zero Hedge:
After months of speculation, David Tepper is finally closing in on a prize he has coveted for most of his career: Being the majority owner of an NFL franchise.
According to the Washington Post, as long as at least two-thirds of league owners cast their votes to approve the deal during a meeting in Atlanta next week, Tepper, who is currently a minority partner in the Pittsburgh Steelers, will take over ownership of the Carolina Panthers from Jerry Richardson, a former NFL player who has owned the team since 1993, when he was awarded the NFL's 29th franchise. WaPo says the final details are still being hammered out, but the deal is very close to being finished.