by Daisy Luther, The Organic Prepper: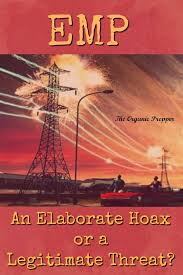 As a prepper and avid reader of post-apocalyptic fiction like One Second After, Alas Babylon, and Going Home, an EMP has long been on my mind as one of the most catastrophic threats we could face.
After reading numerous reports from the Congressional EMP Commission, I figured that the reality of such a threat was a given. So when I recently wrote about making Faraday cages, imagine my surprise when I saw this comment:

I appreciate the attempt to help people prepare for all kinds of disasters, but I'm going to have to throw a conversational bomb into this room, so to speak.
EMP is a total scam. See here: https://www.lewrockwell.com/2018/02/david-hathaway/emp-hoax/
Not only is EMP a scam, nuclear weapons are probably a scam. Certainly they were at the time of abhorrent and immoral destruction of Hiroshima and Nagasaki, both cities victimized by fire bombing like all the other Japanese cities.
I suppose protection against lightning might be useful, a system of lightning rods being an alternative. I wouldn't lose sleep at night over this EMP nonsense, especially when there are real dangers we face every day.
What?????
I was really surprised to see this. I went to read the article at the link and discovered the author of it had written an entire book on the topic called EMP Hoax. The book had a forward written by Lew Rockwell, for whom I have the deepest respect. Mr. Rockwell wrote of a nuclear detonation over the Pacific Ocean in 1962:
One purpose of the blast was to study the impact, if any, of Electromagnetic Pulse (EMP) effects. One incident is alleged to show such effects. Based on this incident, the government concluded that hostile powers could use EMPs to disable the electronic infrastructure of our country. Even after the Cold War ended, the government has continued to tout the threat posed by EMPs.
Hathaway comments: "The alleged incident happened on the island of Oahu which is made up of the City and County of Honolulu. This incident has developed a cult following within the EMP science community. The incident allegedly involved blown fuses in a small number (less than 1%) of street light strings. It has been trotted out for decades as the single definitive proof of EMP effects on power grid and long-wire infrastructure."
Hathaway isn't convinced. He presents a painstaking discussion of the incident, subsequent investigations, and the science behind EMP effects. He writes clearly about complicated science, and his conclusion is backed by abundant evidence: "EMP is a ridiculous notion; one that we are supposed to give up our money, our common sense, and our freedom to validate. From the state's perspective, there is always some area of life where people haven't yet developed the proper level of panic to make them tolerate the forced filling of state coffers in relation to that area. There is always something new to fear that the public can't quite grasp without the government to ratchet up its fears."
David Hathaway deserves our gratitude for his excellent and timely account of a little-known propaganda campaign by the State." (source)
So with this in mind, I spent the weekend doing some research on the topic.
Some mainstream outlets concur that EMP is not a legitimate threat.
Vice interviewed an analyst from Stratfor about how concerned we should be about an EMP. The analyst was pretty thorough, and concluded that he believed it was "not impossible" but "unlikely."
Read More @ TheOrganicPrepper.ca