by Jack Burns, The Free Thought Project: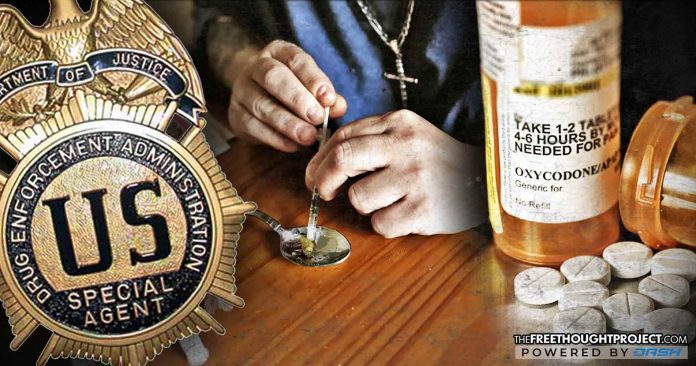 Drug dealers, drug addicts, convicted felons and the deceased are among the thousands of individuals who have been given licenses to prescribe opioids by the DEA.
As thousands of Americans die each year from opioid overdoses, an independent investigation into the Drug Enforcement Agency's conduct has found that it has been issuing controlled substance licenses to drug dealers, drug addicts, convicted felons and dead people, which is just one of the many things that have fueled the current crisis.
The investigation, which was conducted by the Daily Caller, noted that in 2006, only 510,000 individuals and organizations held controlled substance licenses. As of March 2018, that number had increased drastically to 1.7 million licenses. According to the report:
One dentist, for example, admitted to helping "an outlaw motorcycle gang" manufacture methamphetamine in the early 2000s, which resulted in two years of jail time, a DEA document said. He'd previously been caught with meth several times and admitted to "a history of substance abuse with alcohol, marijuana, methamphetamine and cocaine.
That same dentist was given a license to prescribe controlled substances in 2012. A doctor was also given a license, in 2009, even though he had previously had a run-in with the DEA when he was caught distributing cocaine.
A doctor was caught distributing cocaine in 1981 but wasn't prosecuted because he cooperated with authorities, another DEA document shows. He was arrested again in 2001 with cocaine and two prescription drugs — an opioid and a minor tranquilizer — and pleaded guilty to related charges in 2003.
While the total number of DEA licensed providers exceeds 1.4 million people, it appears as though the agency is not doing its due diligence when it comes to regulating how opiates are being diverted from distributors directly to the street-corner drug dealers. The Office of Diversion Control, as it's known, is the DEA department that is tasked with policing when opiates are being diverted from legitimate uses to nefarious ones.
The pipeline runs from the pharmaceutical company's production line, through distributors into pharmacies and further down to drug dealers. But it seems as though they are not doing their job. The investigation found that licenses are also held by both people who have died and people who are in prison:
More than 760 people of the then-1.4 million registered with the DEA "were potentially ineligible" for licenses because the Social Security Administration reported them as dead, they did not have state-level permission to prescribe or distribute controlled substances or "were incarcerated for felony offenses related to controlled substances."
Read More @ TheFreeThoughtProject.com