by Wolf Richter, Wolf Street: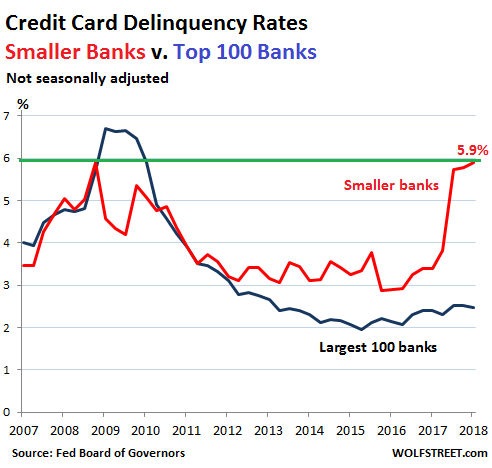 Subprime is calling.
In the first quarter, the delinquency rate on credit-card loan balances at commercial banks other than the largest 100 – so at the 4,788 smaller banks in the US – spiked in to 5.9%. This exceeds the peak during the Financial Crisis. The credit-card charge-off rate at these banks spiked to 8%. This is approaching the peak during the Financial Crisis.
A sobering set of numbers the Federal Reserve Board of Governors released this afternoon.
But overall, across all commercial banks, including the largest banks with the largest credit-card loan balances outstanding, the delinquency rate was 2.54% (not seasonally adjusted). This overall rate was pushed down by the largest 100 banks, whose combined delinquency rate in Q1 was 2.48%.
These large banks have been offering appealing incentives to consumers for years, and they've been going after consumers with the higher credit ratings, and they've been following good underwriting practices – having not yet forgotten the lesson from the last debacle – and this conservative approach is now helping to keep losses down.
But the thousands of smaller banks couldn't compete with those offers, and so they got deeply into subprime cloaked in sloppy underwriting. This way, they were able to reel in new credit-card customers that the big banks didn't want, and those customers needed the money and charged up their new cards in no time, and the interest rates of 25% or 30% looked good on the banks' income statement and helped maximize executive bonuses, yes even at smaller banks.
But turns out, those banks had reeled in the most fragile customers and had eagerly doused them in irresponsible levels of debt at usurious interest rates – and now what? These customers won't ever be able to pay off the balances or even pay the interest. For many of them, there's only one way out. This caused the delinquency rate to spike from 3.81% to 5.90% in just three quarters.
This chart shows delinquency rates for the largest 100 banks (blue line) and for the remaining 4,788 banks (red line):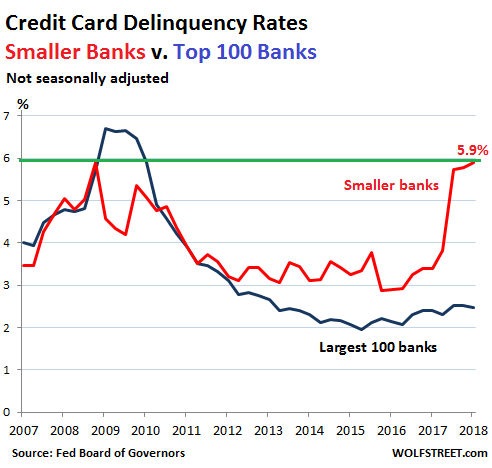 Credit card balances are deemed "delinquent" when they're 30 days or more past due. The rate is figured as a percent of total credit card balances. In other words, among the smaller banks, nearly 6% of the outstanding credit card balances are now delinquent.
The bank tries to collect these delinquent loans, and some customers are able to catch up. Others are not. After recovering what it could, the bank moves the remaining delinquent balance out of the delinquency basket and into the charge-off basket. This is when the loan is "charged off" against loan loss reserves.
These charge-offs among the largest 100 banks rose to 3.73% in Q1 (not seasonally adjusted), the highest since the first quarter 2013.
But among the remaining 4,788 banks, the charge-off rate spiked to 7.99%, the highest since Q2 2010. The rate among smaller banks had peaked during the Financial Crisis in Q4 2009 at 8.78%: